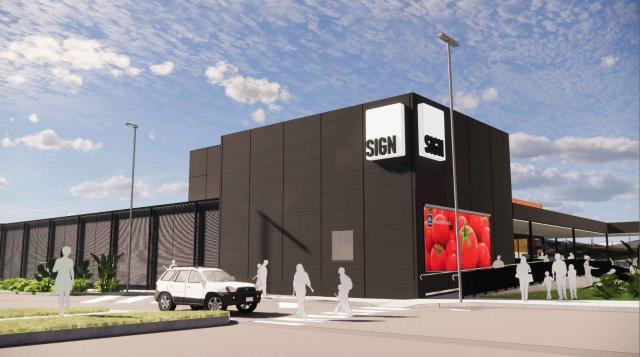 By Matthew Pearce
Tenders have opened for construction on a second Aldi store in Rockhampton, located at the Kmart end of Stockland.
The Trust Company Limited, on behalf of Stockland, submitted a Development Permit for a Material Change of Use to Rockhampton Regional Council in May last year, which has since been approved by council planning officers.
Stockland and Aldi plan to construct a standalone supermarket building near Kmart and Mandalay Medical Centre with a gross floor area of 1725 square metres.
"The proposed supermarket building exhibits contemporary façade materials and finishes and landscaped curtilages to create a visually interesting building," the report read.
"The main entry is located at the eastern building elevation, facing an open courtyard feature between the supermarket and the existing shopping centre building.
"Reconfiguration of an existing loading and servicing area north of the supermarket location is proposed to include a turn-around facility to enable vehicles servicing the supermarket to exit the premises in a forward direction."
About 120 of the centre's 2706 car parking spaces will be removed to make way for the development, with total parks still exceeding the minimum 2552 parking space provision required by council for the premises.
Sto0ckland is working through the tender process for construction, and will keep the community updated as soon as they can.
Aldi opened their first Rockhampton store on 2 October, 2019, at 167 Gladstone Rd in Allenstown. Prior to that store's opening, a second supermarket was proposed for the land in front of Spotlight on Yaamba Road, but the development application was appealed by Stockland in the planning court.