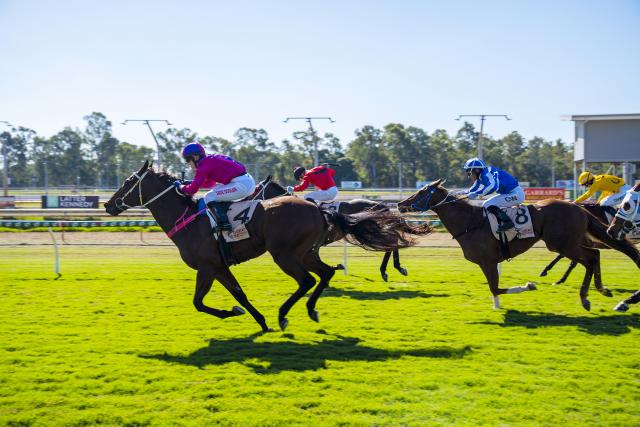 By Rockhampton Jockey Club CEO Ian Mill
That time of the week again readers to pen another column.
Trust you are all well and looking forward to some fabulous racing at Callaghan Park this Sunday – tomorrow for Saturday readers. Yes, Sunday being June 25.
Seriously readers I do not jest this offers a wonderful opportunity to attend a Callaghan Park race meeting for all the family. Not only will you have the opportunity of viewing some top class race horses competing but particular emphasis has been placed on making it a family friendly occasion. Better still folks it will cost you nothing to participate. That's right you read correctly it is a free gate.
On the Callaghan Park turf track we have horses coming from near and far throughout Queensland. Plenty of top SEQ stables represented including trainers and jockeys from Brisbane. Gold Coast, Sunshine Coast and the Darling Downs. Traditionally the race day centres around the $35,000 Tattersall's Cup (1600m) which is a pipe opener for the $150,000 TAB Rockhampton Cup (1600m) on Saturday, July 12. Actually the winner of Sunday's Tatts Cup gain's automatic entry into the TAB Rockhampton Cup. The Milne Bros Tattersall's Gold Cup is headed by the incomparable Master Jamie with 67.5kg. He has been handicapped on that weight previously but it has been reduced by a claiming apprentice's allowance. You know me readers I do my due diligence (research) and from what I ascertained the highest weight on his 52 starts that Master Jamie's has gone around with in a race is 65.5kg when he won at Callaghan Park on June 26 last year. Guess what readers the race was the 2022 Tattersalls Cup. After that race Master Jamie won the Rockhampton Cup which no doubt trainer Graeme Green has his goal again this July.
It is interesting that Graeme has engaged MJ's most winningest jockey in Les Tilley for him on Sunday. Les has ridden Master Jamie in 10 of his 17 wins which have been the major part of the horse's haul of just over $840,000 prize money. Tilley was also the winning rider on MJ when he won both the Tatts Cup and Rocky Cup last year. Magic story if he could do the same in 2023. Who is to say Jamie won't?
It's a family friendly race day on Sunday that's for sure. We have named the day the Sunday Family Fun Day. The RJC has scheduled Family Fashions on the Field, Face Painting, Eden Bann Cutie's Petting Zoo, Enchanted Braids, Ice Cream Truck and more. I must mention the kids' activities from noon. Hope to see you there folks.
I've been telling you readers about the RJC's new Gold Club which offers its members some great prizes and incentives. We at the RJC believe it offers great value for money and is well worth joining. Well at last Saturday's successful Rockhampton Girls Grammar School Raceday Gold Club members enjoyed their first luncheon and behind the scenes event. Tagged the Four Furlong Luncheon it took place in The Members overlooking the Callaghan Park saddling enclosure. About 80 people took part.
Firstly the group was escorted on a walk around the Callaghan Park track led by jockey Chris Whiteley and course/ track manager Trent Williams. Both men relayed their expertise in their roles. Chris provided all with an insight into how a jockey rides the track detailing many facets. Trent offered his perspectives from a curator's position and race starters position. The group was very responsive to what was offered. Many expressed to me individually that they had no idea of what goes through the minds of both professions at the races where they work their roles. Also some Gold Club members took advantage to a visit to race broadcaster Russell Leonard's callers box for a Birds Eye view of
a race being described. Very interesting indeed and much appreciated by those involved. Then it was down to the Four Furlong Luncheon which I branded as "spectacular". There were a wide variety of Canapés on the menu and they were very popular. However, the main course served up was spectacular. This was crafted around a prime MSA 300g rib fillet from butcher Geoffrey Elliott's Allenstown Square Meats.
Members of the Gold Club became instant fans of Geoff and I dare say many will be sourcing his meats as a result. Geoff of course was a resident trainer at Callaghan Park for years before retiring to concentrate on butchering. That sounds strange so I will revisit and record to concentrate on his "butcher" business. Yes that reads better. Geoff of course is in the fortunate position of owning the talented racehorse Milo Man.
As a result of the success of the first Gold Members function we will be planning more naturally. Racegoers are curious about what goes on behind the scenes on race days and we hope to assist in this. Plans for Gold Club members include visits to the barriers before the start of a race. There are a number of planned Gold Club events coming soon, so believe you me it will pay to be in the RJC Gold Club. Contact myself or my team at Callaghan Park to be acquainted with all the details on how to join.
Once again for Saturday readers there will be much to take interest in at Eagle Farm races today (June 24). The Clinton Taylor trained special girl Chinny Boom resumes racing. She runs in Race 2 at 12.18pm. By all reports Chinny Boom is going very well and is expected to be right in the finish. Good luck Clinton, Chinny and you readers if you make an investment on her.
Time is running out readers to take advantage and book your places in the many packages coming up during and leading into the Rockhampton Jockey Club Winter Racing Carnival. As I keep on saying they are all posted on the RJC Callaghan Park Facebook and website pages. Please refer to those sites.
Readers keep asking for more penning of historical happenings at Callaghan Park and I am pleased to oblige.
The following account would take some beating. It was the most unusual race ever run at Callaghan Park racecourse if not any racecourse world wide at the time. During the 1912 Winter Racing Carnival on June 4 a race was staged between a Bleriot monoplane and a car. The Bleriot was piloted by American airman Mr A B "Wizard" Stone and the vehicle by Mr S Taylor. In the RJC book Celebrating 150 Years Of Racing, it records that almost 7000 people paid to witness the event. Hundreds more gathered outside the racecourse anxious to see this flying bird – the monoplane.
Both the plane and the car were parked on the racetrack course proper with the race over 15 miles. After a few last minute adjustments, off took the plane with the big two-bladed propeller whirling at tremendous speed. Then down the straight he took before lifting off amid mad screaming. Banking left Stone's Bleriot followed the race track course back to the start. When Stone sped off and came near the car so did driver Taylor (accelerated). The loud cheering and screaming from the crowd said it all – they were in awe.
The plane flew at the height of abt 30 metres and reached a speed of about 45mph. On the fourth lap of the track the plane had lapped the car but danger was approaching. Along the back straight in the last lap the plane began to lose altitude. It veered off the course and crash landed in the nearby cricket ground. Crowds rushed to the site but Stone climbed out and was unscathed. Not so his monoplane badly damaged with broken propellers, fuselage damage and a "busted" (nice way to put it) motor. Subsequently motor failure was blamed for the crash. The car continued on in the race and was subsequently awarded victory.
If that's not the strangest race ever run at Callaghan Park, I don't know what is! Had to tell you that story readers and it is ridgy didge (true).
That's it again for another busy weeks – Yours in Racing – Ian Mill.