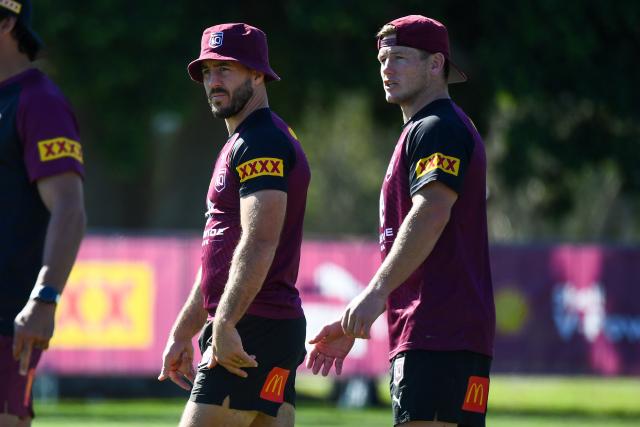 By Joel Gould/AAP
When Ben Hunt talks about the special bond he shares with fellow Queensland hooker Harry Grant you have to consider the remarkable synergies in their careers.
They both went to the same powerhouse rugby league-playing school of St Brendan's College in Yeppoon.
Both lived with their families in Yeppoon as youngsters. The duo played juniors for Yeppoon Seagulls. Their parents – Geoff and De-Ann Hunt and Paul and Margie Grant – are friends and went to last year's World Cup final together to watch their sons. And that is just the half of it.
"Harry's father, Pig we call him, coached Ben for three or four years at St Brendan's and at Seagulls here in Yeppoon and he was a very patient and good coach for Ben," Geoff Hunt told AAP ahead of game two of the State of Origin series at Suncorp Stadium.
"It is special for Yeppoon for Harry and Ben to be now playing rep footy together … and then you've got Munny (Cameron) Munster from just up the road at Rockhampton down there with the Maroons too. It is pretty good effort to have all of them from the same area."
Ben Hunt, 33, won the World Cup in 2022 with 25-year-old Grant in an Australian side where they played in the same format as they did against NSW. Hunt started at No.9 and Grant came off the bench.
"It's something that we're both very proud of," Hunt said of the Yeppoon connection.
"We addressed it at the World Cup when we went over there together. We were really excited about it.
"(Playing two hookers for Queensland) is something that really suits the style of footy we're playing and the personnel we have on offer.
"I can start the game and Harry can come on with energy when there's speed out of the game, and bring excitement in the middle."
Melbourne rake Grant scored a crucial try in the 2020 decider on Origin debut at Suncorp and last year St George Illawarra captain Hunt went over for a try at the death in a 22-12 win, also in the series decider.
"Harry is going to have a lot more special moments at Suncorp to come, and it has always been a special place for myself to play footy," Hunt said.
"Last year was probably the top of that."