Chef Franco Caruso, a former Melburnian who ran New School Canteen and Lolo and Wren, has fallen hard for Maldon, the goldfields town of 1600 souls where he's opened Franco's Food and Wine, cooking broadly Italian food that champions what grows around him.
Caruso is excited by the produce he has found in the town, not far from popular tourist destinations such as Castlemaine, Daylesford and, further north, Bendigo.
"You walk around the corner, and there's a honey factory with some of the best honey you've ever had," he says. "You drive five minutes and there's an olive grove."
The chef describes his cooking as "Britalian", the result of his Italian upbringing in Scotland, where he made almost yearly visits to family in Rome and Calabria. His first job, aged 15, was making pizza in Calabria.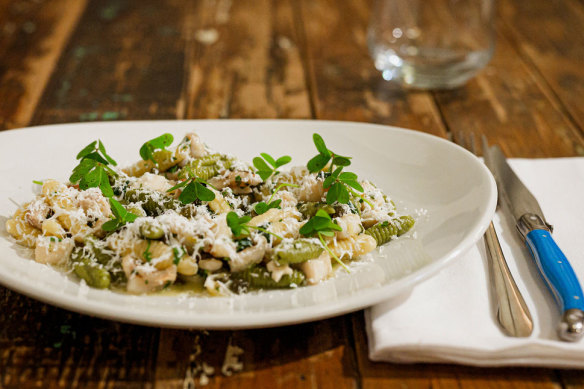 Venison stew starts Italian, with red wine splashed into the sauce, then takes a detour with root vegetables such as swede and the addition of locally grown peppercorns. Tiramisu gets its boozy hit from a local fortified shiraz made by Pengally Lane Wines, less than 20 kilometres from Maldon.
Osso buco Maldonese is more traditional, with long-braised meat partnered by risotto and gremolata, but the meat is raised and butchered locally, hence the wordplay on Milanese. Regulars love it so much they order ahead when they book a table.
Handmade pasta is a focus. Agnolotti is filled with leek, guanciale and pork shoulder, and served with a spicy 'nduja sauce. Wood sorrel pasta will be on the menu until spring, perhaps with sauteed snapper and prawns, drizzled with caper and lemon butter.
It's a small menu for a small restaurant – only 40 seats or so – but Caruso updates dishes based on his latest finds from local farmers or the produce neighbours drop at the door.
Open Wed-Sat 5pm-9pm, Sun noon-3pm.
24 High Street, Maldon, 03 0407 2606, francosbar.com.au
Restaurant reviews, news and the hottest openings served to your inbox.
Sign up

Emma Breheny – Emma is Good Food's Melbourne-based reporter and co-editor of The Age Good Food Guide 2024.