People are talking about the possibility of Lisa (K-pop girl group BLACKPINK's rapper) and Taeyong being in a romantic relationship. It all started with a post on an online community called Pann, titled "Looks like Lisa and Taeyong are doing Lovestagram." The post had pictures from Lisa and Taeyong's Instagram accounts.
The photos showed Lisa and Taeyong appearing to be in the same place. Lisa went to France on February 4th to attend a Celine fashion event as an ambassador. Taeyong had posted a picture in front of the same location two days earlier.
There were more clues that fueled the dating rumors. Another set of pictures showed Lisa and Taeyong with matching phone cases – Lisa's in black and Taeyong's in purple. The writer of the post also noticed that they wore similar hats, jackets, and pajamas, which hinted at them having "matching items."
However, one person disagreed with these claims. They said, "Taeyong went to Montmartre hill to take pictures, and he had a business relationship with Celine, so he wore their clothes for a while." They also mentioned that Lisa became a Celine ambassador around the same time. This suggests that the items they wore might have been sponsored by Celine.
Fans are eagerly waiting for official statements from Lisa and Taeyong's agencies to know the truth about their relationship. For now, it's uncertain if the BLACKPINK and NCT members are dating or if they just happened to be in the same place as fellow K-pop stars.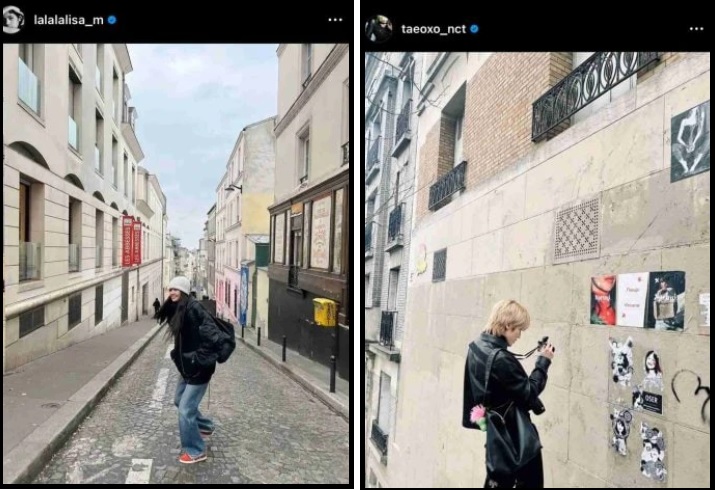 Also Read: Park Bo-young opens up about 'awkward' first meeting with Park Seo-joon on Concrete Utopia set
Lisa, also known as Lalisa Manobal, has recently achieved remarkable success and broken several world records. She has earned her place in three categories of the Guinness World Records. Lisa has been officially recognized by the Guinness Book of World Records as the K-pop artist with the highest number of followers on Instagram.
In addition to this achievement, Lisa made her highly anticipated solo debut with her single album titled "Lalisa" in September 2021. The album saw incredible success, selling over 736,000 copies in its release week in South Korea. This remarkable feat made her the first female artist to achieve such impressive sales figures for a solo debut album.
Moreover, the music video for the album's lead single, also titled "Lalisa," made a significant impact. Within the first 24 hours of its release, the music video garnered a staggering 73.6 million views on YouTube. This phenomenal achievement made it the most-viewed music video by a solo artist within the first 24 hours on the platform. The success didn't stop there, as both "Lalisa" and the album's second single, "Money," secured spots in the top ten of the Billboard Global 200 chart.
For more updates on the latest news and achievements of K-pop stars like Lisa, stay tuned to Devdiscourse.
Source: My Music Taste
Also Read: Lee Jin Wook confirms return for Sweet Home Season 2 and teases exciting plot twists