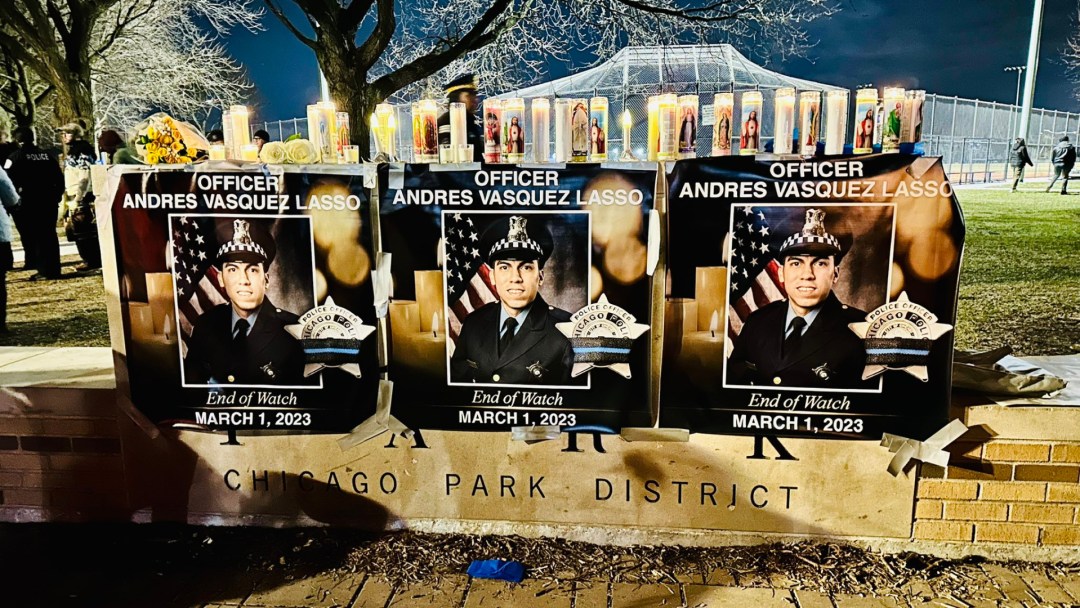 GAGE PARK — The wife of a police officer killed last week in the line of duty shared a tribute to her husband on social media over the weekend.
Milena Estrepa wrote the post in honor of Andrés Mauricio Vásquez Lasso on Facebook, sharing some of their wedding photos, a photo of the couple with their dog and a photo of Vásquez Lasso in uniform standing with Estrepa next to a police SUV.
Vásquez Lasso was killed Wednesday while chasing a man on the Southwest Side, authorities said. Prosecutors said 18-year-old Steven Montano shot Vásquez Lasso multiple times in front of a playground full of children.
"There will never be a goodbye; it will be a see you later to my favorite person, my best friend, my partner in travels and adventures who will always be present in my heart. To the best man God could have given me." Estrepa wrote in Spanish.
"Your chivalry to the last day, your endless love, nobility, happiness, will always be in my memories. I thank you for every minute that God let me share with you. I wish I had hugged you tighter that Wednesday morning before I took off, gave you more goodbye kisses if I had only imagined that it was the last time I would see you alive.
"You gave your life to do what you loved most. Every day you went to work with a smile from ear to ear.
"Thank you for being the best husband, dog dad, son, brother, uncle, cousin, friend. You leave us with an irreparable hole in our hearts.
"Rest in peace, my love. Nalah and I will miss you every second of our lives. You are and always will be a hero. ALWAYS REMEMBERED, NEVER FORGOTTEN."
Vásquez Lasso, 32, had five years on the force. The organizers have organized prayer vigils in his honor and to support his fellow officers.
Visitation will be scheduled for 3-8 pm Wednesday at Blake-Lamb Funeral home, 4727 W. 103rd St. in Oak Lawn.
Vásquez Lasso's funeral mass is at 10 a.m. at St. Rita of Cascia Shrine Chapel, 7740 S. Western Ave., followed by a private burial, officials said.
Subscribe to Block Club Chicago, an independent, 501(c)(3), journalist-run newsroom. We earn every penny from reporting from Chicago's neighborhoods.