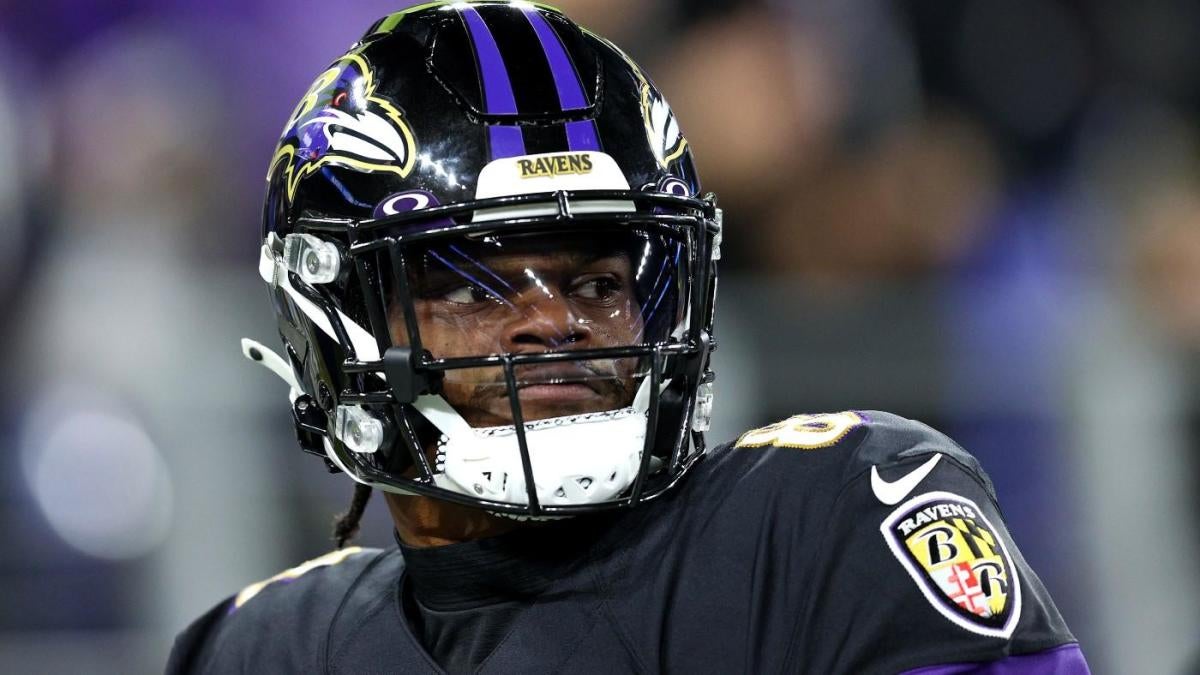 Hello and happy Wednesday, everyone! John Breech takes the day to celebrate the possibility of Lamar Jackson leaving the AFC North (more on that below) and giving Joe Burrow an even cleaner path to division titles. So you got me Cody Benjaminto deliver all the latest from around the NFL.
This is the Pick Six newsletter. Now let's get to it. (And please, do yourself a favor and make sure you're signed up to receive this newsletter every day! You won't want to miss our daily offerings of everything you need to know about the NFL.)
We've got big Lamar Jackson news and rumors, a big Giants update and much more:
1. Today's performance: Lamar Jackson gets tagged; on the go now?
The biggest NFL news of the day (and maybe the week, and the offseason) dropped late Tuesday, with the Ravens using the non-exclusive franchise tag on their star quarterback. The tag is kept for the time being Jackson's rights for 2023, but it also allows other teams to negotiate with — and make offers to — the former MVP when free agency begins. Brady Quinn and John Breech joined Will Brinson on Wednesday's "Pick Six NFL" podcast to discuss. Some highlights:
Breech doesn't foresee Jackson sticking around deep into the 2023 season in case the QB stays in Baltimore, though he noted two key dates in the process: July 17 is the deadline for Jackson to sign a long-term deal with the Ravens or any other club; and Week 10 is the deadline for Jackson to actually sign his tag and play this season.

Quinn

doesn't buy the Raiders, one team with a clear QB need, as a legitimate suitor for Jackson, and suggests owner

Mark Davis

isn't "liquid enough" financially to warrant a massive contract, nor does Jackson profile as the ideal candidate to run Josh McDaniels' system: "Seems like Jimmy G and a draft pick is more likely" in Las Vegas"
Breech believes the Commanders could be a sleeper for Jackson, if only because disgruntled owner Daniel Snyder could be just the guy to cross — specifically, his co-owners — and issue a fully guaranteed contract
Check out the full episode (and subscribe to daily NFL chat) here.
2. The Lamar Jackson market: Logical suitors, plus why teams are hesitant
Now that Jackson is set to test free agency, at least to some extent, which teams find themselves pursuing the Ravens' dual threat? We have that identified 12 of the most logical suitorswith these five at the top of our list:
5. Commanders: Few franchises are quicker to explore the veteran QB market, and while 2022 rookie Sam Howell could be a reasonable candidate to open next season under center, Jackson is the kind of star power they've long lacked. Coach Ron Rivera peaked in Carolina using a mobile QB in Cam Newton.
4. Raiders: While Jimmy Garoppolo makes sense because of his Patriots connection to coach Josh McDaniels, much of the rumblings from Vegas is that McDaniels prefers to build a younger signal caller for the long term. Few players will inject more life into their still relatively new NFL market than Jackson.
3. Panthers: Owner David Tepper is growing impatient with the club's half-hearted QB play, and new coach Frank Reich is a known QB whisperer at the top of the staff. While they might prefer to add a new face to the franchise via the draft, they don't pick in the first round until No. 9 overall, after QB-needy teams in the Texans, Colts, Seahawks, Lions, Raiders and Falcons.
2. Jet aircraft: Aaron Rodgers has long made sense as their No. 1 target, and all signs point to the Packers' big finally saying goodbye to Green Bay (or vice versa). But as impressive as Rodgers' resume is, he's also turning 40, while Jackson is a freshman 26th GM Joe Douglas also happens to have an extensive history of working with the Ravens.
1. Dolphins: Incumbent QB Tua Tagovailoa made strides under Mike McDaniel, but with such a scary injury history, you can't count on his availability. Jackson would give McDaniel's 49ers-bred running game a real X-factor, and the Ravens QB would get easily the best weapons he's ever had, as well as a chance to play football an hour from where he grew up.
Meanwhile, if you're wondering why so many teams quickly — and publicly — leaked an apparent disinterest in Jackson following the news of his tag, Will Brinson's have a couple of theories about it.
Talk about a big day in the Big Apple! Love or hate their price tags, Jones and Barkley were catalysts for Brian Daboll's rejuvenated Giants program in 2022, and now they are back for at least one round in total. Jones reached a four-year, $160 million extension minutes before Tuesday's franchise tag deadline, and he can technically make up to $195 million on the extension. The former first-rounder is now tied for the seventh-highest paid QB in terms of annual salary. Barkley, meanwhile, is guaranteed just over $10 million on the tag, assuming the running back signs the tender.
4. Jets officials fly to California to meet with Aaron Rodgers
Late Monday, we first learned that Rodgers and the Jets have been in discussions about a potential trade for the longtime Packers QB. A day later, New York brass flew to California to meet Rodgers in his home state, adding to speculation that the future Hall of Famer is indeed ready for a split from Green Bay. The Jets' contingent, which returned to New Jersey Wednesday morning, included owner Woody Johnson, GM Joe Douglas, head coach Robert Saleh and offensive coordinator Nathaniel Hackett, per ProFootballTalk. It remains to be seen how soon Rodgers will actually announce his 2023 plans. However, we do know for sure that a move by the Packers is at least a real possibility.
5. Tom Brady rules out another return from retirement
Or at least we think so. Amid rumors from NFL Media's Rich Eisen that the former Patriots and Buccaneers great could still return to the game in 2023, Brady took to Twitter this week to downplay the possibility: "Anyone who thinks I have time to get back to the NFL," Brady wrote, "has never adopted a 2-month-old kitten for their daughter." Up to you if you believe him.
6. Rapid-fire roundup: Tag tracker, free agency rumors, draft buzz
Hungry for more offseason headlines? We've got you covered: