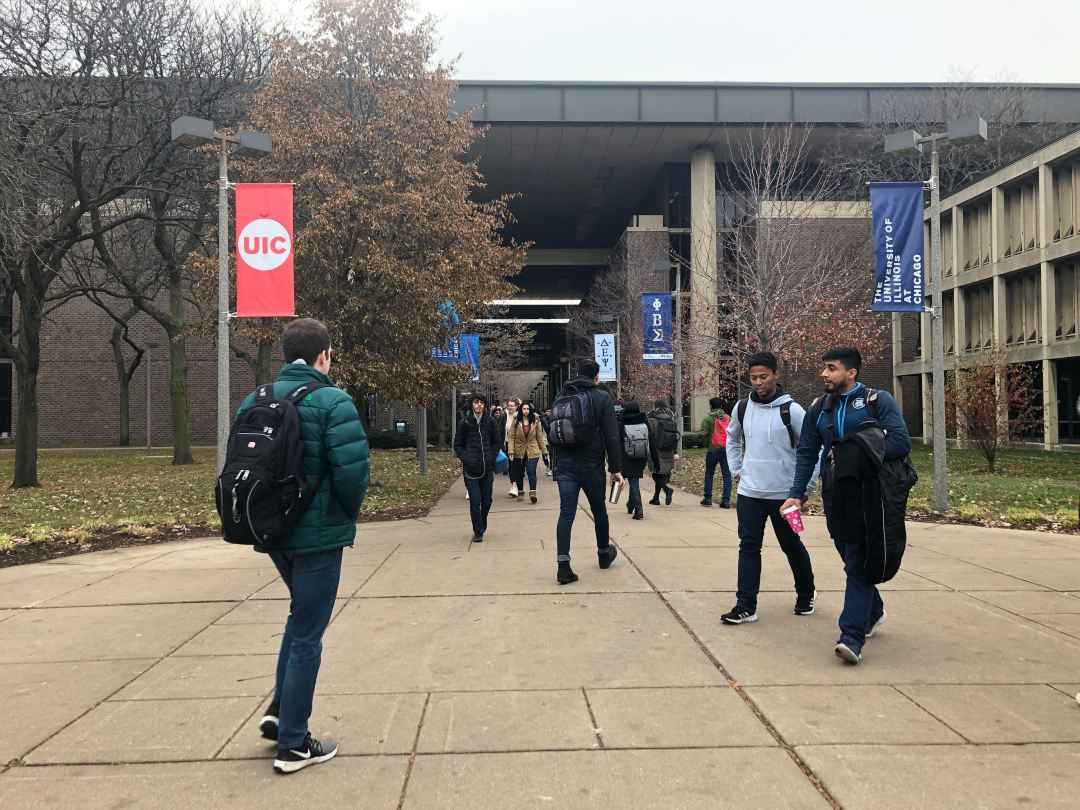 NEAR WEST SIDE – University of Illinois Chicago students will protest a Thursday event organized by a student-led chapter of the conservative group Turning Point USA.
Right-wing media personalities Charlie Kirk and Candace Owens — who have stirred controversy with big rhetoric — are scheduled to speak at 7 p.m. Thursday at UIC's Dorin Forum, 725 W. Roosevelt Road.
UIC Against Hate, a coalition of undergraduate and graduate student-led affinity and progressive groups, will protest the event. The protest starts at 17:00 on Thursday at UIC's quad. Participants will march toward the front of the forum, organizers said.
Turning Point USA at UIC did not return requests for comment.
The national arm of the "right-wing student organization" has promoted conspiracy theories about voter fraud and COVID-19 and has "demonized" transgender people, according to the Anti-Defamation League. Kirk's events have attracted racists, extremists and white nationalists, according to the Defamation League.
Thursday's event is part of a nationwide college campus tour to talk about "American values," according to an event listing.
UIC Against Hate members said Kirk and Owens have propagated hate speech and their presence on campus makes minority students feel unsafe. A petition against the event has more than 300 signatures.
Egle, a UIC student who asked not to use his last name for fear the event could attract violent hate groups, said the university "has no place for fascists on campus" and that the school is not doing enough to protect minority students.
They pointed to comments Kirk, who is from the suburbs, made Monday in which he called LGBTQ+ identification a "social contagion," according to the nonprofit Media Matters.
"He does a college tour and brings racist and hateful rhetoric to a place where there are a variety of students from different backgrounds. It's a security risk," said Egle, a DACA recipient. "It outrages me at the hypocrisy of UIC, which says it is a welcoming and diverse institution, for them to allow an event like this to take place."
In a statement, UIC spokeswoman Sherri McGinnis Gonzalez said the event is not sponsored by the university and UIC's branch of Turning Point USA is not a registered student organization.
The student group leased the venue for the event, but a "lease does not constitute endorsement," McGinnis Gonzalez said.
"UIC's core values ​​of freedom, equality and social justice for all, regardless of race, religion, national origin, disability or sexual orientation, are deeply rooted in our diverse community and not threatened by the presence of any speaker or organization on campus," McGinnis said Gonzalez. "Consistent with its role as a public university, UIC is committed to upholding the First Amendment."
The university supports "counter-speech" from protesters and is "working closely with the event sponsor" to ensure safety and security plans, McGinnis Gonzalez said.
Students raised concerns about the Turning Point USA event at a town hall in February with administrators, who told them the event would go ahead as planned "basically because of free speech and that they paid for it," said Nathan, another organizer who asked not to use his last name.
"This situation has really put the university's assumed values ​​to the test," Nathan said.
UIC Against Hate has been in contact with students at the University of California-Santa Barbara, where hundreds protested Kirk's performance last week, organizers said. The group hopes to model its action after a 2016 protest that led former President Donald Trump to cancel a rally at the UIC pavilion, the students said.
"Now people are sounding the alarm again," Egle said. "Except this time, it's the silence that speaks the most."
Listen to "It's All Good: A Block Club Chicago Podcast":