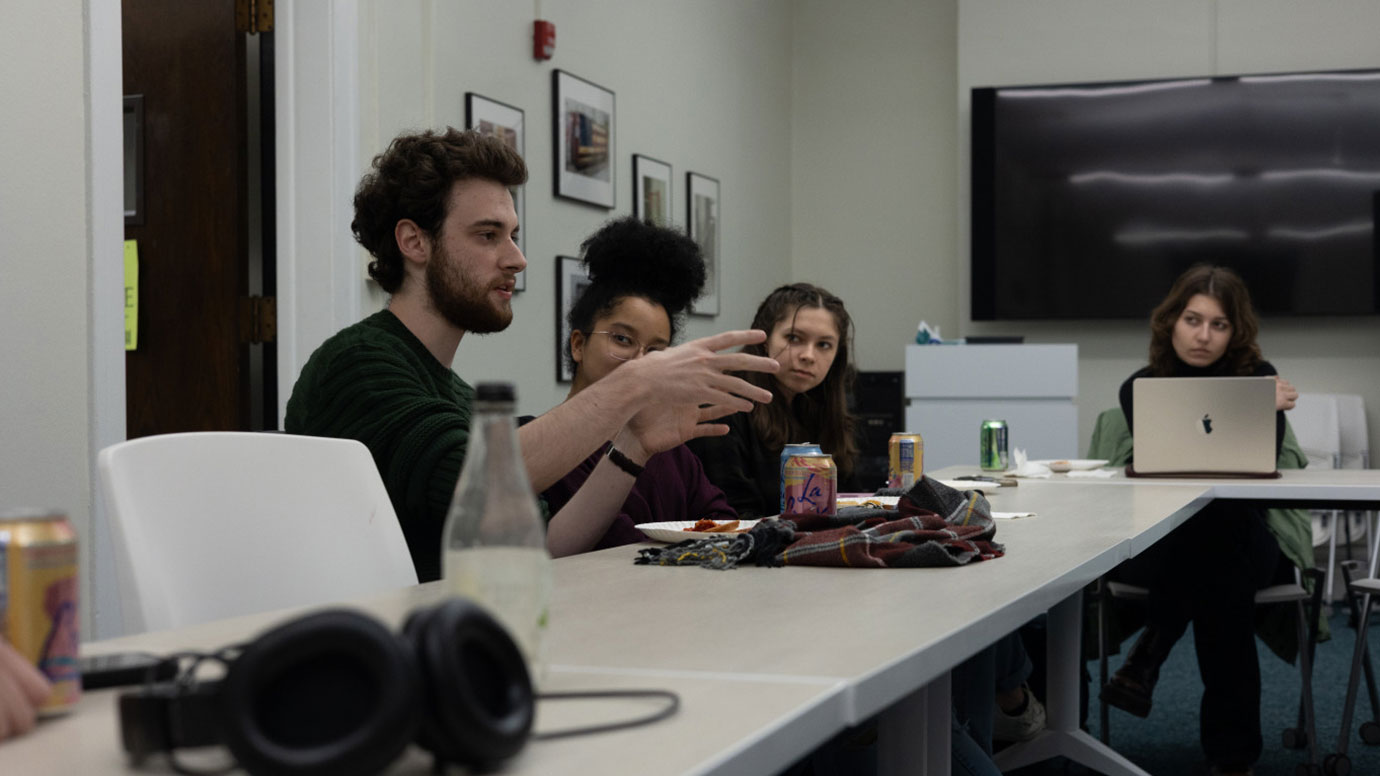 One of the most common pieces of advice students receive about their time in college is that it's important to be in the moment—to enjoy the moment.
But what if being in the present includes thinking about the future?
At UChicago, you'll find the answer to that question at the Future Café, a student-organized discussion series that empowers students to collectively imagine utopian possibilities, as well as long-term futures.
The Future Café series is sponsored by the Chicago Center for Contemporary Theory (3CT), founded in 2004 by seven faculty members from the Departments of Social Sciences and Humanities. The collective aims to create an interdisciplinary community of thought centered around today's issues.
Shannon Dawdy, professor of anthropology and social science at the College, created the series as a parallel project along with her collaborative discussion and workshop series with Karla Scherer Distinguished Service Professor in American Culture Bill Brown, called "Materializing the Future."
After noticing that the public discourse about political events and the future had turned markedly negative, Dawdy knew something had to change.
"The intellectual part of me realized that futuristic thinking had really fallen by the wayside, and there were very few people who would talk about the future or about utopian possibilities in anything other than a very cynical way," she said. "'Oh, utopias never work,' or 'good plans never pan out' … there was just this real sense of fatalism in our time."
Seeking to create a space for positive discourse about the future, Dawdy organized the series and came up with a fitting name: Future Café.
Dawdy modeled the Future Café after 3CT's successful Book Salon series, which celebrates authors whose books relate to the center's mission: critical discussions and reimagining of social, political and cultural processes. Dawdy also borrowed from the global Death Café movement, which consists of group-led discussions about death with no agenda, goals or themes.
"[These discussion series] are all in salon environments, where there is really intellectual engagement around some shared interests and problems, but without it being about a competition, without it being about grades – it's just for the love of exchange and just to be pure intellectuals," Dawdy said.
Anna Searle Jones, assistant director of 3CT, describes the Future Café and the student-driven discussions within it as a space for speculation and creative thinking. Past sessions have included discussions on the future of Afrofuturism, transportation, climate change, and labor. The last session, which took place at the end of February, was entitled "The Future of Home".
In each session, student coordinators help facilitate conversations and aim to make each session inviting, steering the group clear of preconceived notions about the topic being discussed.
"It's a delicate balance between giving your own opinion and keeping the space open, but I think overall, it's just been a pleasure to see how people take the conversations," said Navid Mazidabadifarahani, a third-year student studying history and anthropology and one of Future Café's student coordinators this year.
As an astrophysics double major, student coordinator Audrey Scott walked into her first Future Café session — titled "The Future of Space" — expecting to talk about space, but she was on to something else.
"It was more about space as a kind of perception of daily life — as in the matter around you — and taking and making space in that context," she said. "I didn't get to talk about space that day, but I had really wonderful conversations and set myself up to be part of a community that I would really appreciate."
Scott said she enjoys the unpredictability and variety of free-flowing conversations that take place at Future Café.
"I would say it's a very low barrier to entry … it's a chance to learn from people who have different backgrounds, but also a way that you don't have to deal with some of the intellectual pretension that you might have in some rooms ", Scott said. "If you have a thought about the idea or topic being presented, go for it. People aren't going to judge you or tell you you're wrong…we're able to have a civil, interesting, multifaceted discussion without it having some real consequence, and I really like that."
Many Future Café sessions and the ideas they generated became the foundation Post-X, an annual zine, a self-published, non-commercial print work, originally launched as a way to collaborate remotely during the first year of the COVID-19 pandemic. 3CT recently launched a call for submissions during the winter quarter and will be accepting them through April 1st.
The latest edition, "ANEMOIA," centered around the phrase of the same name, describing nostalgia for a time never known or fully experienced. Jones said the zine remains open to creative submissions (art, poetry, fiction, non-fiction).
Above all, Future Café encourages students to think about the future in ways they may not have before, and to do so with a sense of hope and optimism.
"It's very important for us to keep that grounded connection and continue to look forward," Scott said. "Sometimes it's beautiful to look ahead, and sometimes it's not – and it's important for us to reckon with ourselves and what we see, because if what we see is something we can change and that would be good to change, then it's good to have it as part of our own personal ethos that we carry throughout our lives."