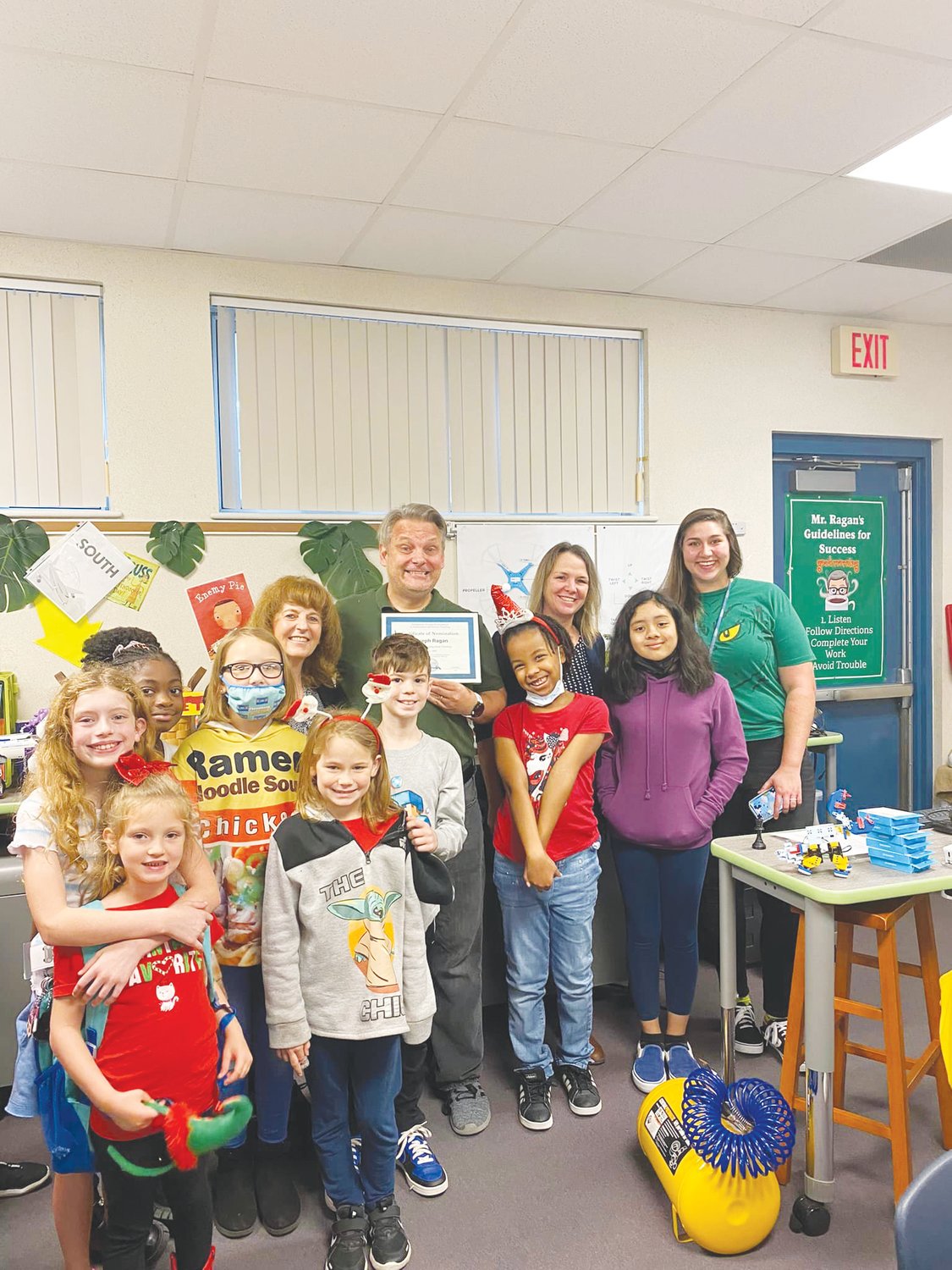 By Martha K. Mayes [email protected]
ORANGE PARK – Joseph Ragan, a science, technology, engineering and math (STEM) secondary studies teacher at Grove Park Elementary, and Ty Little, a math teacher at Lakeside Elementary, have been nominated for the 2022-2023 National LifeChanger of the Year Award.
The prestigious award, sponsored by the National Life Group Foundation, recognizes the best K-12 teachers and school district employees across the United States who make a difference by exemplifying excellence, positive influence and leadership.
Ragan was nominated by her colleague, Nicole Danz, for her commitment and for creating opportunities for growth outside the classroom.
"Nominating him as a LifeChanger is just one way I can show appreciation for the effort and time he gives every day for our Grove Park Gators," Danz said.
Ragan is a resource team leader and robotics teacher, News Crew teacher and STEM leader.
According to Danz, "Mr. Ragan is the kind of teacher who, when you walk into a room, greets you with a 'Good morning' in a flurry of voices, waves, or follow-up questions about your day. He's like that with teachers, students and parents too."
At Grove Park, students face high levels of poverty, behavioral problems, poor attendance and academic deficiencies. Ragan considers all of these barriers while providing instructions and his "fun and necessary" activities. He encourages students to find their purpose and provides them with activities such as computer coding, flying airplanes, building robots, 3D printing and playing chess.
Danz also nominated Little. She said he is known for his engaging and humorous teaching style that resonates with his students. He is a strict teacher who assigns homework every night, but his assignments contain jokes, funny clues and students' names. In addition, Little creates his games for students to play, which keeps them engaged and having fun while learning.
Little is credited with helping Danz's daughter reach her goal of receiving an A on her standardized math test, something she had not achieved in previous years.
"He deserves credit and recognition, not because of her fire, but because he genuinely cares about his students and their love of coming to school, even in sixth grade," Danz said. LifeChanger of the Year receives hundreds of nominations each school year from all 50 states and the District of Columbia. Eighteen individual LifeChanger Teachers of the Year will be awarded during the current school year.
One Grand Prize winner will receive $10,000. Four Grand Prize Finalists will receive $5,000 and 10 winners will receive $3,000. One Spirit Award winner will receive $5,000. This award is given to the nominee whose community shows the most support for the nomination.
A Capstone Award winner will also receive $3,000. This award is given to a nominee who retires at the end of the school year, and a Spotlight Award winner will receive $5,000. This award is presented to a nominee in a specific discipline each year.
All the money will be shared with their schools and school district.
Winners will be chosen by a selection committee of past winners and educational professionals and will be announced in early 2023. Nominees must be teachers in the elementary school or school district. To be considered for an award, nominees must: have a positive impact on students' lives; enhance school or district atmosphere, culture and pride; demonstrate exemplary leadership at the school and/or district level; have a proven track record of professional excellence; demonstrate commitment to building a nurturing environment that supports learning; and adheres to the highest moral and ethical standards.
A resource page with ideas for celebrating nominees can be found at lifechangeroftheyear.com/showspirit/.
To view Ragan and Little's LifeChanger of the Year nominee profile or to nominate someone from your school community, visit www.LifeChangeroftheYear.com.