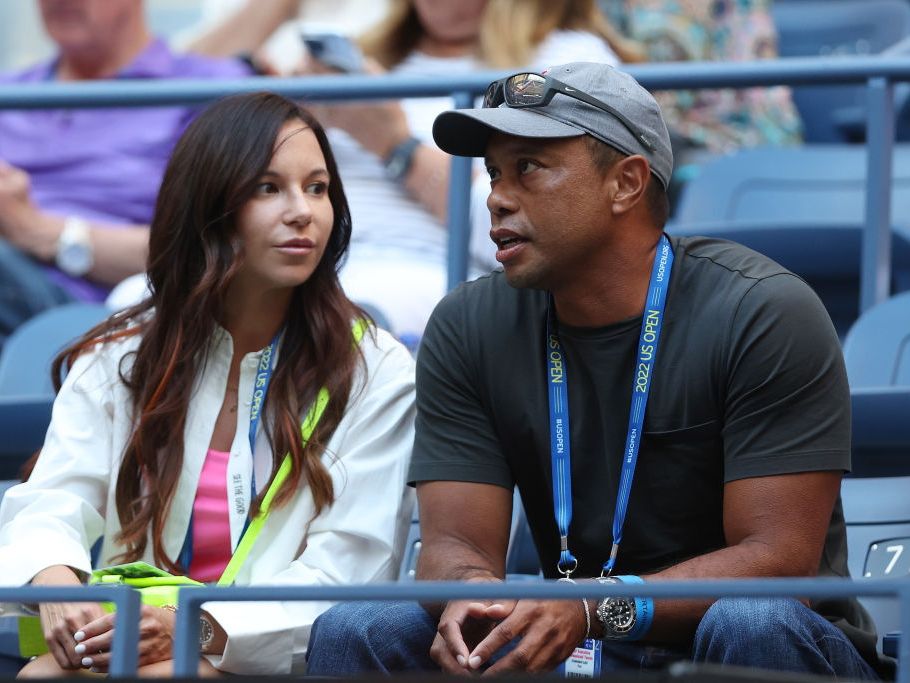 Under the question 'Does this case include allegations of sexual abuse?' she has ticked 'yes'
Herman (39) made the astonishing claim in a case where she is trying to void a non-disclosure agreement (NDA)
She claims she was forced to sign an NDA, but does not go into detail about what the alleged abuse entailed.
Under the question 'Does this case include allegations of sexual abuse?' she has ticked 'yes'.
Herman has cited the Speak Out Act which states that an NDA is unenforceable if it is approved before a dispute involving sexual assault or sexual harassment.
And Herman said in the filing that she is being pressured to remain silent and comply with the NDA by Wood's private trust.
Herman is also suing Woods for "serious" emotional harm in a separate lawsuit uncovered by DailyMail.com, claiming he tricked her into leaving the Florida mansion where they had lived together for six years.
In papers filed in October, she claims the former world number one persuaded her to go on a short holiday.
But when she got to the airport, his representatives told her she was banned.
Herman claims that Woods' representatives removed $40,000 of her money and made "shabby and defamatory claims" about how she got the money.
She is seeking more than $30 million for what she claims is a "breach of duty" that caused her to suffer "severe" emotional harm.
According to Herman, she should have been allowed to live in the home in Hobe Sound, Florida, for another five years as she provided "valuable services" as part of an "oral lease".
Herman says this gave her the right to live in the property for "a certain duration" and is suing Tiger's trust – the Jupiter Island Irrevocable Homestead Trust – which is the legal owner of his Hobe Sound mansion where the two lived together for six years
According to the lawsuit, filed as a trust action, "all expenses related to (Herman's) residence were fully paid for by the defendant or its privacy.
"This agreement was completed in the six-year period prior to the events giving rise to this lawsuit.
"The duties performed by the plaintiff were extensive and of an extraordinary nature in light of the general circumstances and environment in which she lived."
The documents filed in October say the prohibited practices "Woods engaged in caused "serious actual, consequential and serious emotional harm" to Herman and were done "intentionally, with premeditation and with malice aforethought."
The lawsuit states: "Specifically, by deception, the defendant's agents convinced the plaintiff to pack a suitcase for a short vacation and, when she arrived at the airport, told her that she had been locked out of the residence.
"They then informed her that she was not allowed to return and without legal aid to assist her in this emotional moment, they used a lawyer to confront her with proposals to resolve the offense they were in the middle of committing.
"Defendant's agents attempted to justify their illegal conduct by paying for a hotel room and certain expenses for a short period of time, after locking (Herman) out of her home and scaring her away from returning.
"Since then, the plaintiff has continuously demanded to be allowed to return to her home, but the defendant's agents have refused.
"Even worse, Defendant's agents removed Plaintiff's personal belongings from her residence and signed over more than $40,000 in cash belonging to her, making frivolous and defamatory allegations about how she obtained the money."
Woods has filed a motion to compel arbitration and stay the claims.
In the document, his lawyers said that after Woods ended the relationship, Herman was told she was "no longer welcome" at the property, where the golfer lives with her two children.
Woods' lawyers say Herman signed a non-disclosure agreement that is included in the filing but has been heavily redacted. It says any disputes should be overseen by an independent arbitrator rather than through the courts.
The document says that when Herman lived in the home he was a "guest" of Woods, noting that the couple never married.
Woods' lawyers state that he ended the relationship on October 13, 2022 and that her claim that she wants to live in the property is "directly adverse" to the interests of Woods and his children.