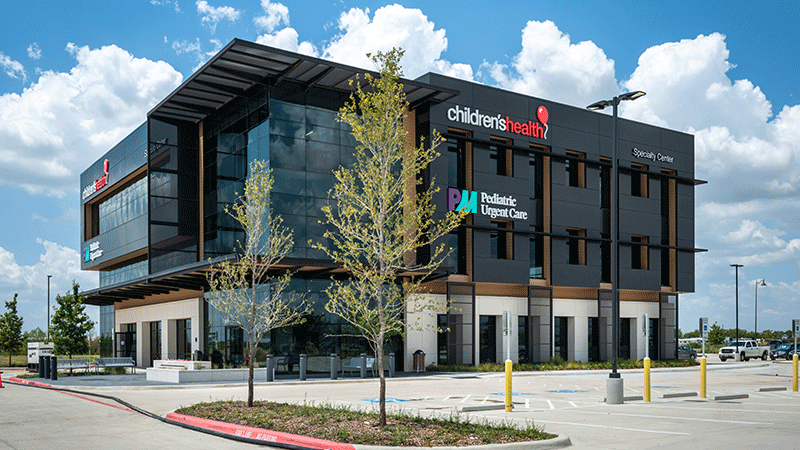 Children's Health held a grand opening ceremony for its Prosper Specialty Center last week, further establishing the nation's eighth largest pediatric system in North Texas' booming northern suburbs.
The new center is located on 75 acres owned by Children's Health near the border of Collin and Denton counties north of Dallas. The three-story, 30,000-square-foot center is located at the intersection of the Dallas North Tollway and Highway 380 in Prosper. It will include the Children's Health Andrew's Institute, a sports medicine-focused program with musculoskeletal, sports medicine, fracture and concussion care services. There will also be a pediatric clinic with urology, cardiology, pulmonology, general surgery, neurology, gastroenterology and ENT/audiology care staffed by Children's Health Medical Group and UT Southwestern Medical Center providers. A child welfare minister for emergency treatment for children opened at the site in January.
"This new center is an important next chapter in our ongoing promise to North Texas families to provide the right care, at the right time, in the right place to make their lives better," Children's Health CEO Chris Durovich said via the release.
The specialty center is about three miles east of Cook Children's Medical Center Prosper, a 23-bed hospital on 23 acres that opened in 2019. Prosper has become a hotbed of development due to its thriving population and affluent residents. Over the past two decades, Prosper has grown from a rural outpost of 2,000 residents to a city of 35,000 people. According to the US Census Bureau, the median value of owning a home is $524,700, and the median household income is $159,164. Frisco and Dallas' median household income is $134,210 and $58,231, respectively.
Children's Health has significantly increased its partnerships and presence in the northern suburbs in recent years. In 2019, the nonprofit system paid $2.5 million to sponsor the $53 million, 12,000-seat stadium for Prosper ISD. Earlier this year, it was announced that UT Southwestern and Children's Health would be jersey sponsors for FC Dallas. Children's Health opened its second major hospital in Plano in 2008. Northern Market President for Children's Health Vanessa Walls said the expansion was part of a long-term focus on the area. "This expansion allows us to continue to make world-class comprehensive care available to more children closer to their homes. It addresses their growing medical needs as we strengthen and invest in key clinical programs and branches of academic and community care," she said via a release.
Children's Health is also expanding in other areas of DFW. It is currently in the planning stages for a new hospital to replace Children's Medical Center Dallas. The new hospital will be built in conjunction with UT Southwestern via the two organizations' Joint Pediatric Enterprise. The original solicitation documents describe a $2.5 billion project that would add a labor and delivery unit to the current services offered at the system's Dallas campus. The new hospital will be built on the north end of the medical center across Harry Hines Boulevard from UTSW's Clements University Hospital.
JPE also announced an expansion to the RedBird development in southern Dallas, and according to Dallas Morning News, is expected to start construction this spring on the $200 million development. The children's health portion of the medical development, where UTSW and Parkland also have clinics, is reported to cost $22 million and provide 71,700 square feet of space for specialty and primary care in the area.
The center opened for patient care in February, but had a grand opening ceremony last week.