Independence Square
Martin Cruz Smith, Simon & Schuster, $32.99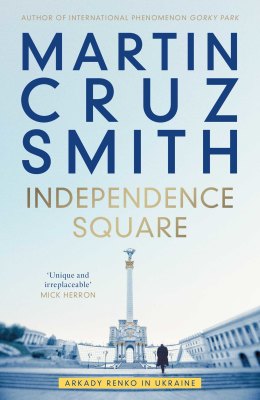 From the creator of Gorky Park comes a ninth Arkady Renko novel. In this one, the fictional Russian detective suffers a blow drawn from Martin Cruz Smith's own misfortune. The author has been diagnosed with Parkinson's disease, and Independence Square contains an autobiographical flourish in which Renko faces the same challenge. It's June 2021, and Renko already knows of Putin's intention to make war upon and annex Ukraine, as he did with Crimea in 2014. To distract himself from his diagnosis, Renko throws himself into his work. His latest case – finding an anti-Putin activist who's disappeared – will lead him into a complicated reunion with an old flame, and potentially lethal danger as the drums of war grow louder. Martin Cruz Smith taps his expertise on contemporary Russia to create another page-turning work of crime fiction set on the eve of Russia's brutal invasion of Ukraine.
NON-FICTION PICK OF THE WEEK
Opi
Andreas Pohl, Arcadia, $39.95
Andreas Pohl came to Australia for love and to throw off the weight of Germany's past personified by his beloved grandfather – his opi – who colluded with the Nazi regime.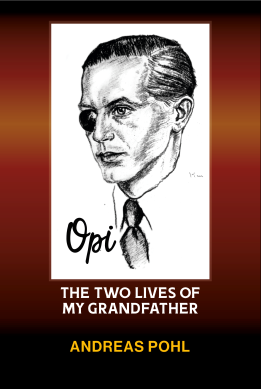 But the past is not so easily escaped, as this thoughtful and eloquent reckoning with his grandfather's flawed life and atonement shows. As Pohl reconstructs Friedrich Wilhelm Hymmen's "two lives" – the ambitious young writer designated a "national talent" by the Nazi authorities and the man who, in an act of self-punishment, gave up writing fiction for good – he examines the extent to which his grandfather truly confronted his complicity and to what extent he excused himself as "the naive, young nationalist who had been deceived". While Pohl never flinches from exposing his opi's guilt, evasions and prejudices, he also pays tribute to the best in him, his second life of "kindness and care".
What Birdo is That?
Libby Robin, MUP, $40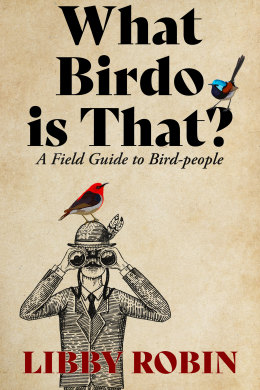 During a radio interview in Alice Springs, Libby Robins was told by the Indigenous host that a popular sport among locals was watching the visiting bird watchers. Similarly fascinated, Robin trains her binoculars on birdos of all kinds as she explores the history of ornithology in Australia, the organisations dedicated to the activity and key figures who have expanded knowledge of our birds and educated the public. The birdos in these pages range from amateur enthusiasts and twitchers to zoologists, authors and collectors such as John Gould, whose illustrated Birds of Australia has been a touchstone in Australian ornithology. Bird people are more diverse than ever before, says Robin, including citizen scientists, gardeners and urban dwellers attuned to the pleasures of watching backyard birds and appreciating what they have to tell us about the state of our environment.


Ethics in the Real World
Peter Singer, Text, $24.99
Few contemporary philosophers have been as prolific, publicly engaged and controversial as Peter Singer.
As the title of this updated edition indicates, this collection of essays challenges readers to reflect on what it means to live an examined life. Many of these pieces act as a kind of goad, forcing us to grapple with thorny questions we might not otherwise have considered or might bridle at, such as whether adult sibling incest should be a crime or whether we should honour the achievements of racists. Occasionally, his provocations are downright chilling. If criminality could be linked to a biochemical condition "governments could begin screening people to discover those most likely to commit crimes". Or, he suggests, gene editing could be used for "enhancement" of "general intelligence". But mostly, Singer's bracing clarity is a spur to deeper reflection, whether one agrees with him or not.
Half Deaf, Completely Mad
Tony Cohen, Black Inc., $32.99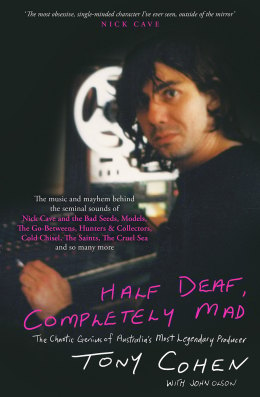 Tony Cohen was 15 when he and a friend got caught "smoking something we shouldn't" at school. "Satan has possessed your souls," the principal bellowed at the boys before expelling them. Through a friend of his parents, he got a job at a recording studio and from then on, producing music possessed his soul, a passion fuelled by an escalating drug habit. Of the bands Cohen produced in the '70s, '80s and '90s, his most enduring legacy is his work with Nick Cave and the Bad Seeds. While he describes himself as a smartarse and ratbag, his self-deprecation, sense of humour and desire to bring out the best in a band rather than impose his ideas upon it reveals a more complex and endearing character. The recording studio is a padded cell, he says, and devotion to it comes at a cost. That cost is all too plain in this posthumous memoir but so is the crazy brave energy that made the music of this era.
The Booklist is a weekly newsletter for book lovers from books editor Jason Steger. Get it delivered every Friday.