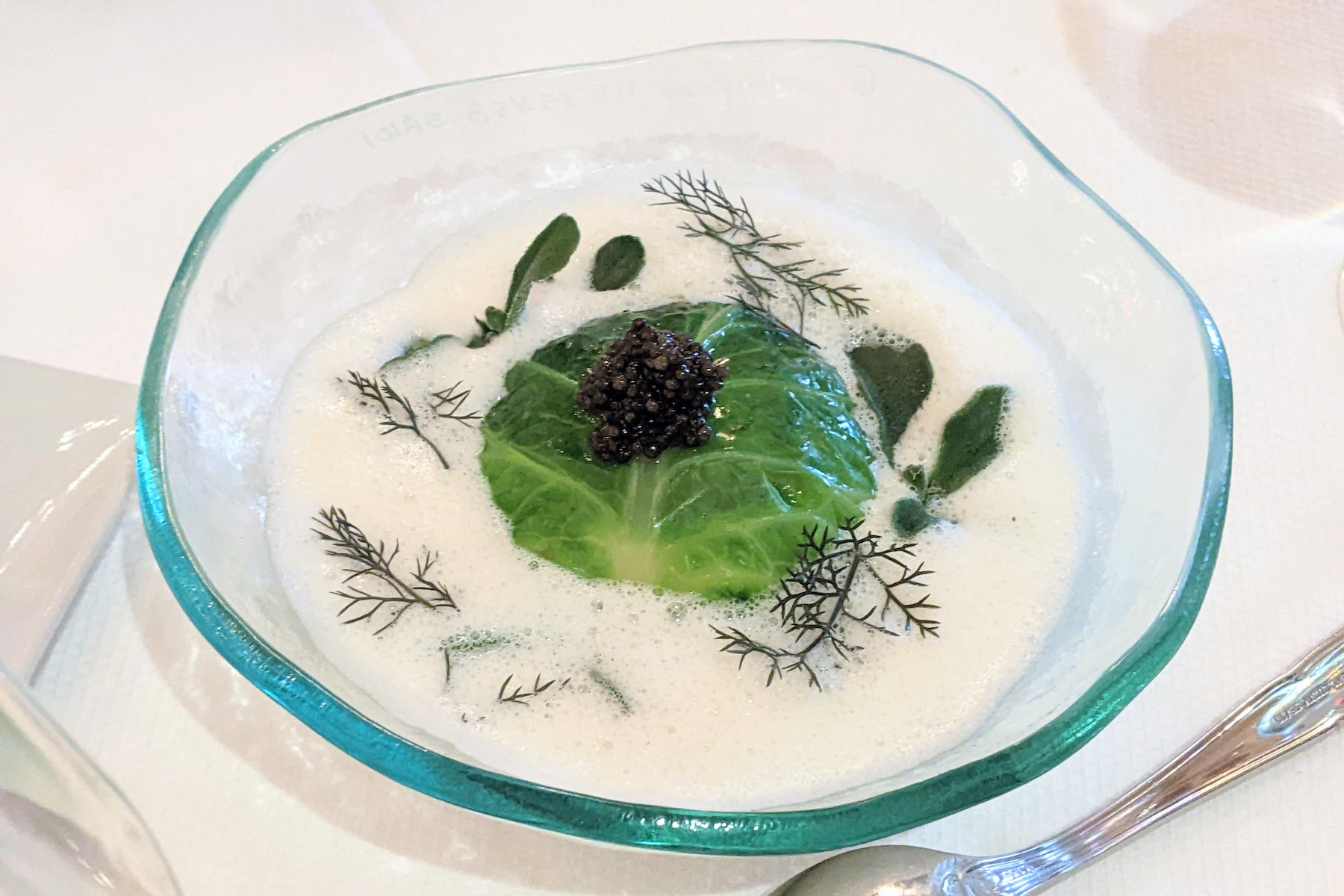 For the first time in three years, the French Room's kitchen is open for dinner on a regular basis. And for the first time in decades, it has a strong individual personality at the helm. But you'll have to act fast to catch it: her stay only lasts one more month.
The Adolphus Hotel's iconic restaurant has been almost completely silent since the coronavirus hit America three years ago. After hotel functions were normalized, the French Room reopened for afternoon tea only.
A few dinners took place this fall, when Adolphus developed a "Be Our Guest" series with guest chefs from other cities. The first two guests appeared for a total of three weekends. But the third chef, Victoria Blamey, is here for an 11-week stay. She arrived on January 20th and leaves on April 1st, to be replaced by another, hopefully equally impressive short-term guest.
Blamey, who grew up in Chile and has cooked all over the world, seemed poised for stardom in 2022, following the debut of her New York restaurant, Mena, and a rave review in New York Times. ("She cooks food that's truly her own—it doesn't look or taste like anything else in town.")
Less than three months after that review, and less than six months after the restaurant had opened, Mena's owners pulled the plug and closed the doors. Now Blamey is in Dallas.
Based on a dinner I had at the French Room in mid-February, we should be in disbelief at our luck. Any Dallasite with an interest in fine dining—or nostalgia for this diner—should book a table before Blamey leaves.
Tastes of Texas surprisingly charts the career of a chef who brings flavors of Chile to the United States. Tasting her cooking, I wondered if Blamey was commenting on the Southwestern food movement that once flourished in Dallas and propelled chefs like Stephan Pyles to national acclaim. She tells D it's not the case, more of a coincidence, but that she was excited to work with Texas meats as opposed to the ones she has access to in New York.
Although she uses many favorite Texan ingredients (poblanos, tomatillos, beef, smoke), her hand is more subtle and steadier. Paprika and other products can be felt even when they are invisible, or have been strained out of a sauce.
Blamey is also keen on nixtamalization, and the menu in mid-February offered two nixtamalized vegetable dishes with corn and sweet potatoes.
First, Japanese sweet potato went through the cooking process, stuffed with a tiny piece of plantain for extra sweetness and drizzled with chili-garlic seasoning. It was a bit like the Japanese-Mexican fusion cuisine that has developed in Ensenada and has been served in a few other Dallas restaurants. After the sweet potatoes, Blamey's menu moved on to more traditional nixtamalized corn – but instead of being ground and turned into masa, the kernels remained whole and firm in texture, served with a wintry mix of chanterelles and parsnips.
Then came two tributes to Texas beef. The smaller of the two meat courses found a pair of chewy but richly spiced slices of beef heart set in a Madeira jelly. To the intensely salty, mildly spicy flavors, Blamey's team added another generous touch: long, bouncy beef biscuits. As my dining friend put it: "they are more advanced pork."
The tasty finale was a large cut of ribeye from A Bar N Ranch, cooked in a rosy red. Next to it was a shallot filled with tender beef shank.
The menu has already changed significantly since I visited, partly because my dinner was during Valentine's week. When I asked Blamey to describe her style, she highlighted two points, one of them her love of ingredients not often served on tasting menus like these. "I like to bring legumes, because people think they're a bit low-brow, something you eat out of a can," she told me. "I like to do fine dining work with it." Every meal at the French Room during her stay starts with another of her favorite things: a cup of tea.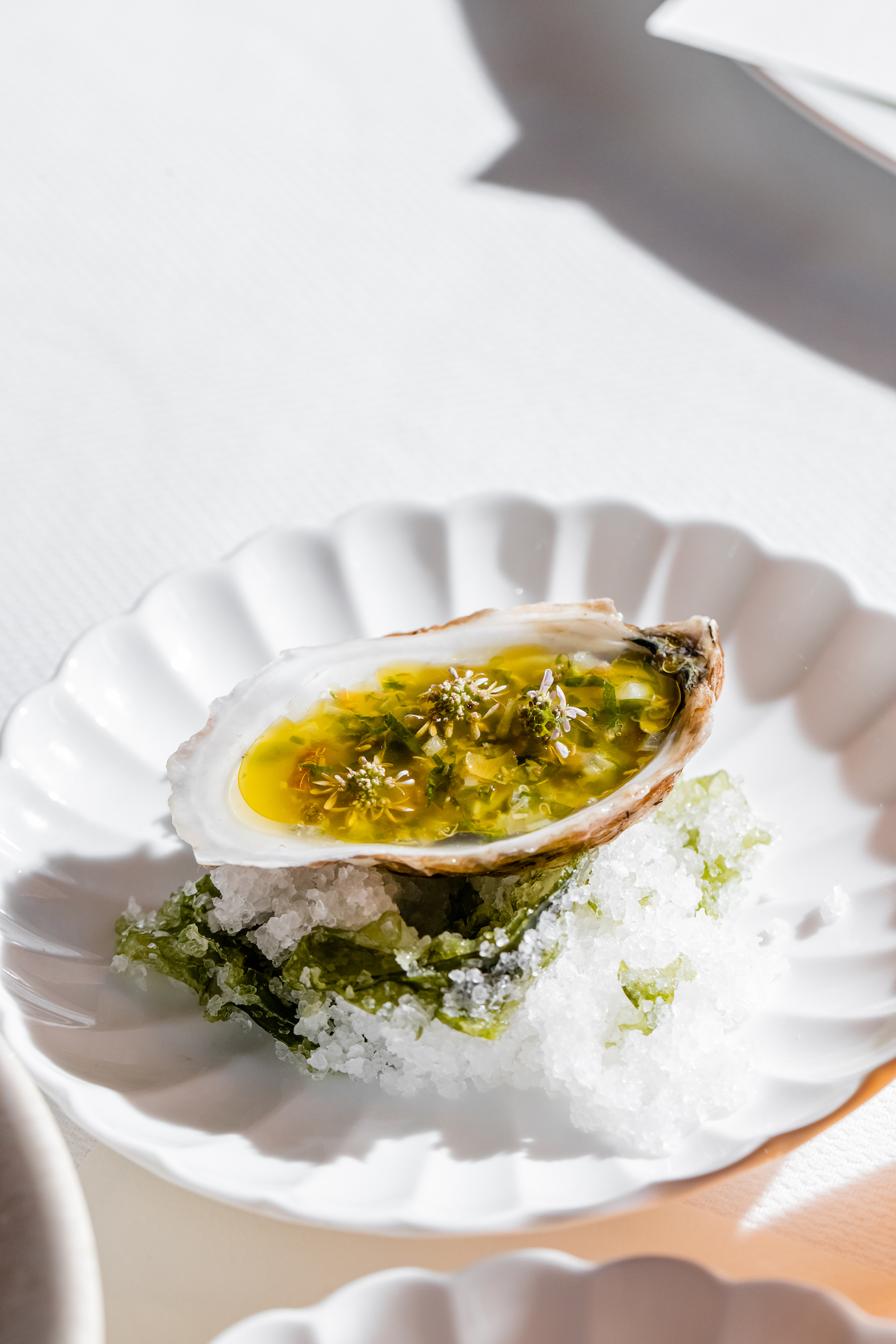 The second point was her global journey as a Chilean chef who has worked in England, France and Australia. Because of her heritage and training, she hates labels and pigeonholes.
"I don't do French, I don't do Italian, I don't do one thing," she said. "A lot of people are like that, especially immigrants. Obviously my training was fine dining, with French cooking and English cooking, but I try to express who I am as a person, a memory of anywhere I've been and what I've been through."
(What she's been through, by the way, includes the recent heartbreak of the closing of her solo restaurant Mena. "I underestimated the pain," she added. "Being really embarrassed, being so upset, and then being sad. The last week It went just fine with getting the job done. But after that week I was an idiot who thought everything was going to be okay." The stress led to migraines, one of which lasted seven days and two hospital visits. Blamey hopes to reopen Mena one day and has seen in some places in New York. She says that a particular point of pride was the diversity of the clientele, that she had created a place that appealed to all ages, genders and races.)
The experience of dining in the French Room hasn't gotten any worse since the pandemic, but it has gotten weirder. The staff is a mix of established pre-covid veterans and inexperienced newcomers, who sometimes need some corrections or forget to explain the dishes served. They're shaking off some rust, and the dining room itself is now subtly spruced up by a giant AT&T video board that blasts images through the windows. If you already have a surreal feeling when you return to the French room after so many years, the video board will only increase it.
In his final month at the French Room, Blamey plans to continue revising the menu, and may even add a longer nine-course tasting for customers who want to try even more new things. She will continue to push more and more ambitious food out of the kitchen, without sacrificing fan favorites such as the caviar and cheese courses. ("I've never seen so many people order so much cheese," she told me. "80 percent of the diner wants the cheese!")
Although we enjoyed every dish, one of them stands out as perfect. It's Blamey's signature, and when she packs her knives, she packs the recipe too.
"She takes this with her wherever she goes," our server told us as he set down the "chou farcien," probably America's most elaborate rendition of stuffed cabbage. Inside the vibrant green leaves were layers of scallop mousse, more cabbage and sea lettuce. This elaborate creation floated like an island in a sea of ​​frothy vin jaune sauce, sprinkled with more sea vegetables and topped with a spoonful of caviar. Amidst all the dark browns of nixtamalized vegetables and roast beef, this island of green was like a vision from another universe.
Looking at that chou farci—probably the most exciting plate in Dallas until April 1—I thought of two quotes. One was from New York Times' Pete Wells, reviewing the same dish: "It plays like a lost classic of nouvelle cuisine." (The French room's plating is better than in Times picture. Sorry, New York!)
The second quote was from 30 Rockis Liz Lemon. If there is a parallel universe where the French Room is open for dinner every night and serves dishes as wonderful and original as this, "I want to go there."
The French Room, 1321 Commerce St. Chef Victoria Blamey residency through April 1; The "Be Our Guest" series resumes with more chefs to be decided after Blamey leaves.
Author
Brian Reinhart
Show profile


Brian Reinhart became D Magazine's dining critic in 2022 after six years of writing about restaurants for Dallas Observer and Dallas Morning News.