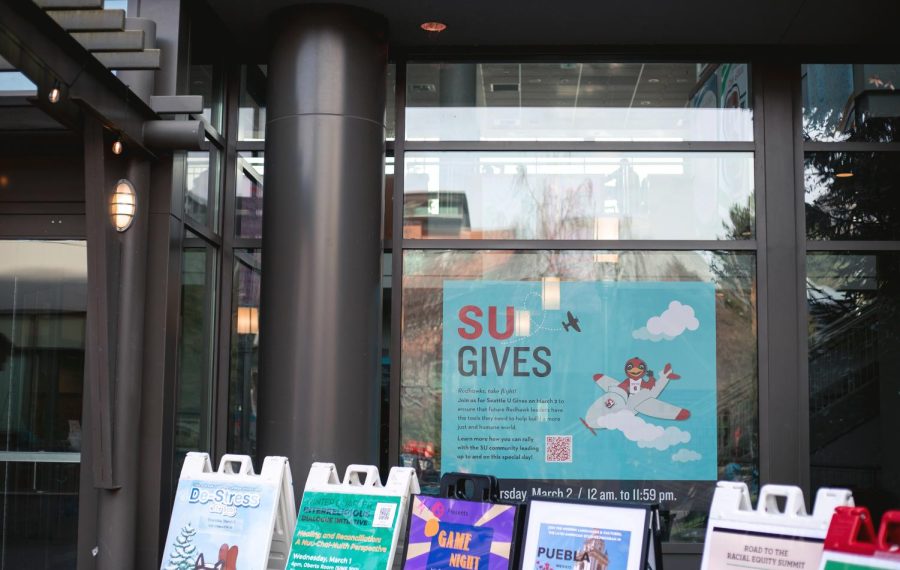 Each year Seattle University holds SU provides, a 24-hour event that supports multiple organizations across campus. This year, the Seattle U community raised over $800,000, and in the coming weeks the final total will be tallied.
Instead of making a donation to Seattle U in general, donors can make a selection from one of over 80 funds that support a specific area of ​​campus.
Katie Chapman, Senior Director of Development for University Initiatives, discussed the variety of funds that were available and why it is set up this way.
"We know people like to care about different parts of campus, so that [colleges, schools and different departments] on campus put forward the funds that they believe their alumni, friends and supporters would most want to give to," said Chapman.
One of the funds to which people could donate was the Seattle U Fund, a general, unrestricted pool used for institutional resources to ensure student success. Chapman explained that this fund usually supports initiatives that are aligned with strategic directions by the university, but also emphasizes student grants.
Donors may also choose to support scholarship funds directly, including the Annual Scholarship Fund, which helps support the financial needs of Seattle U students.
Jordan Grant, assistant provost for student financial services, discussed how the state of Washington does not offer state-funded support to private institutions, making scholarship funding especially important in bringing students to Seattle U. The availability of scholarships helps students offset the direct costs of tuition, fees, room and board, so that they can maintain their registration and be in the desired programmes.
"Scholarships are very important to a place like Seattle U. Some students can qualify for different types [financial] aid at a lower cost state school may not be as successful in those schools with higher numbers of students," Grant said. "We want to make sure that students who think Seattle U is the best fit for them have the opportunity to access that education. Scholarships help those students do that."
While Seattle U guarantees scholarships and grants that will be effective for four years, Grant stated that costs will increase slightly each year. He also explained that while federal grant and loan programs will offer more money, it's usually not enough to cover the difference.
Considering that the student retention rate is a persistent concern at Seattle U, which also has affected the university's financesGrant explained that scholarships are just as important to maintaining enrollment.
"Where SU Gives and donor-funded aid is really important is that these grants help support those disparities in costs as they increase," Grant said. "It helps [Seattle U] to keep the students through the next term, next year and hopefully through the exam."
Janelle Simms, Seattle U's director of annual giving, provided an overview of the demographics of donors who make an impact. While alumni and donors of all ages participate in SU Gives, due to the online nature of the 24-hour fundraiser, donations on the day typically come from the younger population.
"They're the ones who are on Instagram and scrolling and seeing all the stuff on Facebook and things like that, so I think it's primarily our online day of participation," Simms said.
On the other hand, Simms also added that the older alumni base supports the cause through early giving and funding challenges. Challenges are sums of money, typically in the thousands, that are unlocked when funds receive a certain number of gifts.
Regardless of whether the challenge goals are met, however, older donors to the school are invested in SU Gives, meaning there is no risk that a failure to meet a challenge goal will lead to a loss of funding. Simms assured that the challenges are simply there to motivate others to give, and that they have never had a major donor come back and ask for a refund for a challenge.
"Donors love their causes and they're willing to put a lot of money behind something, so they obviously care about it and they're passionate about it," Simms said. "They just want to see the increased participation, and they just want the philanthropic support."
With SU Gives in its seventh successful year, the fundraising event will continue to serve as an important component of the University's fundraising regime. With the help of the broader Seattle U community, the funds will continue to support students while enhancing campus resources, creating lasting impact for years to come.
Editor's note: The Spectator received donations during the SU Gives campaign.