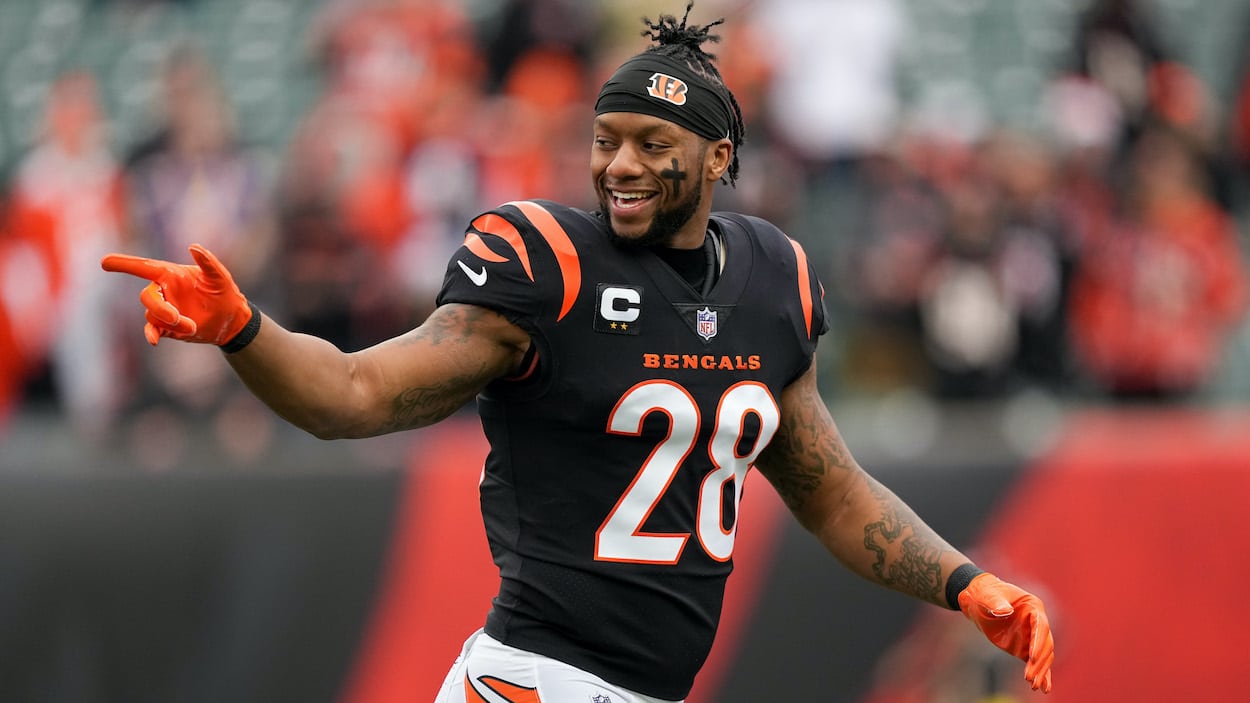 Joe Mixon is part of the Cincinnati Bengals' three-headed monster on offense — along with quarterback Joe Burrow and wide receiver Ja'Marr Chase — that has turned the unit into the No. 5 scoring offense in the league in 2022. As good as the offense has been, several factors have combined this season which could cause the team to re-evaluate the Joe Mixon contract situation this offseason. Between the offensive play-calling, the emergence of backup Samaje Perine, and the Bengals' salary cap future, this could be the running back's final season under the current Joe Mixon contract.
Joe Mixon has one year and a team option left on his contract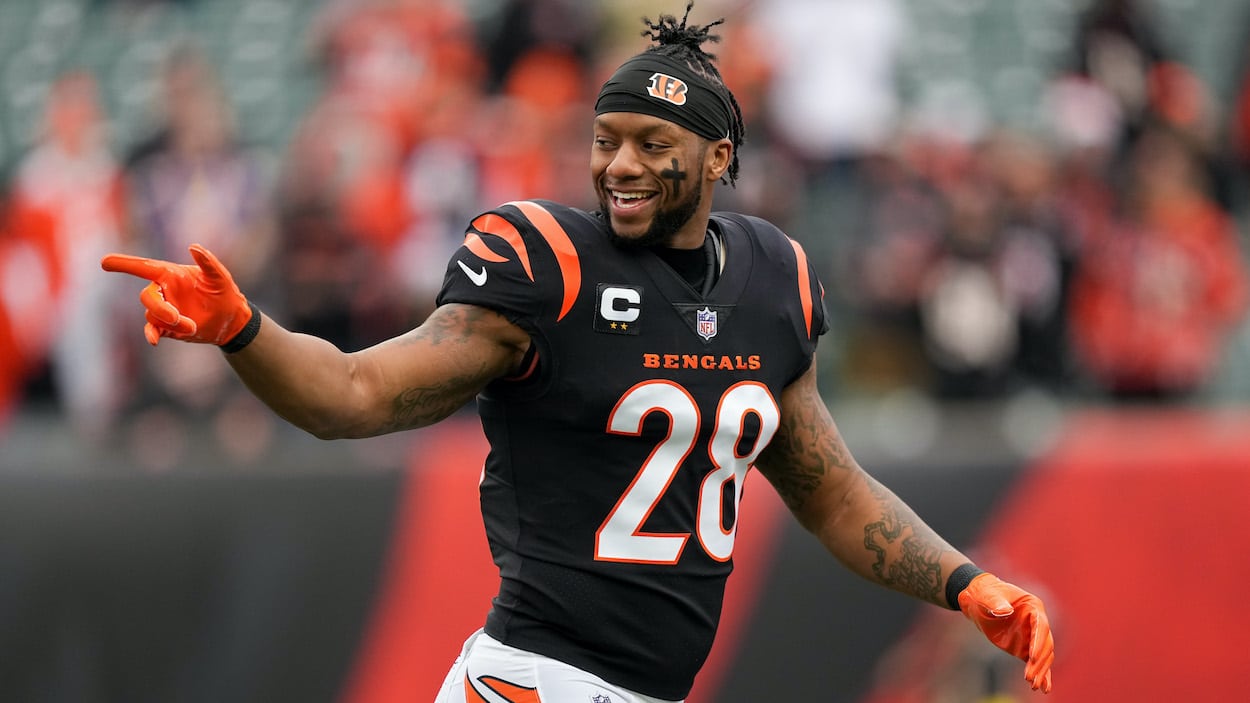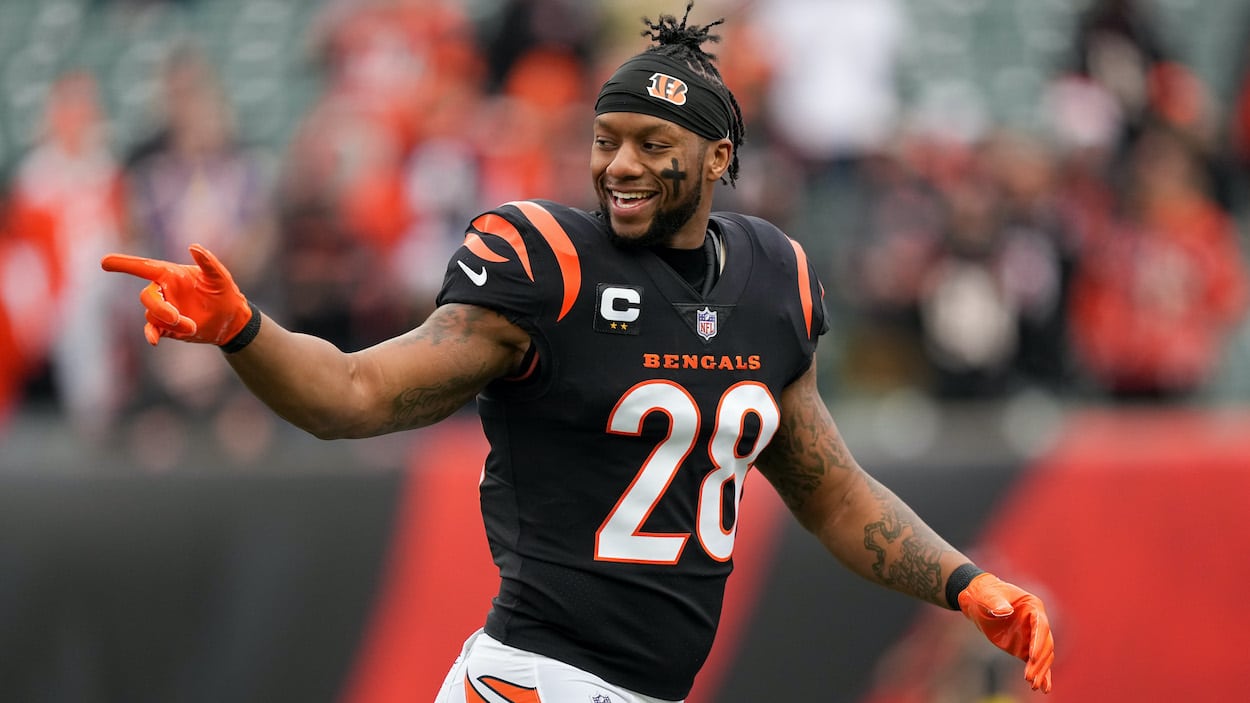 California native Joe Mixon went to Oklahoma in 2014 to play college football, but ran into controversy when the team suspended him for his entire freshman season. The punishment followed an assault charge stemming from a "physical altercation with a female," according to Bleacher Report.
Mixon returned to the Sooners in 2015 and played two years in Norman. In that time, he rushed for 2,027 yards on 300 carries, caught 65 balls for 894 yards and scored 26 total touchdowns.
While Mixon offered NFL teams first-round talent and production, the suspension gave some teams pause. However, the Bengals felt comfortable selecting him No. 48 overall in the second round of the 2017 NFL Draft.
As a second-round pick, the first Joe Mixon contract was a four-year, $2.56 million deal.
In his first three NFL seasons, Mixon became one of the top running backs in the league, with 3,801 yards from scrimmage and 21 touchdowns. Those numbers led the Bengals to offer their star RB a lucrative extension.
The next Joe Mixon contract was a four-year, $48,000,000 deal with $10,000,000 guaranteed and an average annual value of $12,000,000.
In 2022, Mixon has a base salary of $8,000,000, $2,000,000 in pro-rated signing bonus, a bonus of $470,589, a workout bonus of $200,000 and $750,000 from a previous restructuring. That gives RB a hit of $11,420,589 with a dead cap number of $8,450,000.
In 2023, Mixon's base jumps up to $9,400,000 plus bonuses for a hit of $12,850,000 and a dead cap value of $5,500,000. The following season, the Bengals have a team option for an additional season at a $9,683,205 plus bonuses for a $13,133,205 cap hit and a $2,750,000 dead cap number.
This season, Mixon's $11.4 million hit is third for RBs in the NFL, behind only Ezekiel Elliott ($18.2) and Dalvin Cook ($11.8). His 6.23% of the Bengals' salary cap is the seventh highest in the NFL for his position.
Do the Bengals need Mixon?
The Joe Mixon contract makes him one of the highest paid running backs in the NFL in 2022 and beyond. The question becomes, is Mixon worth it?
Next season, the team could save $7.35 million by cutting or trading Mixon at some point. And between Samaje Perine stepping up, the Bengals' offensive style, and the Bengals' salary cap situation, it might make sense to part ways with the back.
Despite now having two excellent running backs, the Bengals' run offense is relatively weak. The team has 355 rushing attempts this season (22nd in the NFL) for 1,400 yards (26th). The team also rushed the ball just 39.0% of the time, which is 23rd in the league, per Football Database.
And Mixon's backup (and fellow former Sooner) Samaje Perine has filled in well for him this season. In the two games Mixon missed with a concussion this season, Perine had 38 carries for 164 yards and a touchdown.
Additionally, having one of the highest paid running backs in the league is a luxury the Bengals won't be able to afford anytime soon. The team just gave Trey Hendrickson and DJ Reader big extensions, and Joe Burrow, Ja'Marr Chase, Tee Higgins and Logan Wilson are all in line for their own big money deals soon as well.
With all of these contracts coming, the Bengals salary cap likely won't be able to handle the final seasons of the current Joe Mixon contract. So he must either restructure with a team-friendly deal or find a new team.