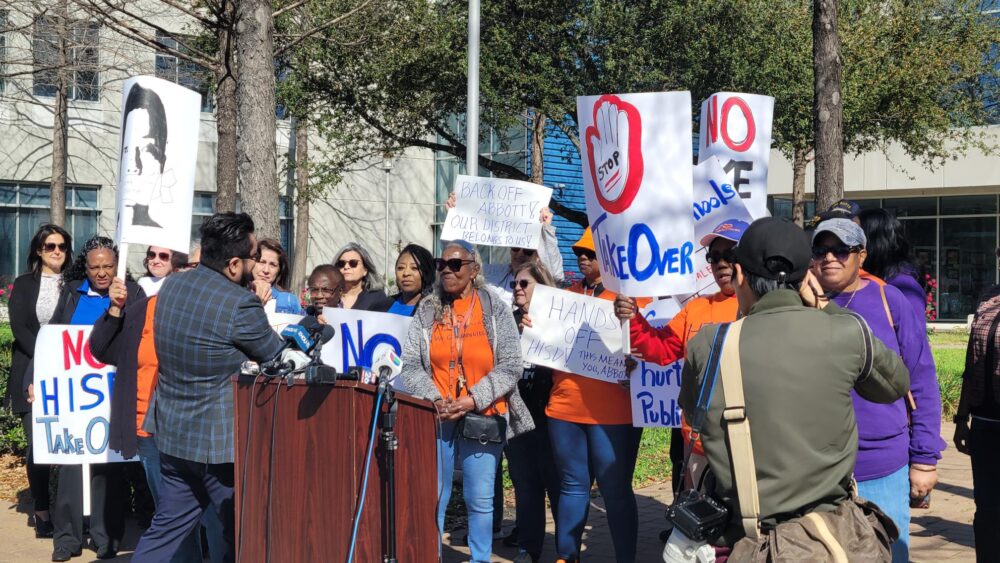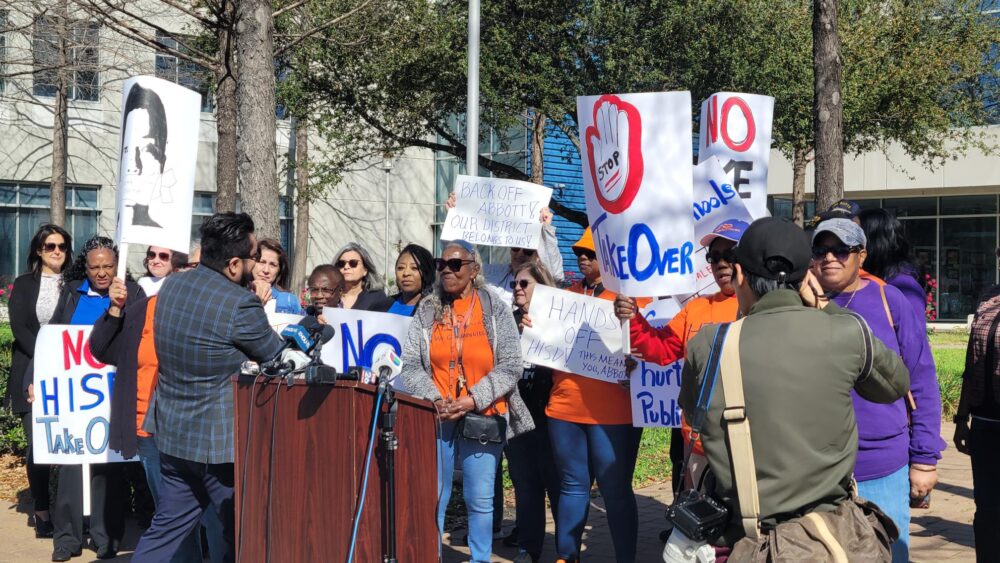 Dozens of protesters gathered in front of HISD's administration building to voice concerns about a rumored takeover of the Texas Education Agency.
Ruth Kravetz is the co-founder of Community Voices for Public Education with two children who graduated from HISD. As a former educator, she has worked with students whose families lacked the income to pay for necessities.
"There's one boy I learned, when I went to his house to help him think about college, he didn't have electricity and the only furniture in the house was a bed, an engine block and a chair," she said. "He did his homework by the street lamp outside."
Kravetz believes the state uses standardized testing to unfairly measure children with fewer resources compared to those with more.
"Both sets of kids have parents who love them, but one set needs us more. And this takeover is going to exclude those kids," Kravetz said.
Her biggest concern with the takeover is that TEA potentially closes more public schools and opens more charter schools that could exclude low-income students from getting an education.
Another protester, Kourtney Revels, is a parent who lives in an area of ​​Houston that used to be part of North Forest ISD.
"When the TEA forced HISD to exonerate them, we saw a lot of school closings," Revels said.
She said a takeover is unjustified and parents want thriving schools in their neighborhoods.
"That's what helps with our socioeconomic condition. Kids getting educated and not having to leave, that's another fear for me," she said. "That our kids are going to be bussed out to Lamars and Bellaires. If they don't charter down. If they still let our kids in."
North Forest ISD was absorbed by Houston ISD after the state dissolved the district in 2013.
Elsewhere, the authorities spoke out against the rumored takeover. State Representative Jarvis Johnson, Mayor Sylvester Turner and Congressman Al Green were in attendance.
"Please know that everyone here is the same way," said Rep. Johnson. "We understand that this takeover is disingenuous and an egregious one at this time. HISD is doing a phenomenal job. … as we speak now, HISD has a B+ rating."
Johnson acknowledged that there was a time when HISD needed to be taken over by TEA, but "not at this time".
Mayor Turner said Saturday that he called TEA Commissioner Mike Morath and asked him personally about the rumors.
"'Are any of these rumors true? Are you all planning to take over HISD?' And the commissioner wouldn't confirm or deny," Turner said. "What he said is that there are some provisions that are discretionary for the state. And then there are some provisions that are mandatory. … So you know, there are two options, you either close the school or take over the district, which do you prefer?'"
Turner said there was a third option where it could be handled through the legislature.
TEA has not yet confirmed a HISD takeover.