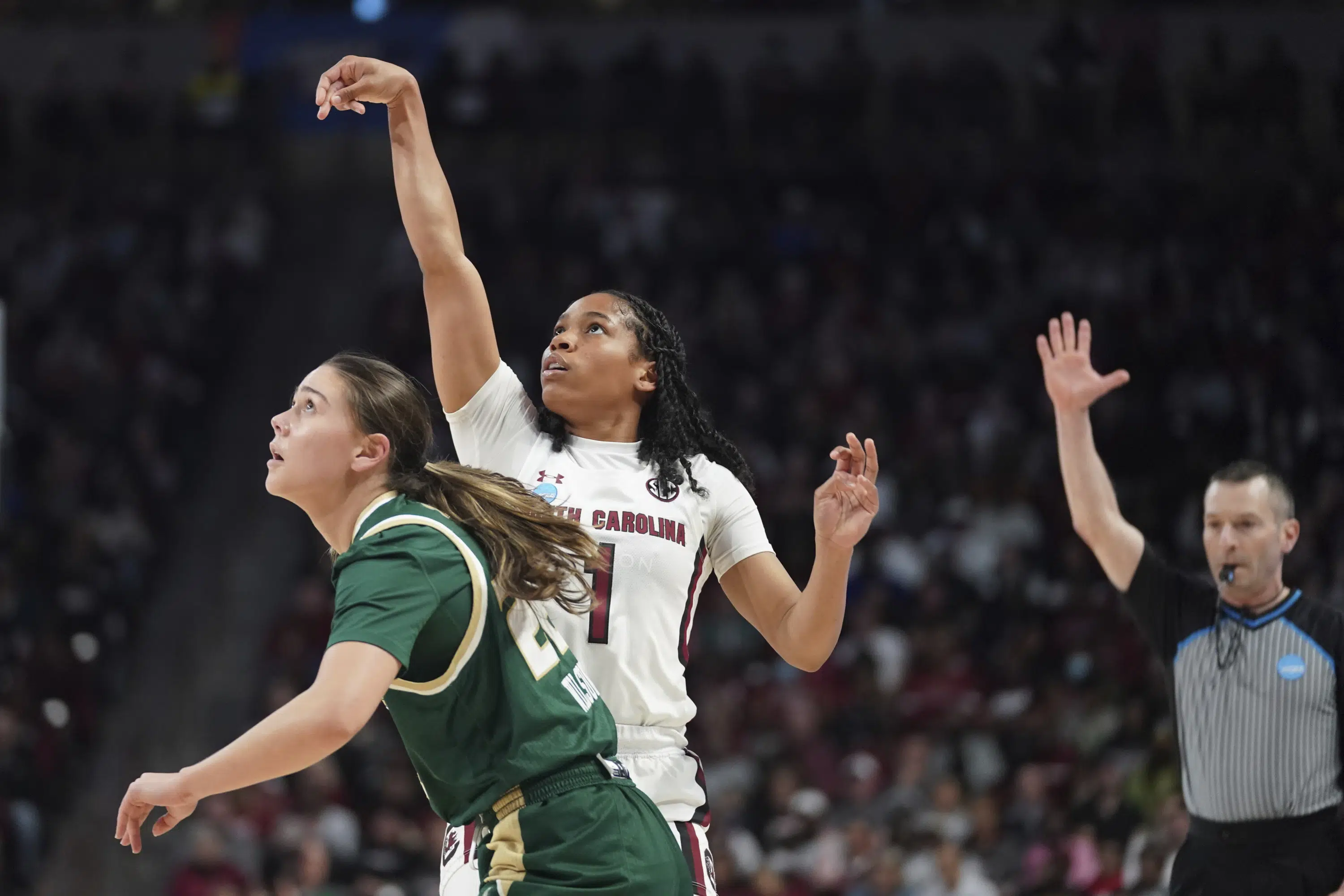 COLUMBIA, SC (AP) — Zia Cooke scored 21 points and Aliyah Boston had her 81st career double-double as top-seeded South Carolina shook off a slow start to move past eighth-seeded South Florida and into the Sweet 16 with a 76-45 victory Sunday.
The Gamecocks improved to 34-0 with their 40th straight win overall and moved four wins away from a second straight national title. They head to Greenville, where they won the Southeastern Conference Tournament two weeks ago, to play for a spot in the Final Four.
Boston, the program's career record holder for double-doubles, finished with 11 points and 11 rebounds, coming out of his final game at home to a standing ovation.
South Florida (27-7) entered seeking a program-record 28th win this season and its first berth in the Sweet 16, but after a hectic start, couldn't hang with the Gamecocks.
Elena Tsineke, just 5-of-16 shooting in Friday's OT win over Marquette, scored seven of the Bulls' first 10 points en route to a 16-12 first-quarter lead in front of a nervous South Carolina home crowd.
But Boston, the All-American and two-time Southeastern Conference player of the year, took things over in the second period.
Her inside basket put South Carolina within 21-20 as it outscored the Bulls 21-13 in the period. And Boston was not only active offensively, she got after that on defense twice diving on the floor to chase the free basketball.
Late in the second quarter, the 6-foot-5 Boston stopped a drive by Maria Alvarez near the basket, then raced to the sideline to double team Emma Johansson into a turnover.
The Gamecocks went 10-9 in the first 10 minutes, took control of the glass after that, and finished with a comfortable 52-28 edge.
South Florida made just five of its 28 shots in the final 20 minutes and was held to its lowest point total of the season, 25 below its season average.
Tsinkeke led the Bulls with 20 points. Fankam Mendjiadeu was held to just four points on 2-of-9 shooting.
BIG PICTURE
South Florida: It should be a different Bulls lineup with fifth-year senior Dulcy Fankam Mendjiadeu and Tsineke likely gone. Sammie Puisis, the Florida State transfer who is listed as a junior, could return and if she does, she could be an even more dynamic scorer than she was this season. Carla Brito was a freshman and should play a bigger role next season.
South Carolina: Just another day at the NCAA Tournament office for the Gamecocks, who have been a near Sweet 16 lock under Dawn Staley for the past decade. They have reached the Round of 16 in 10 of the last 11 tournaments, just missing in 2013. There was no tournament in 2020 due to COVID-19.
NEXT
South Carolina will face either fourth-seeded UCLA or fifth-seeded Oklahoma in the Sweet 16 next Saturday.
___
AP March Madness coverage: and and