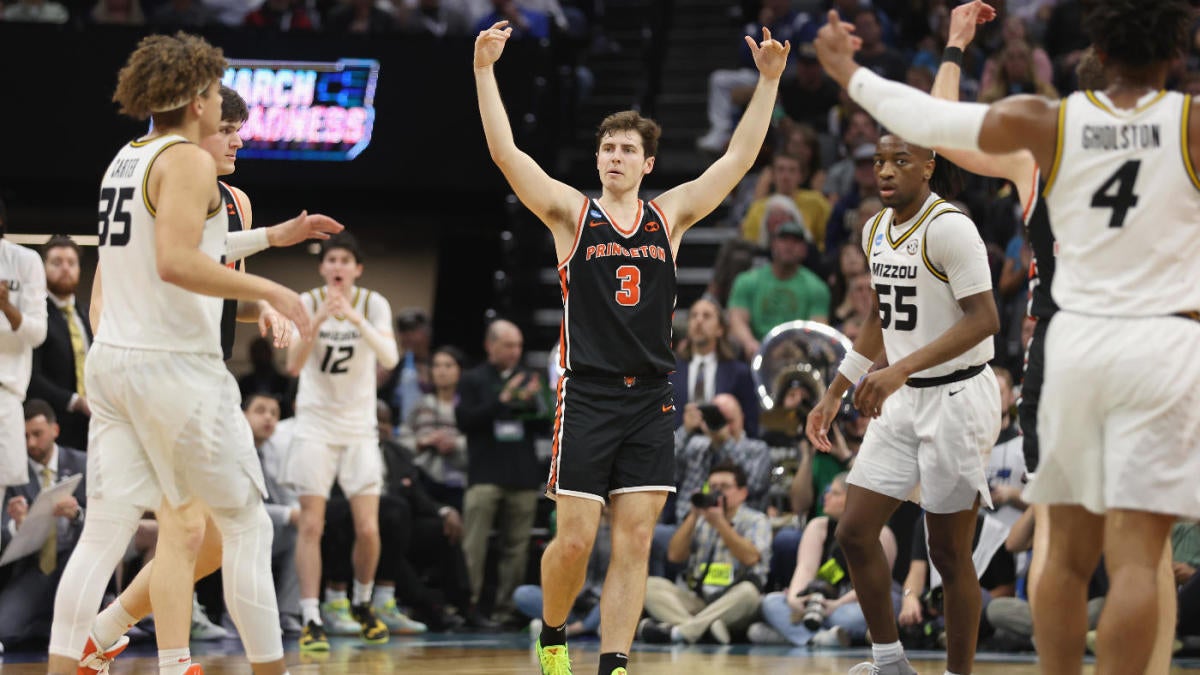 Princeton made NCAA Tournament history on Saturday by becoming the fourth No. 15 seed to ever reach the Sweet 16 when it beat No. 7 seed Missouri 78-63 in the second round. Ryan Langborg led the way with 22 points for Princeton, which is just the fourth Ivy League team ever to reach the Sweet 16 and the first since Cornell in 2010.
It will be Princeton's first Sweet 16 appearance in the NCAA Tournament's modern era, and Saturday's performance only confirmed that the Tigers are a serious threat in the dwindling field. Princeton led by as many as 21 in the second half and only allowed Missouri to lead 32 seconds into the game in the game's opening salvo.
It marks the third consecutive year that a No. 15 seed has reached the Sweet 16 after Saint Peter's and Oral Roberts did so in 2022 and 2021, respectively. Princeton will play either No. 3 seed Baylor or No. 6 seed Creighton in Louisville on Friday for a spot in the Elite Eight.
Princeton's run began with one 59-55 win over No. 2 seed Arizona on Thursday, and Saturday's dominant performance against Mizzou proved it was no fluke. The team, coached by former Princeton star Mitch Henderson, jumped out to a 33-19 lead late in the first half before Missouri used a 7-0 run before halftime to secure some momentum. But Missouri never got closer than five points in the second half, and Princeton used a 10-0 run midway through the half to pull away.
The result marks a sour end to an otherwise excellent season for Missouri under first-year coach Dennis Gates, who took over a program that finished 12-21 last season and led it to a final record of 25-10.
Statistical dominance of Princeton
Missouri entered forcing 17.1 turnovers per game, placing it among the top 10 teams in the country in turnovers forced. But even with Missouri bringing full-court pressure for much of the second half, Princeton committed just nine turnovers, which was below its season average of 12.4.
Mizzou also averaged 9.4 made 3-pointers per game on a solid 36.2% mark entering the day. But Missouri mustered just 6 of 22 performance from beyond the arc. Princeton made 12 of 33 3-pointers, including 8 of 18 in the second half.
But nowhere was Princeton's statistical advantage more evident than on the glass. Princeton won the second-chance points battle 19-2 while outscoring Mizzou 44-30, which included a 16-8 advantage in offensive rebounding. Caden Pierce led the rebounding charge for Princeton with a career-high 16 boards. The 6-foot-6 forward's haul included seven offensive boards,
Jersey boys came to play
Princeton's win is just the latest example of impressive NCAA Tournament success by a team from New Jersey. Fairleigh Dickinson became the second No. 16 seed in program history to take down a No. 1 seed Friday night when the Knights beat Purdue.
Just one year ago, Saint Peter's of New Jersey became the first No. 15 seed to ever reach the Elite Eight. The Tigers will now try to follow in their footsteps, and it feels achievable. There was nothing weird or cute about how Princeton beat Arizona or Missouri. The Tigers are playing their best basketball at the right time, especially on defense, and will be a formidable threat in Louisville next week as a South Regional champion is decided.