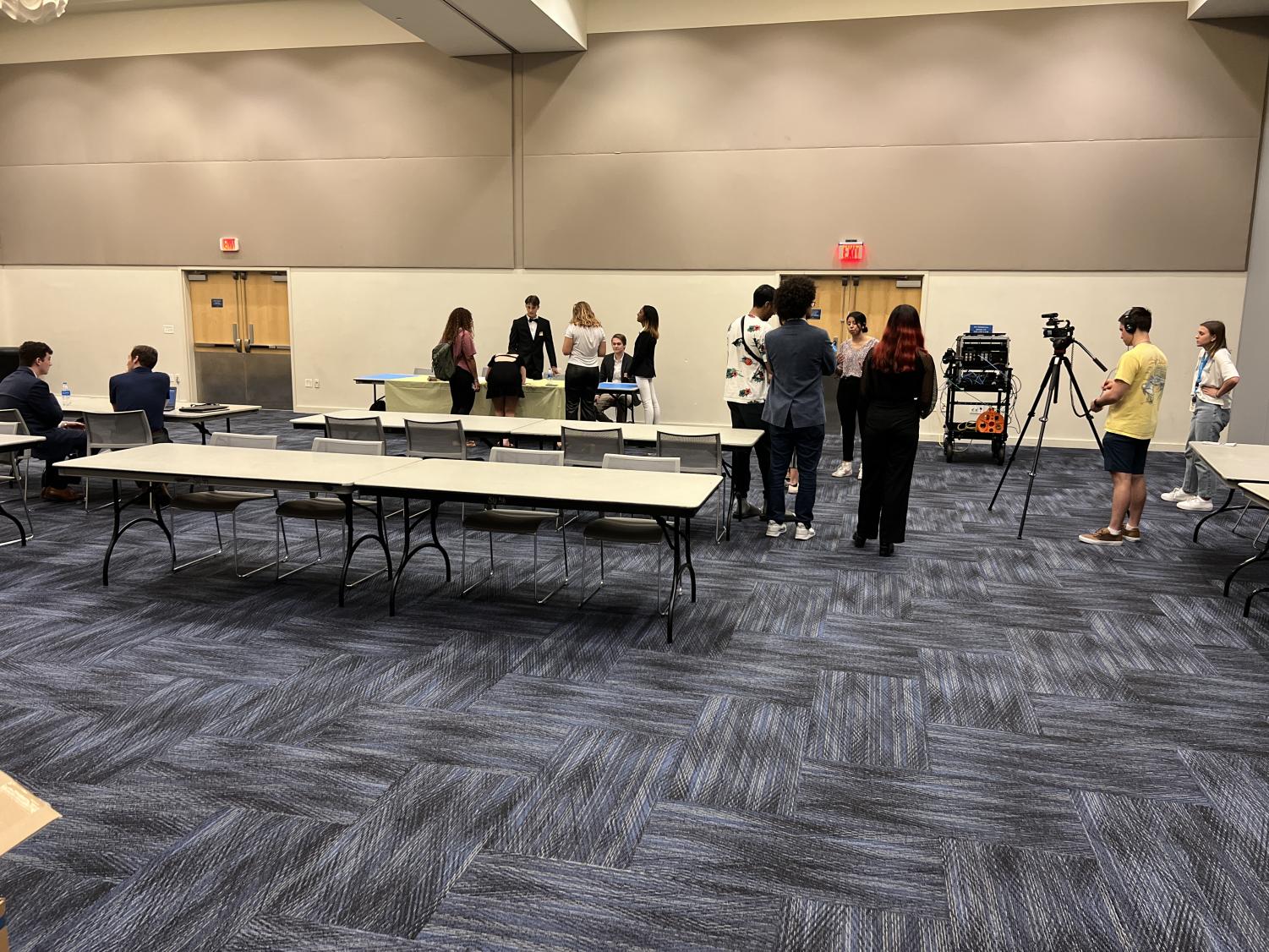 Student Government set up in Ballroom C of the University of North Florida's Student Union Wednesday night to hold their graduate meet-and-greet forum, but for second year in a rowattendance from candidates and the student population was low.
Of the 23 candidates who ran for the 19 open seats in the Senate, only 11 turned up for the meet and greet – less than half.
The forum was an opportunity for the university community to meet candidates and learn about their initiatives. The candidates were lined up at the tables around the room, split up by each party, leaving it up to any contestants to walk around the room and ask questions. None other than the Spinnaker reporters appeared at the forum.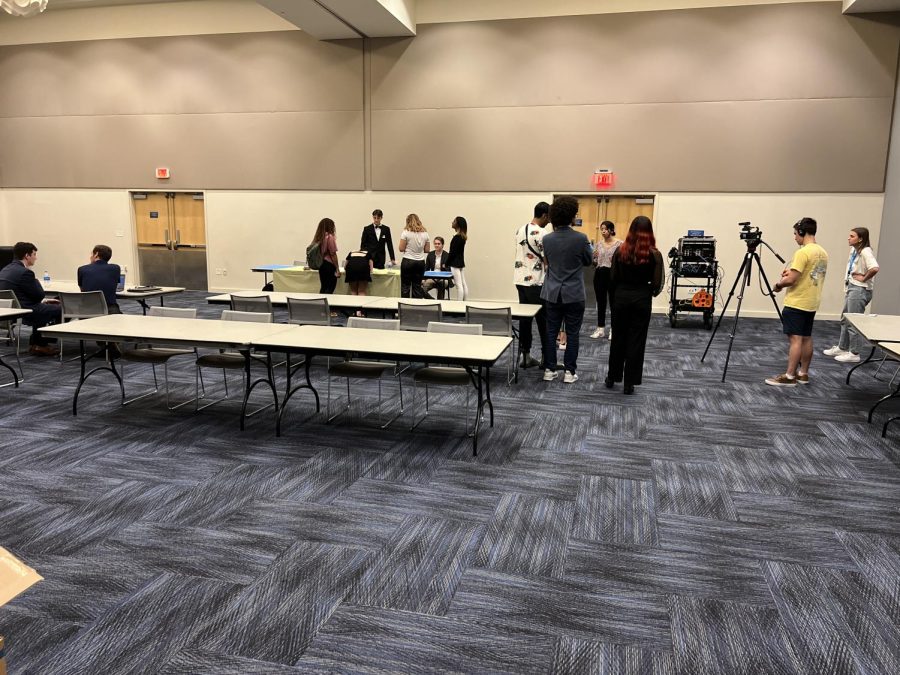 Here's what Spinnaker learned about some of the candidates' initiatives.
Mitchell Aarons, a UNF freshman, presents Soar Party. He explained that one thing he would like to change on campus if elected is campus meal times.
He explained how the dining hall only serves pizza and salad later in the evening. If you don't go to eat there, sometimes the only other options open on campus are Ozzie's in the Fountains or Pita Pit, both of which cost more than a meal, Aarons said.
Gabi Bynum, also a freshman at UNF, is running with the Unity Party. She told Spinnaker that her time as a tour guide so far has shown her the abundance of resources available to students on campus, and she wants the opportunity to promote them as a senator.
This year, John Grosso and Emily Sullivan, the presidential and vice presidential candidates, will automatically get their respective positions because no other candidates filed to run against them.
Grosso, who is running for student body president, explained that when he takes office, he wants to start a relationship between the city of Jacksonville and UNF.
"I think UNF has a lot of wonderful resources, so I would like to develop those relationships […] Nine to five our campus is busy, but a little after that I feel like our campus doesn't have all it can offer," he said. "So I just want to build a relationship with these off-campus vendors and I think that can strengthen the city of Jacksonville and our university at the same time."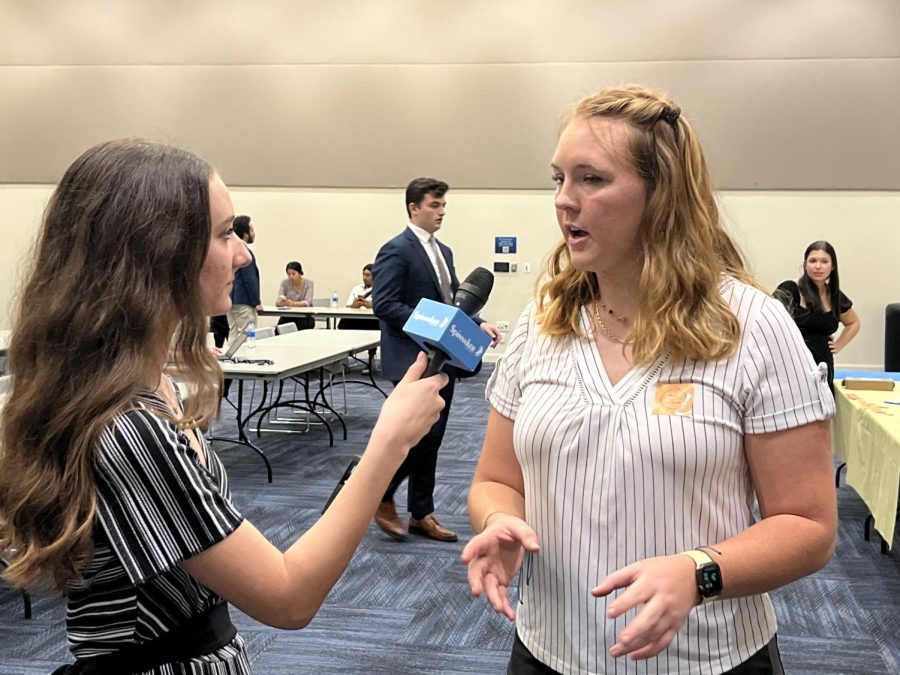 Spinnaker also spoke with future Student Body Vice President Emily Sullivan who currently serves as Senate President Pro Tempore. She explained how her time in the Senate helped prepare her for this role.
"SG in general has just helped me grow in my professional field as well as just as an individual," Sullivan said. "It's helped me become more outspoken, and because I've been more outspoken I've been able to talk to more students and hear what the student body wants to do."
Participation
The following Senate candidates are those who attended Wednesday's meet and greet, according to an attendance sheet sent to Spinnaker by SG CEO Tyler Aldinger.
Ethan Schultz
Gabi Bynum
Juan David Gaviria
Lamija Hodzic
Karen Lopez
Emily roles
Joehan Pastrana
Mitchell Aarons
William Schwocho
Isabella West
Joshua Murry
Elections will be held on 21 March and 22 March with polling stations open at the Student Union, the Library and possibly online. For more information on how this election will work, visit here.
___
For more information or news tips, or if you see an error in this story or have any compliments or concerns, please get in touch [email protected].