Last week, US Secretary of State Antony Blinken travelled to Beijing on a mission "to cool exploding tensions" (as the Associated Press puts it). The Secretary's counterparts on the Chinese side aver — as they have for fifty years — that blame for exploding tensions is entirely with the Americans. And exploding tensions now, as always, center on only one issue — Taiwan.
I am not privy to the Secretary's interior psyche, but I wager he returned to Washington last week believing that he preserved faithfulness to "our One China Policy" in Beijing and at the same time assuaged China's indignation. If so, his mission was a failure, but not to worry. Failure has been the lot of most top-level US interactions with the Chinese side for the past half-century. About this I have a story to share.
March 13, 1972, was a Monday two weeks after Nixon and Kissinger had returned to Washington from their historic journey to Beijing. They seemed perturbed by a general lack of enthusiasm on Capitol Hill. Senators Hubert H. Humphrey (D-MN) and Henry M. Jackson (D-WA), leading democratic moderates, were uneasy.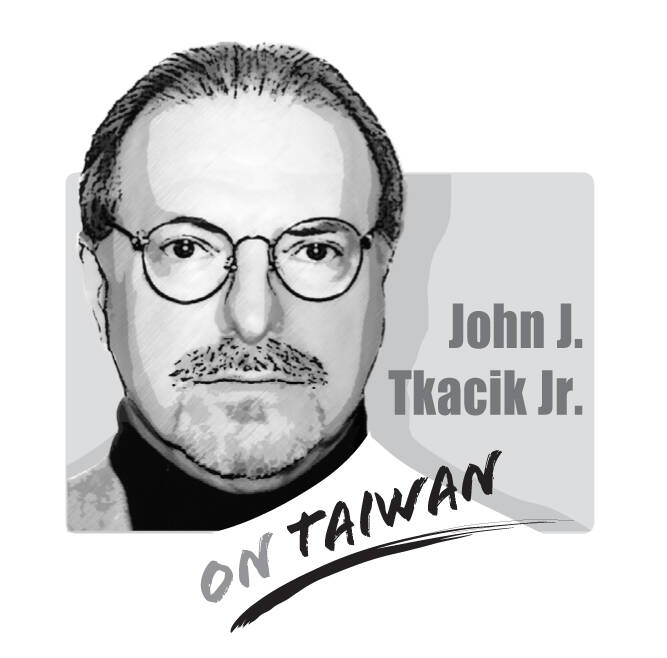 Jackson warned "it appears that we are doing the withdrawing" in the Shanghai Communique "and they are doing the staying." Humphrey said "concessions were made by the President and by Dr. Kissinger, but not any, insofar as I have been able to interpret, were made by the Chinese." Kissinger professed to be less concerned with partisan jabs than if Nixon's conservative supporters, "Senators Goldwater, Buckley, or Governor Reagan, were speaking out in criticism." Yet, conservatives, too, were uneasy.
Even before Nixon had returned from Beijing, Senator James L. Buckley (R-NY) called a news conference to voice concern that the communique was "being widely interpreted both at home and abroad as signaling the ultimate abandonment of Taiwan by the United States." Senator John Tower (R-TX) mused that the communique "requires considerable clarification." Senator Peter H. Dominick (R-CO) wanted more information. "The President is too good horse trader to give way Taiwan without something in exchange," an unidentified conservative Republican senator told The New York Times, "therefore, I think there must be some arrangements we are not aware of." Ah! But there were none.
In the ten days after the President had returned from China, reactions were still mixed. Monday morning, a column published by a conservative newspaper, Washington's Evening Star, criticized the Shanghai Communique in an essay, "Has Anyone Asked the Taiwanese?" It hit a nerve.
Historians know all this because the Nixon Library has a tape recording of Nixon and Kissinger as they bantered about Taiwan's unsettled status and the ultra-secret "assurances" they gave to Chinese Premier Zhou Enlai (周恩來) in Beijing. Nixon knew well that Premier Zhou had pressed Kissinger on the "Taiwan Independence Movement" [TIM] at least nine times during his July and October visits to Beijing. Zhou accused the US of supporting the TIM; he claimed the CIA had smuggled its "leader" Dr. Peng Ming-min (彭明敏) out of Taiwan and eventually to the US; the Premier even suggested that Dr. Kissinger himself (who was once Peng Ming-min's professor at Harvard) sympathized with TIM — a notion which amused Kissinger.
Of Taiwan independence, however, Dr. Kissinger seemed only to have minimal understanding. In October 1970 he saw several intelligence reports on Peng's US visa which included an assessment from the FBI that "Peng Ming-min" was a leader of the "independence movement," a movement whose members had attempted to assassinate vice premier Chiang Ching-kuo (蔣經國) in New York on April 24, 1970. Just days before that "assassination" incident, Nixon hosted a grand dinner at the White House in honor of the vice premier (later premier, later president) — the Generalissimo's son. If President Nixon or Dr. Kissinger had any impression of the Taiwan independence movement at all, it was not positive.
On the other side of the Pacific, "Taiwan Independence" was Communist China's worst nightmare. And so, during Nixon's China trip, Dr. Kissinger gave multiple assurances to his Chinese interlocutors on "Taiwan independence." On February 24, President Nixon himself gave direct assurances to Zhou Enlai that "no American personnel, directly or indirectly, nor any American agency, directly or indirectly, will give any encouragement or support in any way to the Taiwan Independence Movement." That particular conversation was nettlesome, but in the end, Kissinger hedged: "What we cannot do is to use our forces to suppress the movement on Taiwan if it develops without our support." That was sufficient for Premier Zhou. "That is true," he laughed, "Chiang Kai-shek (蔣介石) will do that."
Nixon's Oval Office conversation with Kissinger was significant. President Nixon had only the foggiest notion of a Taiwan independence movement and puzzled over why conservatives, of all people, would support a violent anti-government movement in Taiwan. In the recording, Nixon and Kissinger groused that press criticism of their neglect of Taiwan was unfair — and perhaps was a plot by the State Department. They told each other that they had ceded nothing to the Chinese side on the matter of "Taiwan Independence."
In frustration, Nixon demanded of Kissinger, "What in the hell is the Taiwanese Independence Movement all about?" Kissinger dispensed conventional wisdom. "It's not a significant movement now," he explained. "It's violently opposed by both the Chinese Governments." He added, "Chiang Kai-shek had locked up the leader of the Taiwanese Independence Movement, and he's now in this country as an exile, and we had major problems with Chiang Kai-shek when we let him in here." All this, of course, Nixon was aware of.
Kissinger, ever suspicious of journalists, surmised "somebody must be feeding them that, because The New York Times, which never used to give a damn about Taiwan, had an editorial about that last week too."
The New York Times editorial, "The Forgotten Taiwanese," was drafted by someone in the know. It asserted to readers that "although Peking's leaders now insist that Taiwan is an inseparable part of China, they did not always hold this view." In the 1930s, the NYT explained, Mao Zedong (毛澤東) had told best-selling author Edgar Snow that the Communist Party would extend to Formosans "our enthusiastic help in their struggle for independence." The Times said "Peking's present claim rests in part on the pledge by World War II allies at Cairo to return the island to the Republic of China"; but just as validly, the NYT continued, "President Truman renounced that pledge in 1951 when he declared that the future of Taiwan was an open question. The subsequent Japanese peace treaty also left the status of Taiwan unresolved." It was all very legalistic.
Nixon's temper boiled. He asked Kissinger, "do you think it's out of [the] State [Department]? Or could there be somebody pushing the Taiwan Independence Movement? That's so goddamn … have you ever heard of the Taiwan Independence Movement?"
Nixon thought again, "… the other thing … I didn't see anything in the State Department papers indicating that we ought to support the Taiwan Independence Movement." After some to-and-fro, Kissinger allowed that perhaps Secretary of State William Rogers and his staff raised it the night before the Shanghai Communique was issued, but it was never raised "in the preparatory papers they gave us, never!"
To himself, Kissinger must have recalled the moment that Nixon's most trusted confidant — trusted even more than Kissinger — Treasury Secretary John Connally, blasted him over his draft Taiwan language in the Shanghai Communique. Connally said bluntly "You've sold out." He said the phrase "Taiwan is a province of China" to Americans "meant we were turning over Taiwan to China right then and there." When Kissinger tried to explain the language to Connally, Connally warned "you never have a chance to explain these things after all hell has broken loose." Kissinger changed the wording.
Nixon didn't know of Connally's objection. But Kissinger reassured the President that "our formulation … states it has to be settled by the Chinese themselves. Naturally the Taiwanese are Chinese. If they want to secede, that's their business."
On the tape, Nixon and Kissinger reassured each other "our private understanding is that we won't encourage it, we didn't say we will oppose it either. We didn't say we will discourage it either. We didn't say we'd oppose it. We said we will give it no support. And that's been our position."
But their commitment ended there. The understanding with Premier Zhou did not require them to "oppose" or even "discourage" Taiwan independence; Kissinger and Nixon agreed, "if they want to secede, that's their business."
And here we are, fifty-one years later. One hopes that Secretary of State Blinken and President Biden have a better understanding of what they are doing than Nixon did … or Kissinger — who celebrated his 100th birthday last month.
John J. Tkacik, Jr. is a retired US foreign service officer who has served in Taipei and Beijing and is now director of the Future Asia Project at the International Assessment and Strategy Center.
Comments will be moderated. Keep comments relevant to the article. Remarks containing abusive and obscene language, personal attacks of any kind or promotion will be removed and the user banned. Final decision will be at the discretion of the Taipei Times.