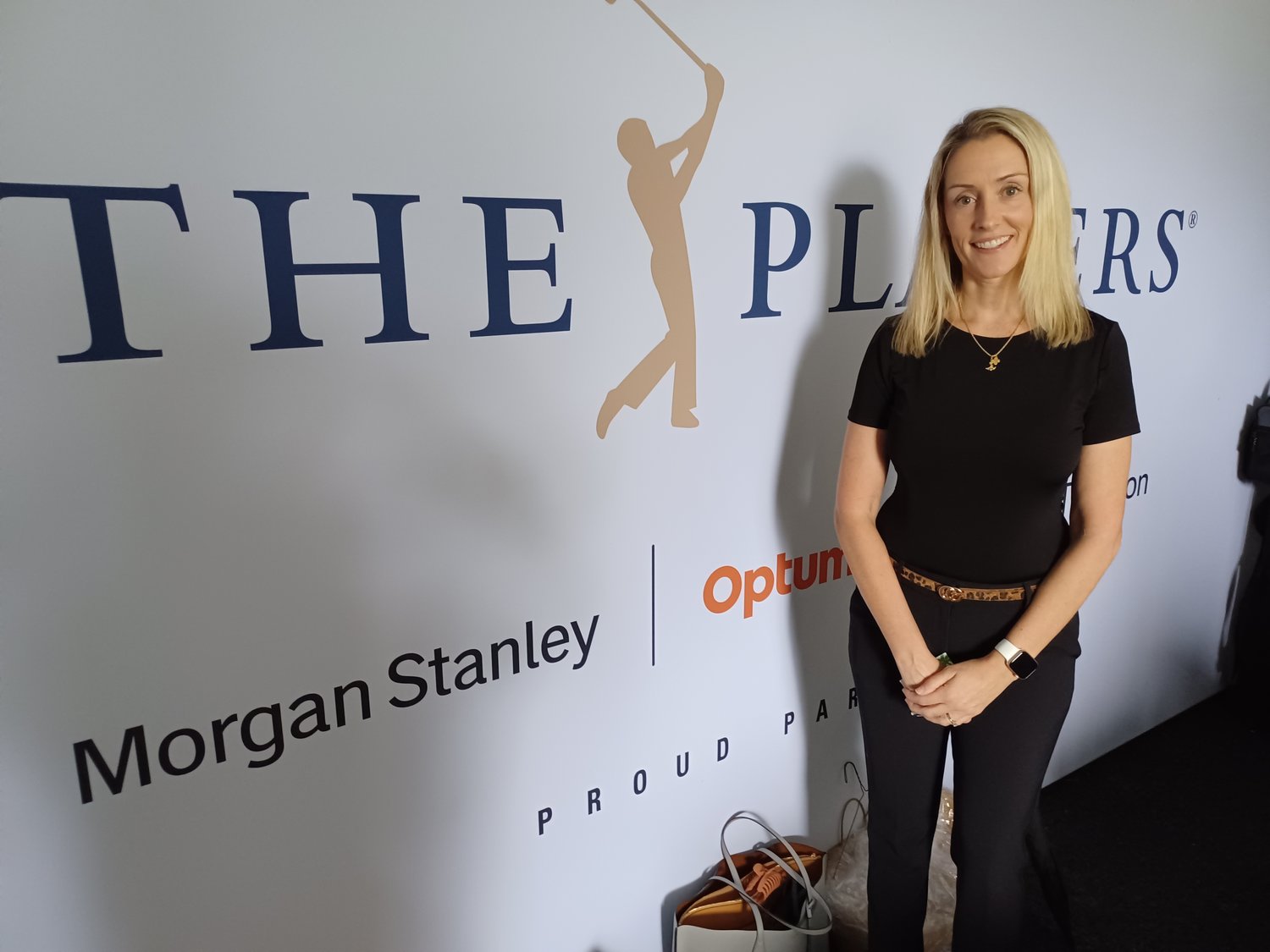 By Shaun Ryan
A year ago, Anne Pokelwaldt offered to accompany her husband – a 28-year veteran of the US Navy – to THE PLAYERS' military job fair. She had previously worked in the financial industry and had put her career on hold to take care of her children. When she returned to the workforce, she was teaching middle school math at the time of the job fair.
As Pokelwaldt and her husband browsed the many booths staffed by an eclectic group of employers, she spotted one in particular that intrigued her. It was the table for PLAYERS Proud Partner Morgan Stanley, represented by Jacksonville Branch Manager Elizabeth Cambareri.
"Since I was previously in the industry, I thought, 'Well, let me see what she has available,'" Pokelwaldt said.
It turned out that there was an open position. And a couple of interviews later, Pokelwaldt worked as Cambareri's direct assistant.
On Saturday 4 March, Pokelwaldt was back at the job fair, this time standing behind the table and representing her employer.
The event, in its 12th year, is hosted by THE PLAYERS Championship in partnership with the Jacksonville Military Veterans Coalition. It is free and open to military personnel, veterans and military spouses. Around 30 companies participated in this year's fair, which was organized at Patriots Utpost.
"It's always what we consider to kick off PLAYERS week, even if it's unofficial," said job fair chairman Bill Hickey, who along with retired Brigadier General Michael P. Fleming, retired US Navy Capt. Matthew Tuohy and Jacksonville Military Affairs and Veterans Department Chief Operating Officer Harrison Conyers were among those who initially launched the annual event.
The Jacksonville Military Veterans Coalition is a public-private partnership between the City of Jacksonville and local companies to emphasize hiring veterans. More than 500 companies belong to the coalition's network.
In other years, the job fair has helped hundreds of people, like Pokelwaldt, find the job they are looking for.
Hickey said veterans make excellent employees. Because of their experiences from military service, they are punctual, resilient and dedicated, and they know how to work towards goals.
In addition to the many employers at Saturday's job fair, a number of educational institutions and other sources of help were represented.
CareerSource Northeast Florida was on hand to offer its services, helping veterans become job-ready.
According to Jerry Carter, CareerSource program manager for veterans, the program is especially beneficial to veterans who are just leaving the military or who have experienced long-term unemployment or have a service-related disability. In many cases, young veterans have simply not previously had to look for work.
"We work with them on resume writing, interview skills, how to look for jobs, how to market yourself," Carter said.
Rick Mullaney, executive director of public policy at Jacksonville University, explained that JU offers a master's degree in public policy, which has many applications.
"Public policy really affects everything, from health care to criminal justice to the environment to education to foreign policy to military service," he said. "So it's a very attractive degree for a lot of veterans."
Mullaney, the son of a career military man, has attended the job fair for several years.
"We're happy to be here," he said. "We really love our veterans."
At the table for Florida State College in Jacksonville, CK Williams explained that his job is to evaluate military transcripts to get veterans credit based on their work in the service, saving them from having to take any classes.
FSCJ offers a two-year degree and is a pipeline to the University of North Florida, where students can pursue graduate degrees.
Also at the table was Glenn Turner, Education and Career Leadership Specialist and Military ROTC Recruiter at FSCJ. He helps veterans who want to go back to school, especially those who, through the ROTC program, want to graduate as second lieutenants in the US Army. He also advises veterans about classes to take because they can get help from the US Department of Veterans Affairs.
"We try to guide them so they can be successful and maximize the benefits," Turner said.
The school also participates in a new Veterans Upward Bound program, offered as part of the federal TRIO program.