Panjim: The G20 Tourism Ministerial Meeting held here on June 21 "reaffirmed" the importance of working towards full recovery of tourism from the impact of the COVID-19 pandemic, while also advancing the role of tourism in accelerating implementation of the United Nations 2030 Agenda for Sustainable Development and achievement of its Sustainable Development Goals (SDGs).
The Fourth Tourism Working Group G20 Meet with the theme "One Earth, One Family, One Future" was held in Goa from June 19 to 21, 2023.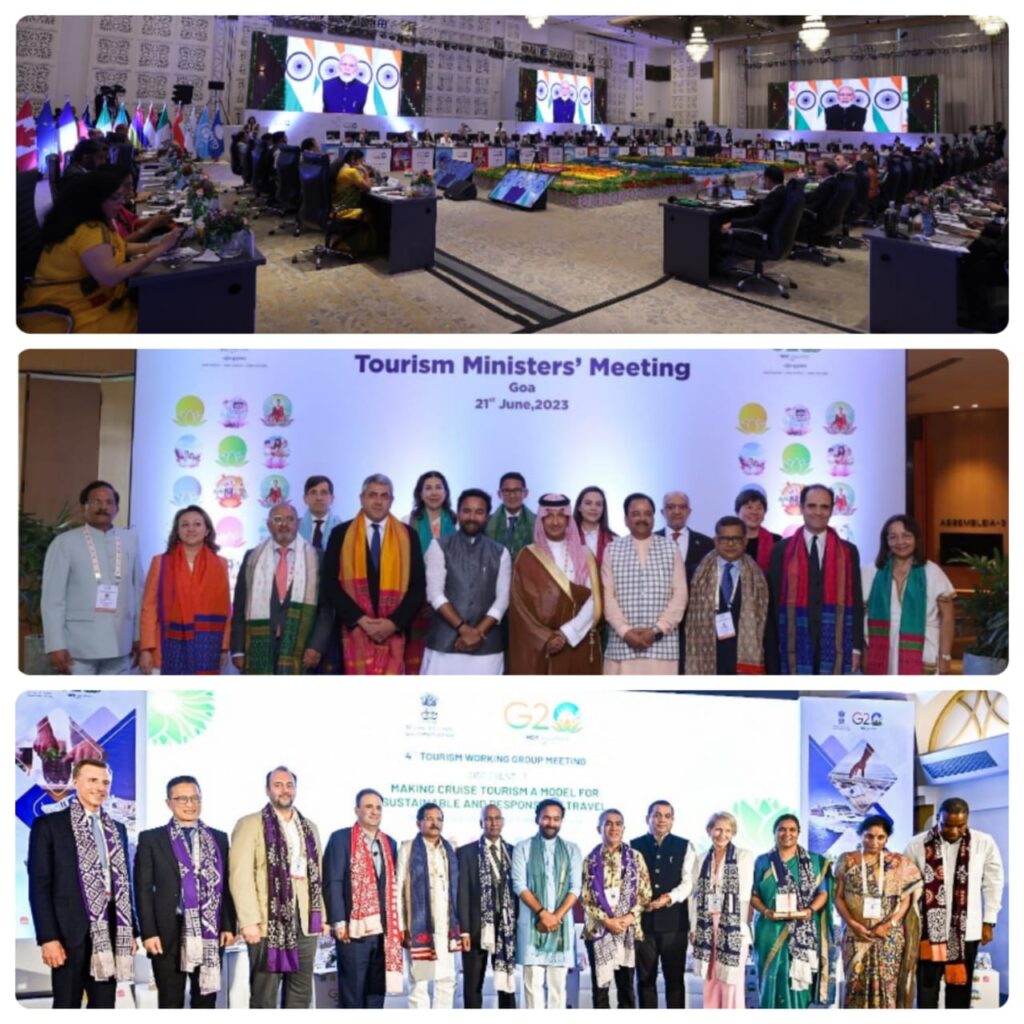 Prime Minister Narendra Modi, in a video message, noted that tourism ministers are handling a sector worth over two trillion dollars globally, and India during its G20 presidency is organizing around 200 meetings in 100 different locations in India.
"Terrorism divides but Tourism unites" was the PM's message as he noted that a +first-of-its-kind+ G20 tourism dashboard is being developed in partnership  with UNWTO as a platform  bringing together best practices, case studies and inspiring stories.
The Ministers meet witnessed participation of Union Minister for Tourism, Culture and DoNER G. Kishan Reddy, Union Ministers of State for Tourism Shripad Yesso Naik and Ajay Bhatt, Ministers and delegates from G20 countries, invitee countries and international organisations.
"Through our collective efforts, we can harness the power of tourism to accelerate progress towards the SDGs, ensuring that no one is left behind," said Kishan Reddy while welcoming the Goa Roadmap for Tourism as a vehicle for achieving the Sustainable Development Goals.
The Ministers expressed support to five tourism priority areas identified by India's G20 Presidency for the Tourism Working Group for the development of a resilient and sustainable tourism sector including: Green Tourism, Digitalization, Skills, Tourism MSMEs and Destination Management.
While noting that the war in Ukraine had adversely impacted the global economy, most of the Members  condemned the war while stressing its causing "immense human suffering" and exacerbating existing fragility in the global economy by constraining growth, increasing inflation, disrupting supply chains, heightening energy and food insecurity and elevating financial stability risks.
"Today's era must not be of war" declared the Meeting. "We highlight the crucial role of tourism as a means for sustainable socioeconomic development and economic prosperity."
"We agree that transformation of this sector must be at forefront of tourism policies, which explicitly prioritize sustainability, inclusion and resilience in the spirit of India's G20 Presidency: One Earth, One Family, One Future."
"We believe that the sector needs a holistic approach that promotes a cycle of economic, social, environmental sustainability, while requiring total governmental approach in G20 countries, cross-sectoral coordinated policies across different levels of Government together with the employers and workers organisations, private  sector and local populations as well as new, inclusive and innovative financing models while taking into account national circumstances, needs and priorities."
The Meet highlighted the importance of "Lifestyle for  Environment" (LiFE) which focuses on conserving the Earth's precious natural resources through circular approaches of +Reduce, Reuse and Recycle+ alongside living in harmony with nature.
Welcoming the +Goa Roadmap for Tourism+ as a vehicle for achieving "Sustainable Development Goals," the Meet emphasized the tourism sector becoming a "driver" for nature protection, climate action, economic prosperity, circularity, cultural preservation and fighting inequalities to build greater resilience among societies.
The Meet underscored the need for tourism policies to advance sustainability in infrastructure and operations, create decent and sustainable jobs, mainstream climate action to reduce emissions, support biodiversity conservation and environment and climate-friendly tourism: protect, empower and engage local residents and vulnerable groups like youth, women, local communities and indigenous Peoples and disabled persons.
The Meet "encouraged countries to promote specific innovation and entrepreneurship policies and programmes in tourism to advance the sectors' competitiveness while working on the regulations of digital technologies in tourism."
It highlighted tourism as an important job creator for women, who account for 54% of the sector's global labour force, but tend to be concentrated in the lowest paid and lowest status jobs in tourism while also performing a large amount of unpaid work in family tourism business.
The Meet also called for addressing the challenges faced by the MSMEs as they make up 80% of the tourism businesses.
"We will endeavour to promote creation of Destination Management Organisations as lead actors in destination management for sustainable tourism in its three pillars – economic, social and environmental as well as risk mitigation and crisis preparedness."
================================
(Box): Meanwhile, a panel discussion comprising tourism officials from India, USA, Australia, Spain, South Africa, Mauritius and Indonesia highlighted interesting points.
A U.S. Travel and Tourism representative said 436,000 jobs had been created in cruise tourism and 2019 witnessed 2.5 million visitors to the country including down rivers in North America, besides $ 20 billion expenditure with focus on attracting 90 million such visitors.
The U.S. is focusing on encouraging cruise tourism beyond the "gateways," he added.
Noting that Australia has the highest levels of cruise tourism penetration including through Sydney harbor, the Australian representative said new port facilities were being witnessed, besides Brisbane being billed as a cruise Tourism port and +gateway+ to the Great Barrier Reef.
Big tourism ships were now coming through Eden and focus was on coordinating marketing efforts to ensure less pressure on Sydney Harbour, she said, adding that Australia was looking at generating $230 billion by 2030 through cruise tourism.
"I wish it was like cricket," Victor of South Africa said in response to a question about the country coping with cruise tourism through its two popular ports of Cape Town and Durban, which drew 145,000 visitors in its October to May season. However, South Africa is going to be a "Mega-player" in cruise tourism in the next 10 years, he added.
Felix Garcia, Deputy DGM, Spain Tourism, said two ports in Spain stand among the world's top ten – including Barcelona among the global top five, and Malaga  -with three new harbours — and around Euro 11 billion has been invested in transforming and sustaining these Spanish ports.
He said a five-year-perspective in this regard is showing success through both cities and cruise tourism synchronizing their efforts in this direction, besides focus on ease of movement for such tourists between tourist sites.
Oliver of Singapore, while describing cruise tourism as a +regional+ product, said Goa had a lot of potential in this regard and combined marketing efforts globally could ensure benefits for all.
While 2019 brought in $500 million from cruise tourism visitors, partner countries in Asia could benefit through combined related efforts in making South-east Asia as the top choice for cruise tourism, he added.
A Mauritius representative highlighted his country as a novel destination with rich heritage of culture and history, besides 32 airlines serving the country which had 34 international ports.
He said that there is a huge potential for cruise tourism in the Asian region with involvement of countries there like India, Australia, Mauritius, Indonesia etc.
Indonesia's representative said that the country, with 17,000 islands, had the third largest coastline in the world and a good tourism potential including Bali being a +turnaround+ port.
"Öur focus is on making Indonesia – through its 29 ports — a global "Maritime Hub" and cruise tourism "Playground," he said.