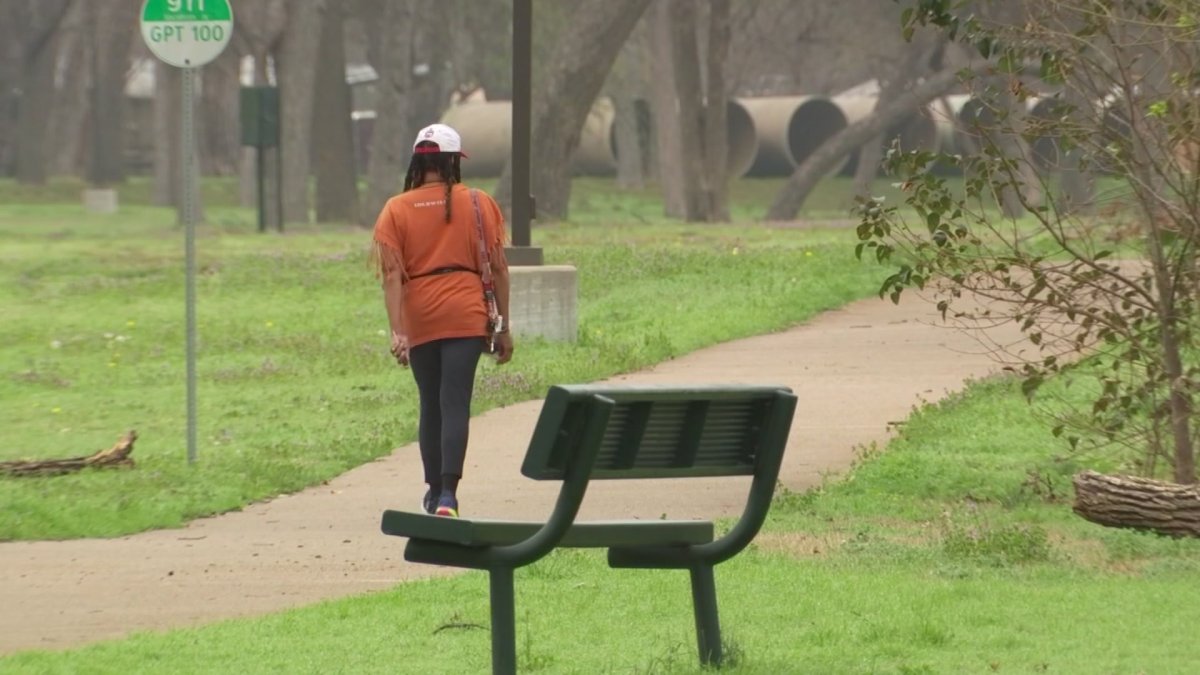 Dallas city council members sounded the alarm Tuesday over the safety of the expanding network of hiking and biking trails.
There are over 175 miles of park trails, and Dallas is building more for transportation and recreation. But within 100 feet of a Dallas trail last year, there were 8 murders, 61 robberies and 135 aggravated assaults.
With daylight saving time and another summer on the way, Dallas City Council Public Safety Committee Chairman Adam McGough said the trail safety plan unveiled Tuesday is far too weak.
"We're expanding our trails all over the city in wonderful ways," McGough said. "And we don't adequately address safety when we do this, nowhere near. And I really want you all to raise the flag and say we're not doing this well enough because I don't think we are."
On the Santa Fe Trail that connects Deep Ellum to White Rock Lake, Keith Hartsfield counts on the trail for his wheelchair after gunshots disabled him years ago.
He said the Santa Fe trail can be dangerous.
"Summer time, it gets pretty wild out here, every summer," Hartsfield said.
In July 2022, artist Tony Lechuga was shot while jogging on the path near his home.
"I remember hearing the shots and I remember thinking they were in the distance," Lechuga told NBC5 while recovering in the hospital last August.
Police made arrests weeks later, and witnesses said Lechuga was just caught in the crossfire of a shooter who was targeting someone else.
"The way it was in the middle of the day, it could have been any runner, any cyclist," Lechuga said.
Neighbors at the scene on Tuesday recalled the shooting in July.
"I'm very sorry for what happened to the young man, and I think safety is important, especially in the big cities," said neighbor Daniel Gomez. "The more cameras and things like that, it helps the police identify who the people are that are committing the crimes."
The trail safety plan provides for police surveillance cameras along trails. There's only one in all of Dallas now. More solar lighting is also planned.
"Absolutely, solar lights? Let's light our paths. That should be a fundamental policy of the city. Light our paths," McGough said.
Park Rangers will team up with Dallas Marshals and police for new trail patrols. They are also being asked to help clear homeless encampments on trails, which McGough said has a trail unusable for passers-by now.
Officials said a new all-terrain vehicle will help patrols.
"We don't give them enough resources. We don't have enough Marshals. We don't have enough Rangers. Not close. You said we have one of the largest parks and recreation facilities in the country and we have an ATV on the way? It's seriously inadequate," McGough said.
Dallas Parks Director John Jenkins said a more robust plan is in the works and would require a large budget increase.
"We are still working on the comprehensive security plan. I think we've been in the process now for about 7 or 8 months," Jenkins said. "There's going to be a big question because you're right. We need daytime patrol and we need night patrol. We need more personnel. We need more technology. We need more enforcement."
Also on the Santa Fe Trail on Tuesday were George Nickson and Samantha Bennett on bikes.
"We ride this all the time because it's very convenient. You can get all the way out to the lake and back down to Deep Ellum," Bennett said. "We would ride this trail as a commuter route even more if it was light."
Nickson said Dallas Trails also needs basic cleaning improvement.
"Our safety issues are maintenance of the trails, the fact that there's a lot of broken glass and debris," he said. "Anything they can do to increase the security that we advocate for, lights and cameras would be fantastic."
Keith Hartsfield said he has seen police along the Santa Fe Trail, but wants to see officers more often as summer approaches to prevent more crime.
"I can say hello to the Dallas police. Before it gets wild, they get on it, and stop it before it starts, he said.
Although city council members said that's not enough, city staff said the new trail safety unit planned for now will begin day and night patrols in a few weeks.
The Public Safety Committee also heard details of the city's overall reduction plan for violent crime. The number of murders and aggravated assaults has increased so far in the first two months of 2023, but Dallas Police Chief Eddie Garcia said crime is still on the decline.
City councilors said they are pleased with the progress police have made in terms of overall crime reduction over the past two years.
Garcia said there is more work to be done.