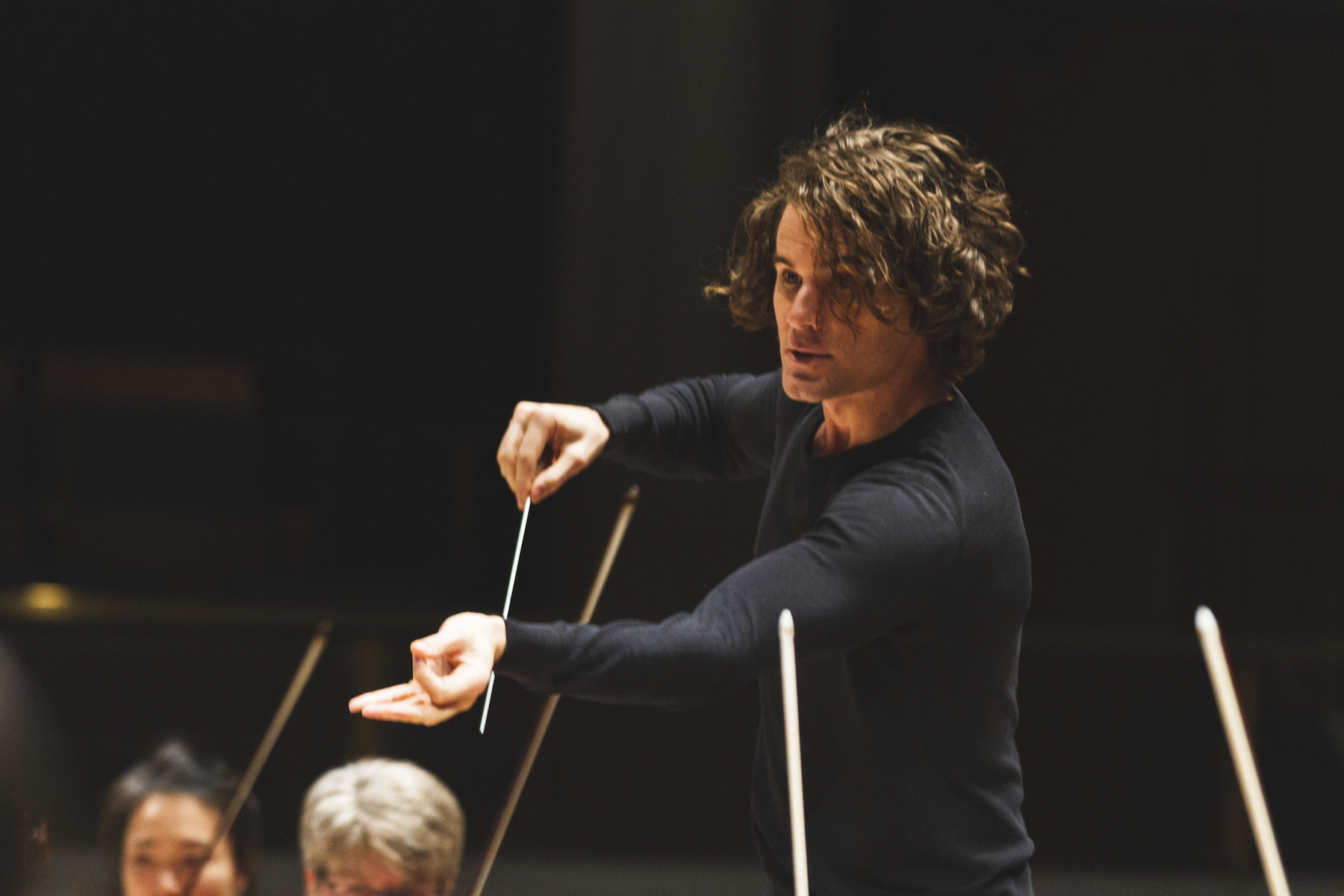 As a composer, conductor, arranger, producer and singer/songwriter, Steve Hackman is not your everyday millennial multi-hyphenate. The 42-year-old has collaborated with Doja Cat, Sunday Service Choir and Steve Lacy. His work aims to renew interest in classical music among millennials and Gen Zers by creating unlikely fusions between great, traditional works and contemporary music.
On Saturday night, March 4, he brings one of those fusions to the Dallas Symphony Orchestra: a night with Tchaikovsky and Drake.
Led by internationally acclaimed music director Fabio Luisi, the DSO is a cornerstone of the Dallas cultural scene and has spent this year expanding its calendar. The current season has featured a wide variety of events, ranging from Don Quixote and Beethoven's "Pastoral" for pops as Aretha: A tribute and Harry Potter and the Chamber of Secrets at a concert.
We caught up with Hackman from his home in Los Angeles to discuss the DSO, his approach to building nationally touring fusions from the ground up, and his hopes for the future of classical music.
Building the tension and following around these events has not been easy, by the way. Notorious for its strict adherence to the status quo, maintaining long-standing traditions has been a double-edged sword for the classic industry. By and large, its insistence on musical mastery and traditionalism has struck a chord with younger composers, while audiences are getting older, not younger.
Hackman enters this space as part of a group of musicians eager to change this dynamic. This group aims at the future of the genre and how it can attract new interest through contemporary music. They believe that relying on the appreciation of the art and the magnanimity of the masters alone will not entice the coming generations.
This is how he sees it, edited for length and clarity.
Why the Dallas Symphony Orchestra? Drake has talked a lot about Texas and his love for Dallas is well documented. This isn't the first time you've put on this show, why bring it to Dallas now?
This is part of the dream of playing with the best orchestras in the world, and the Dallas Symphony Orchestra is one of them. The program was their choice. I have a catalog of these fusion productions and I was quite surprised that they chose Tchaikovsky and Drake, especially for my first tour with them.
Usually orchestras will do either Brahms and Radiohead or Beethoven and Coldplay first because they're kind of a good starting point, the right introduction to my technique and my work for an orchestra and community. But in this case, the Dallas Symphony is holding a gala for young professionals and they thought that Drake's music would be really applicable and appropriate for this event. So I was all about it.
The culture must change and evolve to accommodate this new generation.

Steve Hackman
I watched your TEDx and you talked about Radiohead/Brahms and the anxiety and tension you feel shared between [them]. So in the recipe for Tchaikovsky and Drake you mention their shared romance. Can you talk about it?
Yes, romance, sentimentality, the openness with which they convey their feelings – they are both kind of heart-on-the-sleeve. What started this for me was Drake's album Have a good time. That's when I started paying close attention. I was just moved by that album.
This interesting kind of combination of how real and authentic he could be, but then of course he could also be a total showman – not to mention a strong musical voice and a strong production voice. Take a song like "Marvin's Room." This is the kind of song I would have played every day in high school, you know? I would have fallen asleep to this song. I would have woken up to it. I would have played it when I'm hanging out with my girlfriend, you know?
Of course I didn't go to high school, I was in my thirties. But it still struck me like that; it had this youthful quality, this is what it feels like to feel love and heartbreak and that longing for the first time ever. That's what it sounds like. And for me it is Tchaikovsky's Fifth Symphony and specifically the second movement of Tchaikovsky's Fifth Symphony. You hear that horn solo in the second movement and you go "Oh my God"! That's what I feel is represented sonically. And that's where the idea to combine them first came.
Do you have another song you love from Drake that could be incorporated into this show and if so how did it play into [Tchaikovsky] the song you placed it against?
I'm going to go from obvious to kind of more esoteric, dark horses. "Hold On, We're Going Home" is one of my favorite Drake songs. It's a song [that] if it was a CD i would have worn it out. And in this play it actually has two different settings. There's a setting of it that's in one of the interludes where it's very deconstructed, and it's almost like suddenly we're in this classic cabaret: this beautiful singer singing this song and this stripped-down, kind of cabaret. but still classical, orchestral.
And then it ties into a reading of the piece where you hear the actual Drake beat and we use Drake's actual drum sampler, so you hear the beat itself and the orchestra joins in and it's an amazing accumulation of sound.
"God's Plan" is, I think, his most played song. You know, this has happened to me and some of my fusion works where the most popular song by an artist is not my favorite. It might even be someone I'm not attracted to at all. I just listened to it, had a hard time getting into it. I see where he is with the message and I can get into it, but it wasn't related to me. Then I chose to put it in the performance.
I wanted to challenge myself to find an arrangement that would be compelling. I thought, if I can convince myself to like this, and that will be a huge feat, hopefully people who like that song will hopefully make it even better for them. And I think the play achieves that. I mean, "God's Plan" might be my favorite part of the show.
The dark horses, like "5am in Toronto", in the same way as Jecorey [Arthur, a rapper performing in the show] deliver it and the orchestration of it, I'm very proud of. There's just an intensity to it. It's an insistence on the rhythm and his rhythmic delivery that I love. Then we come out of this big development section with which "Energy" is connected. And then "HYFR" in a way our journey back to "Marvin's room".
You talked a little bit about this with "God's Plan," how there was a little more friction with it. Are there other songs where it has been either more difficult or less difficult to figure out that community has been?
Well, I wouldn't have undertaken to write the play if I didn't find some kind of community in the first place, you know? A conceptual one, a premise. But actually, in most cases, the premise isn't musical: Beethoven/Coldplay, it's a shared universality. Tchaikovsky/Drake, it's a shared sentimentality.
But I was pretty sure that musically this was going to work because rap, unlike alternative rock, can be deconstructed more thoroughly because of the way rap is layered over rhythm and samples. That means you can more easily recontextualize it.
All you need is music that has the same bpm and you can [match it with] a rap verse. We all know this from going to clubs and listening to DJs. But this piece went through several phases. The first version of the piece was pretty much just Drake rapping over Tchaikovsky's original score. Then I would also use Drake's melodies, and I would change and rewrite the melodies to accommodate Tchaikovsky's harmonies.
But really we were listening to a Tchaikovsky symphony with either Drake raps or Drake melodies over the top. And that was all there was. I didn't think it worked because it was too much. It was sensory overload. So in the second version of the piece, I created these interlude moments where we could go into this hybrid sound world and focus on one or the other, which worked much better. Now it is the new version that I really think gives us the dose we want of Tchaikovsky, of Drake and of the hybrid. I think it's a perfect marriage now.
I want to hone in on one thing you've been vocal about, which is using these fusion works as an entry point for younger audiences to become interested in the classical masterpieces. In the success of that, how do you envision them emerging and participating in what classical music culture is? What is the world of classical music you want them to contribute to?
I believe the success of these fusion productions could represent a decisive turning point for the classical music industry. This means that this classical repertoire appeals to a younger generation. Gen Z and millennials are fascinated by classical music, the mastery required to play these instruments, the depth of the repertoire, the beauty of the music, the value of the messages.
I think the fact is that the culture needs to change and evolve to accommodate this new generation. If we want industry-wide success for this genre and for this art form, I think we need to consider that the culture around it and the experiences, the rituals need to evolve to accommodate the new types of listeners we have. I think this is starting to show a little bit, and if these works open up that conversation – and it may take another 30 years – that will be very satisfying to me.
---
Among the event's 80-piece orchestra, featuring Hackman on piano, are local Dallas vocalists India Carney, Malia Civetz and Mario José, rapper and emcee Jecorey Arthur, Braylon Lacy on bass and TaRon Lockett on drums. The Music of Tchaikovsky x Drake composed by Steve Hackman benefits the Kim Notelmy: Young Musicians Program, an after-school organization that provides arts access to underrepresented communities, and takes place on Saturday, March 4 at 6:30 PM at the Morton H. Meyerson Symphony Center.