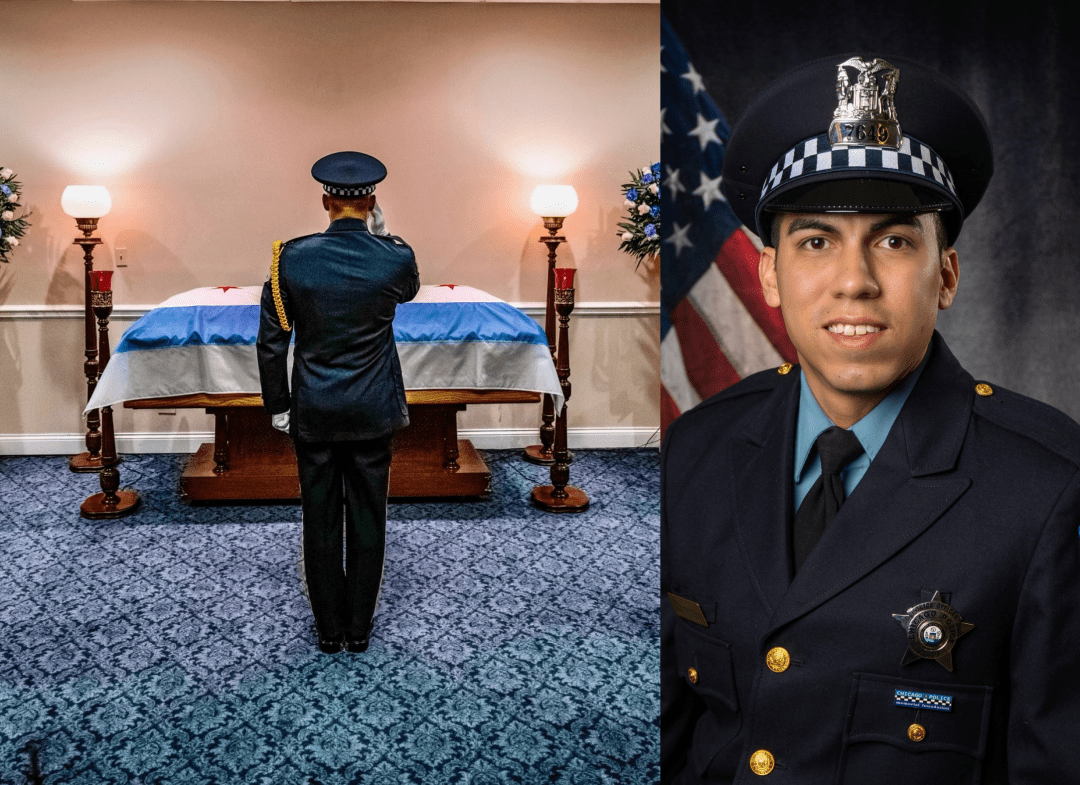 CHICAGO – The Chicago Police Department unveiled its long-awaited foot pursuit policy last year, which laid out the justifications officers needed to engage in a foot chase.
A person simply fleeing from the police will no longer be enough for an officer to pursue them, but the police will need a justification to do so, such as unlawful use of a weapon or domestic battery.
The motivation to implement the policy came after a series of fatal police shootings of young Latino men who were being chased by police. Advocates argued that the lack of a pursuit policy puts both the public and officers at risk.
The politics of foot pursuit — and the dangers associated with such pursuit — were tragically brought to the fore last week when Chicago police officer Andrés Mauricio Vásquez Lasso was fatally shot after chasing a man who was allegedly armed and involved in a domestic dispute.
The guidelines in place are quite meticulous as they provide examples of when and how an officer should engage in foot pursuits, but despite its good intentions, it falls short of the unexpected variables of foot pursuits.
What motivated the department to create a plan?
Calls for the CPD to create a foot pursuit police became a contentious discussion after two high-profile police killings in 2021.
The first was the killing of 13-year-old Adam Toledo who was with another man near 24th Street and Sawyer Avenue in Little Village when a gun detection system known as ShotSpotters detected shots fired from the area. A police unit found Toledo and 21-year-old Ruben Roman walking in an alley near where the shots had just rang out.
A foot chase quickly ensued as police approached Toledo and Roman in their vehicle. The elderly man was quickly tackled and apprehended while Toledo continued his escape.
Officer Eric Stillman, who was chasing Toledo, ordered the boy to stop and show his hands. When Toledo stopped and turned to show his empty hands — though he appeared to have thrown a gun behind a fence moments before — he was fatally shot by Stillman.
Just two days after Toledo's murder, Chicago police were involved in another deadly foot chase on the Northwest Side.
Anthony Alvarez, 22, was walking through a gas station in Portage Park when a police SUV pulled into the station with its emergency lights flashing. Alvarez immediately dropped the bag he was carrying and took off.
Police chased Alvarez until he collapsed on the sidewalk in front of a home in the 5200 block of West Eddy Street. Footage from Officer Evan Solano's body-mounted camera shows a gun in Alvarez's right hand, but does not show Alveraz pointing the gun at the chasing officers.
Solano shouted "Drop the gun! Drop the gun!" seconds before he shot Alvarez in the back and left leg.
The fatal shootings sparked mass protests and prompted Latino leaders to call on the city to put a moratorium on foot pursuits — citing the immediate danger they posed to the public.
It wasn't the first time CPD's foot pursuit policy was called into question.
Years earlier, a damning Justice Department report found that officers often engaged in "tactically unsound and unnecessary foot pursuits."
Chicago Police Supt. David Brown announced an interim foot pursuit policy nearly two months after the fatal shootings of Toledo and Alvarez, but emphasized that it was only an interim policy until a more permanent policy was determined with community feedback.
A year later, in June 2022, the final stalking policy was to be unveiled.
The latest independent monitoring report acknowledged that "CPD made significant progress towards completion" of its new foot pursuit policy, but will not look at its effectiveness until the next report.
Why is foot pursuit policy important and what is in CPD?
Sharon Fairley, who once oversaw investigations into police shootings with the now-disbanded Independent Police Review Authority, said it is critical for departments to have a clearly defined foot pursuit policy.
"It's very important because foot pursuits are inherently dangerous, not only to the community members being pursued, but also the officers themselves," Fairley said. "Most good guidelines remind officers that there are alternatives to foot pursuits such as taking cover, catching the person later, or aerial resources like a helicopter — those kinds of things."
Fairley said key components of a foot pursuit policy must include when it's OK for police to chase someone, outlining the line of communication for the officer during the interaction and when an officer should stop pursuing.
Chicago police policy outlines many of these things clearly first by stating that foot pursuits pose a risk not only to the officer, but to the person being pursued and bystanders. Officers will continually have to determine whether the need to arrest someone outweighs the threat a foot pursuit poses to public safety.
This usually means that the person is involved in a felony, a Class A misdemeanor, or a tragic offense that endangers the safety of others. Or if a person poses an "obvious physical threat to any person".
Examples listed in the policy include: aggravated assault, battery, domestic battery or unlawful use of a weapon.
It also lists specific instances when an officer should not engage in a foot pursuit that is mostly a minor offense. Nor can they pursue "based solely on a person's response to police presence."
It also provides examples of when an officer should end a pursuit, such as if they lose their department-issued radio or firearm.
Officers are also prohibited from initiating or continuing a foot pursuit if:
There is a reasonable risk to police officers, civilians and the person being chased
If an officer is injured or unable to continue the pursuit safely
Is unable or loses the ability to communicate effectively with dispatcher or other officers
If an officer believes that they would not be able to control the subject being pursued should a confrontation occur – due to exhaustion or other physical conditions
If a supervisor asks an officer to interrupt it
Officers should also consider alternatives to foot pursuit during these high-risk situations:
A policeman is alone
The person being pursued is visibly armed with a firearm
Officers become separated or they lose visual contact with each other
The person being pursued enters a building or structure
The identity of the person being chased is known, which will allow apprehension at a later date
"I think [CPD] has got most of those core components you'd expect to see, Fairley said. "The CPD policy has some very important guidelines like what not to do when you are walking alone or see someone visibly armed with a firearm. They are recognized as extremely high risks, as we often see many of these pursuits end tragically."
Still, Fairley said, officers may be theoretically trained on the policy, but all that can go out the window in a split second.
"That's the challenge here because this is an assessment call we're asking the officers to make," Fairley said. "That's why these guidelines aren't an outright panacea, but they can at least be very helpful in thinking about the right thing to do: for example, are there other methods that can help us arrest this person?"
This article first appeared on the Illinois Answers Project and is republished here under a Creative Commons license.