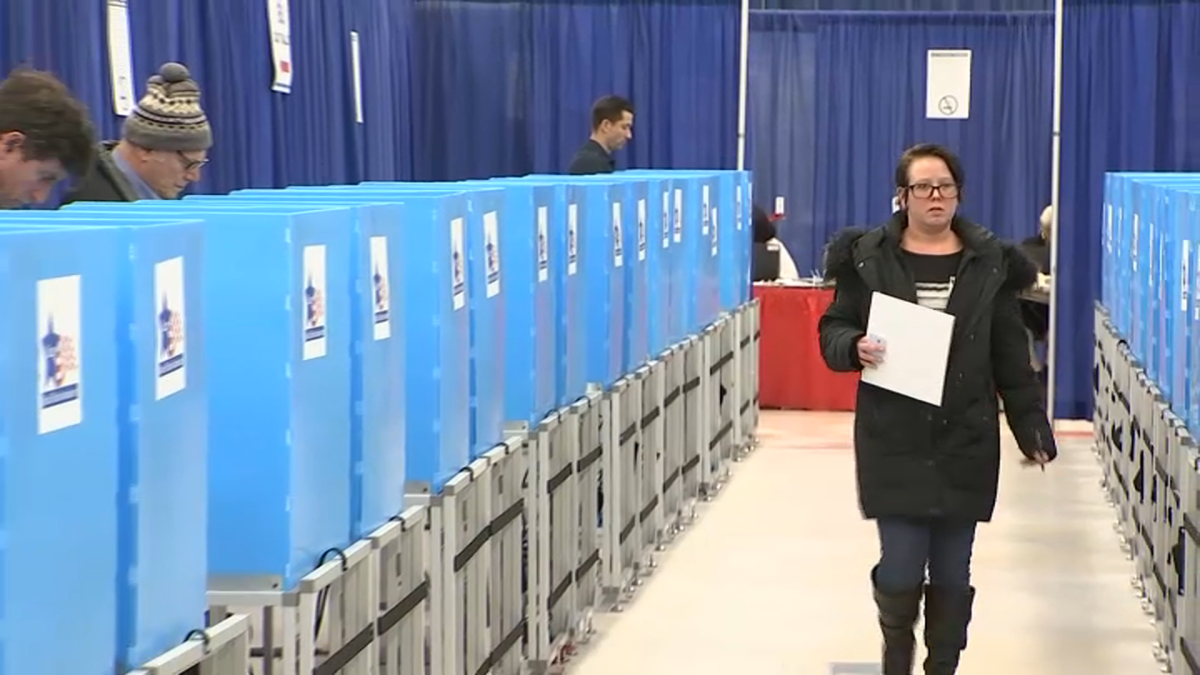 While over 500,000 Chicagoans have just finished casting their ballots for the first round of the 2023 municipal elections, it's already almost time to head back to the polls.
Mail-in application voting is now available for the April 4 runoff election, with advance voting slated to begin March 20.
Chicago voters interested in voting by mail for the upcoming election can apply for a mail-in ballot here.
City officials noted that unless a voter is on the permanent voting list, they will have to reapply to receive a mail-in ballot for the runoff election, even if they had previously voted by mail in the first round.
Voters may request that their ballot be mailed out of town or out of state, and may choose to receive a ballot in the following languages:
English
Spanish
Chinese
Hindi
Brush
Korean
Tagalog
Postal ballots must be postmarked on or before election day, April 4, for a vote to be counted.
Voters also have the option of returning their ballots to a secure drop box at one of the city's earliest voting locations or polling stations.
Although subject to change, the earliest date voters are expected to receive their ballots is March 17, according to city officials.
Voters can continue to submit vote-by-mail applications until March 30, which is the last day the city's board of elections can receive new applications.
Postal ballots (postmarked on or before election day) can still be received by the electoral board until April 18, the last day on which ballots received can be included in the final count.
Mail-in voters who decide not to return their postal ballot may submit the ballot to the judges of their appropriate precinct before casting an in-person ballot.
If the postal ballot was lost or did not arrive, a voter can sign an affidavit and vote at the appropriate polling station for their home address.
In addition, early voting in all 50 wards and the two super locations in the center will open at 9 a.m. on March 20, and all locations remain open to voters throughout Election Day.
The opening hours for the city's polling stations are as follows:
Weekdays: 9:00 a.m. to 6:00 p.m
Saturday: 9.00 to 17.00
Sunday: 10.00 to 16.00
Election day: 06.00 to 19.00
The city's earliest polling stations can be found below:
Ward 1 – Goldblatt's Building, 1615 W. Chicago Ave.
Division 2 – Near North Library, 310 W. Division St.
Ward 3 – Dawson Technical Institute, 3901 S. State St.
Ward 4 – Dr. Martin Luther King Center, 4314 S. Cottage Grove Ave.
Ward 5 – Southside YMCA, 6330 S. Stony Island Ave.
Ward 6 – Whitney Young Library, 415 E. 79th St.
Ward 7 – Trumbull Park, 2400 E. 105th St.
Ward 8 – Olive Harvey College, 10001 S. Woodlawn Ave.
Ward 9 – Palmer Park, 201 E. 111th St.
Ward 10 – East Side Vodak Library, 3710 E. 106th St.
Ward 11 – McGuane Park, 2901 S. Poplar Ave.
Ward 12 – McKinley Park Library, 1915 W. 35th St.
Ward 13 – Clearing Branch Library, 6423 W. 63rd Pl.
Ward 14 – Archer Heights Library, 5055 S. Archer Ave.
Ward 15 – Gage Park, 2411 W. 55th St.
Ward 16 – Lindblom Park, 6054 S. Damen Ave.
Ward 17 – Thurgood Marshall Library, 7506 S. Racine Ave.
Ward 18 – Wrightwood Ashburn Library, 8530 S. Kedzie Ave.
Ward 19 – Mt. Greenwood Park, 3721 W. 111th St.
Ward 20 – Bessie Coleman Library, 731 E. 63rd St.
Ward 21 – West Pullman Library, 830 W. 119th St.
Ward 22 – Toman Library, 2708 S. Pulaski Rd.
Ward 23 – Hall – St Faustina Kowalska Parish, 5157 S. McVicker Ave.
Ward 24 – St. Agatha Catholic Parish, 3151 W. Douglas Ave.
Department 25 – Rudy Lozano Library, 1805 S. Loomis St.
Ward 26 – Humboldt Park Library, 1605 N. Troy St.
Ward 27 – Union Park, 1501 W. Randolph Ave.
Ward 28 – Westside Learning Center, 4624 W. Madison St.
Ward 29 – Amundsen Park, 6200 W. Bloomingdale Ave.
Ward 30 – Kilbourn Park, 3501 N. Kilbourn Ave.
Department 31 – Portage Cragin Library. 5108 W. Belmont Ave.
Ward 32 – Bucktown-Wicker Park Library, 1701 N. Milwaukee Ave.
Ward 33 – American Indian Center, 3401 W. Ainsle St.
Department 34 – UIC Students Center, 750 S. Halsted St.
Ward 35 – Northeastern IL University El Centro, 3390 N. Avondale Ave.
Ward 36 – West Belmont Library, 3104 N. Narrangansett Ave.
Ward 37 – West Chicago Library, 4856 W. Chicago Ave.
Ward 38 – Hiawatha Park, 8029 W. Forest Preserve Dr.
Ward 39 – North Park Village Admin Bldg, 5801 N. Pulaski
Ward 40 – Budlong Woods Library, 5630 N. Lincoln Ave.
Department 41 – Roden Library, 6083 N. Northwest Hw.
Ward 42 – Maggie Daley Park, 337 E. Randolph St.
Ward 43 – Lincoln Park Branch Library, 1150 W. Fullerton Ave.
Ward 44 – Merlo Library, 644 W. Belmont Ave.
Ward 45 – Kolping Society of Chicago, 5826 N. Elston Ave.
Ward 46 – Truman College, 1145 W. Wilson Ave.
Ward 47 – Welles Park, 2333 W. Sunnyside Ave.
Ward 48 – Broadway Armory, 5917 N. Broadway St.
Ward 49 – Willye B White Park, 1610 W. Howard St.
Ward 50 – Northtown Library, 6800 N. Western Ave.
Board Supersite – 191 N. Clark (Clark & ​​Lake)
Board Offices – 69 W. Washington, 6th Floor (not open on election day)
More information on how to register to vote can be found here.