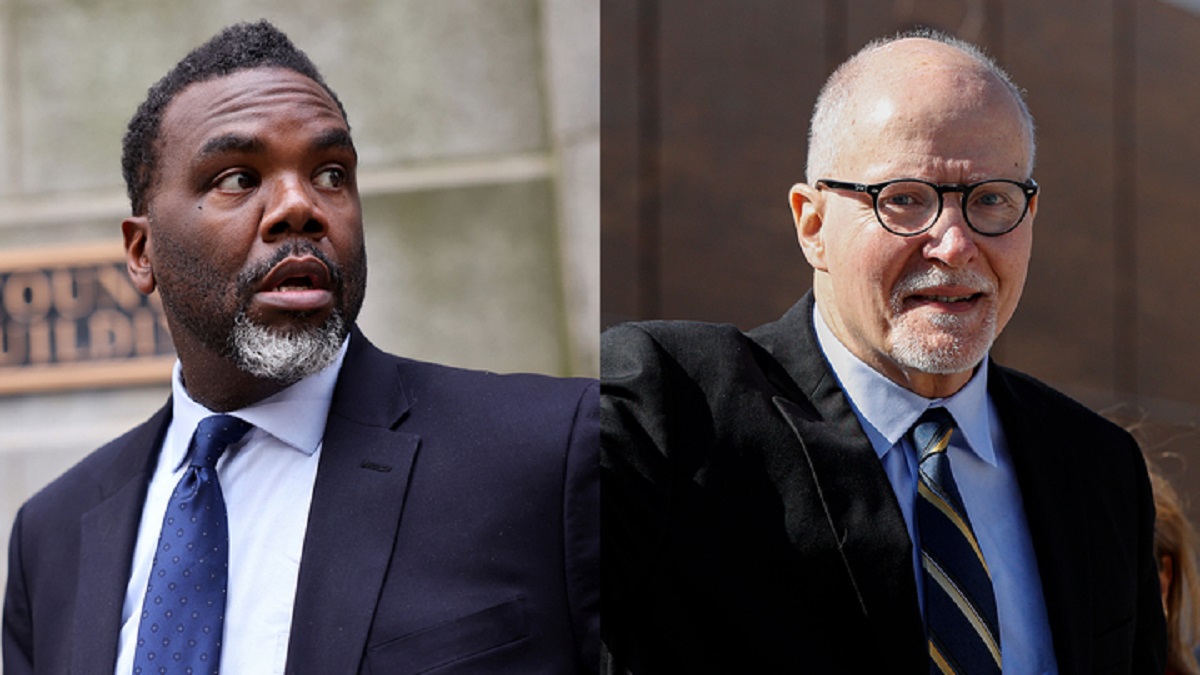 While it's only been a week since the first round of the Chicago mayoral election, candidates Brandon Johnson and Paul Vallas have less than a month to win over voters before the April 4th runoff election.
Vallas and Johnson advanced to the runoff election out of a field of nine candidates, including incumbent Mayor Lori Lightfoot. According to the latest data from the Chicago Board of Elections, Vallas received 33 percent of the vote in the first round, while Johnson won 21.57 percent of the vote.
Although more than half of Chicago City Council members gave endorsements in the first round of this year's mayoral election, many are now courting the race's two remaining candidates as both aim to consolidate support.
Vallas, who came in first place in last week's election, entered the contest with the support of downtown city councilmen Brendan Reilly and Brian Hopkins, while also receiving the support of Far Northwest Side Ald. Anthony Napolitano and longtime Lakeview Ald. Tom Tunney.
In the past week, Vallas has also received endorsements from former Illinois Secretary of State Jesse White and former mayoral candidate and 6th Ward Ald. Roderick Sawyer, the former of whom supported Lightfoot in the first round.
As for Johnson, endorsements from the Chicago Teachers Union, United Working Families and several progressive city council members helped propel his campaign to prominence and an eventual runner-up finish in the first round of the mayoral election.
In the time since, Johnson has continued to consolidate the support of much of the city's left-of-center political brass, receiving endorsements from Cook County Board President Toni Preckwinkle and Congressman Danny Davis.
Endorsements could provide a critical boost to the two candidates, both of whom are seeking to build a broad coalition likely to be needed to emerge victorious in the April 4 runoff.
Here are the latest updates on the endorsement front this election cycle.
The groups included in this guide
– The Chicago Teachers Union represents more than 25,000 teachers in the city, and describes its mission as being "dedicated to promoting and promoting high-quality public education, improving teaching and learning conditions, and protecting the rights of its members."
-The International Union of Elevator Constructors is a trade union representing more than 25,000 workers in the profession of building, modernizing and repairing elevators.
-SEIU Healthcare is a union representing health, child, home and nursing home workers in four Midwestern states, including Illinois, Indiana, Missouri and Kansas.
-SEIU Local 1 represents more than 50,000 workers in the Midwest, with janitors, security officers, airport workers, food service workers and more, according to its website. Its endorsements are split between the local chapter of the union and the Illinois State Council, according to a news release, and we've noted which chapter of the union endorsed which candidate.
-SEIU Local 73 represents more than 31,000 workers, primarily in public service and publicly funded positions. It says it selects candidates to endorse that "best support the issues of working families."
-United Working Families is a group "dedicated to building people-powered infrastructure and campaigns," including pushing for high-paying jobs, quality public education and affordable housing, according to its website.
NOTE: We will continue to update this list as more endorsements become available. If your organization has endorsed the 2023 municipal election, email [email protected]
Cook County Commissioner Brandon Johnson:
age Pat Dowell, Maria Hadden, Daniel LaSpata, Matt Martin, Carlos Ramirez-Rosa, Rossana Rodríguez-Sanchez, Byron Sigcho-Lopez, Jeanette Taylor, Andre Vasquez (approved Garcia in first round)
US Reps Jonathan Jackson, Delia Ramirez, Danny Davis (endorsed Lightfoot in first round)
State Senator Cristina Pacione-Zayas
State Rep. Lakesia Collins, Mary Flowers, Will Guzzardi, Rep. Lilian Jimenez, Kelly Cassidy (approved Lightfoot in first round)
Cook County Commissioner Josina Morita
Cook County Board President Toni Preckwinkle
Groups/associations: American Federation of Teachers, Chicago Teachers Union, Illinois Federation of Teachers, SEIU Local 73, SEIU Healthcare, United Working Families
Paul Vallas
age Brian Hopkins, Anthony Napolitano, Brendan Reilly, Tom Tunney, Walter Burnett Jr. (endorsed Lightfoot in first round), Roderick Sawyer (candidate for mayor in first round)
Former Illinois State Board of Education Chair, mayoral candidate Gery Chico
Groups/Associations: Chicago Chapter FOP, International Union of Elevator Constructors Local 2, LGBT Chamber of Commerce of Illinois
Publications: Chicago Tribune, Gazette Chicago