Since 1993, the Leprechaun movie franchise has been a beloved part of popular culture. From the original film starring Warwick Davis as the titular character to the prequel released in 2014, this horror-comedy series has provided audiences with an entertaining mix of suspense and humor.
The homicidal leprechaun is on a rampage! Over eight films, viewers have come across unforgettable characters and plot points—fun times for all as mayhem ensues.
Related: Best Scary Clown Movies You Can Watch Right Now!
If you're looking for a fun evening, why not check out all eight Leprechaun movies in order?
The Leprechaun films offer something for every movie fan. From a cult classic to an originator of the horror-comedy genre, they are a must-watch experience. A journey that should not be missed!
This article delves into each chapter of this legendary franchise, shedding light on intriguing facets of their making and the audience's response. So, if you're keen on navigating through one of the film industry's iconic collections, brace yourself, and let's dive in.
Leprechaun Films in Order of Release Date
Leprechaun (1993)
Leprechaun 2 (1994)
Leprechaun 3 (1995)
Leprechaun 4: In Space (1997)
Leprechaun 5: In the Hood (2000)
Leprechaun 6: Back 2 tha Hood (2003)
Leprechaun: Origins (2014)
Leprechaun Returns (2018)
'Leprechaun' (1993)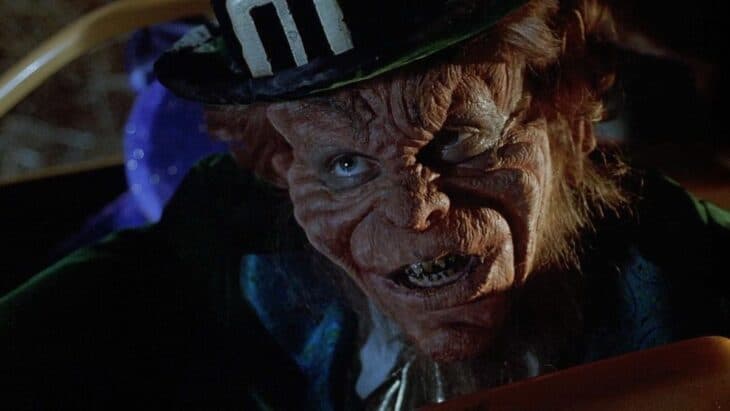 IMDb: 4.8/10 29K | Popularity: 3,354 | Metascore: 17
Genres: Comedy, Fantasy, Horror
The first film, "Leprechaun," is a comedy horror film made in 1993 and directed by Mark Jones. It stars Warwick Davis as the main character and Jennifer Aniston in a supporting role. The plot revolves around a wicked and cruel leprechaun who kills people to find his beloved pot of gold.
The pacing is perfect; it never gets dull or too slow for viewers. Great casting: Warren Davis' wicked performance shines alongside Jenifer Aniston's comic relief generating genuine emotions throughout scenes. This horror-comedy blends all genres perfectly, making it an enjoyable experience even today after its release two decades ago! Its success at the box office speaks volumes where against a $1 million budget, it made over $8 million profit worldwide. If you love your combined dose of horror and comedy, then "Leprechauns" just might be what you've been searching for.
[ Watch on YouTube ]
'Leprechaun 2' (1994)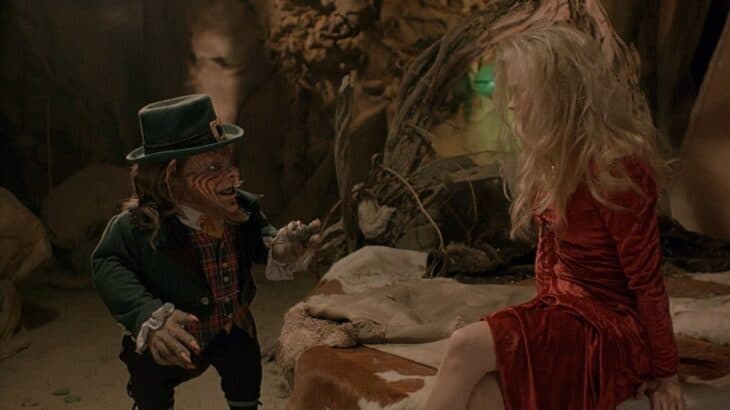 IMDb: 4.6/10 11K
Genres: Comedy, Fantasy, Horror
In "Leprechaun 2," we encounter Lubdan, an evil leprechaun who denied his bride a millennium ago. Emerging in Los Angeles, he embarks on a mission to secure a new bride, unleashing chaos in the city as he does so.
Caught in Lubdan's web is young Cody (played by Charlie Heath), who stumbles upon the leprechaun's sinister scheme. Together with his girlfriend, Bridget (Shevonne Durkin), they rise against the challenge to thwart Lubdan's plans.
The movie delights with a well-crafted script that artfully combines horror and humor. While it might not echo as strongly in memory as its franchise peers, it certainly doesn't lack entertainment.
Its predecessor was a financial success, but this movie didn't do as well, making just over two million at the box office.
[ Watch on Tubi ]
'Leprechaun 3' (1995)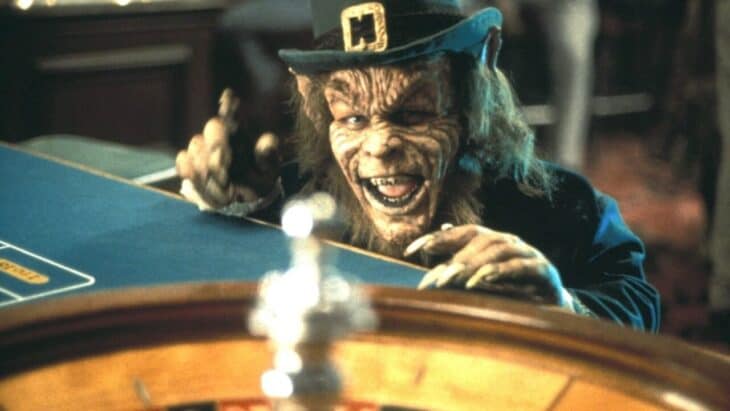 IMDb: 5.0/10 8.8K
Genres: Comedy, Fantasy, Horror
"Leprechaun 3" (1995), directed by Brian Trenchard-Smith, is the third installment in the Leprechaun series and takes our mischievous antagonist to the city of sin, Las Vegas.
Warwick Davis returns in his acclaimed role as the titular character of this horror-comedy. The movie offers a delightful blend that has become iconic in the franchise.
The story centers on Scott, a college student played by John Gatins. He finds a magical coin in a pawn shop in Las Vegas and unknowingly sets free the malevolent Leprechaun, who is in pursuit of his stolen gold. As a result, chaos ensues, and Scott and his new companion Tammy (Lee Armstrong) must navigate the world of magic and casinos to outsmart the clever Leprechaun and break the curse that has entangled them.
This installment takes the franchise to vibrant Las Vegas, offering a fresh setting and embracing its horror-comedy roots. Though not a cinematic masterpiece, the film's blend of horror, comedy, and Warwick Davis's performance makes it an amusing watch for genre fans.
[ Watch on Freevee ]
'Leprechaun 4: In Space' (1997)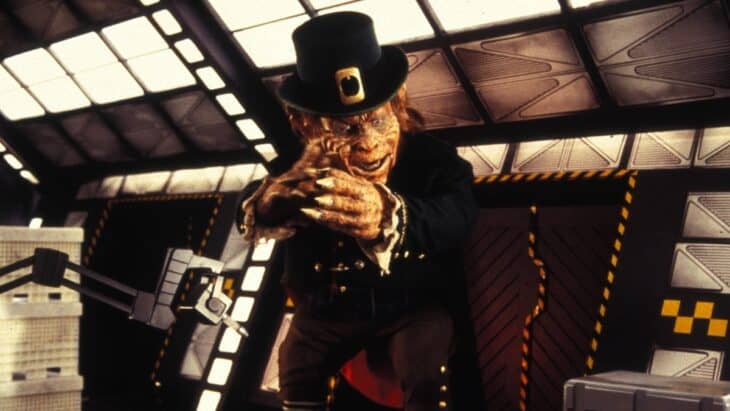 IMDb: 3.5/10 8.2K
Genres: Comedy, Fantasy, Horror
Released in 1997, "Leprechaun 4: In Space" takes our notorious antagonist, a malevolent leprechaun (Warwick Davis), on a space-bound adventure, marrying the worlds of sci-fi and horror comedy.
His mission? To find a princess to wed and, of course, seize her treasure.
The film springs to life with the leprechaun's resurrection. His relentless quest for gold and a bride leads him to an alien planet, where he snatches away a radiant princess. Soon, a squad of US Marines is mobilized, tasked with rescuing the princess from the leprechaun's sinister grasp.
In all its campy glory, "Leprechaun 4: In Space" is an entertaining spectacle. While its low-budget roots and somewhat dated production values are evident, the film manages to entertain.
This series entry may not appeal to all viewers. It has a kitschy nature that some might enjoy while others might not appreciate as much.
[ Watch on Freevee ]
'Leprechaun 5: In the Hood' (2000)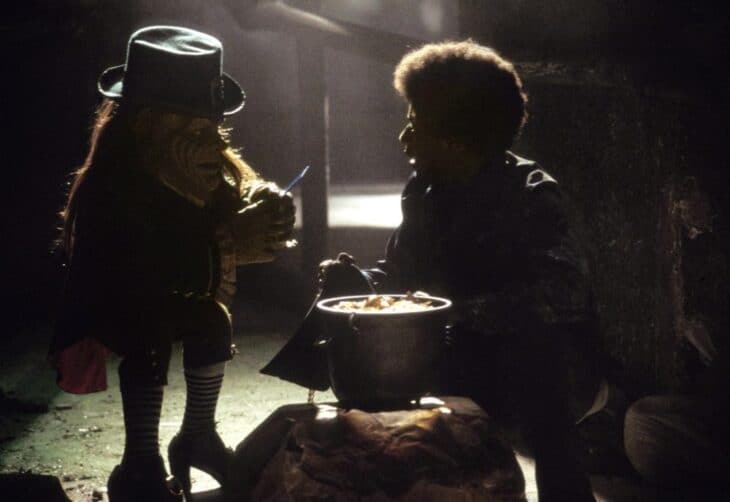 IMDb: 3.7/10 7.9K
Genres: Comedy, Fantasy, Horror
The year 2000 brought us the fifth franchise installment, a clever blend of black comedy and slasher terror. Directed by Rob Spera, this entry takes us on a wild ride with three ambitious rappers – Postmaster P (Anthony Montgomery), Stray Bullet (Rashaan Nall), and Butch (Red Grant). The trio inadvertently unleashes an evil leprechaun, masterfully portrayed by Warwick Davis, from a ghastly statue. As a result, their neighborhood spirals into a horrific playground for the spiteful creature.
This film crafts a unique horror-comedy landscape, combining gory thrills, dark humor, and many pop culture references. It teeters delightfully on the line between hilarity and horror, perfectly delivering its intended mixed bag of amusement and chills.
On a deeper level, the movie dives into the realm of hip-hop, dissecting themes of aspiration and the quest for power within the culture. This added layer of cultural commentary distinguishes the film, making it stand out within the franchise.
[ Watch on YouTube ]
'Leprechaun 6: Back 2 tha Hood' (2003)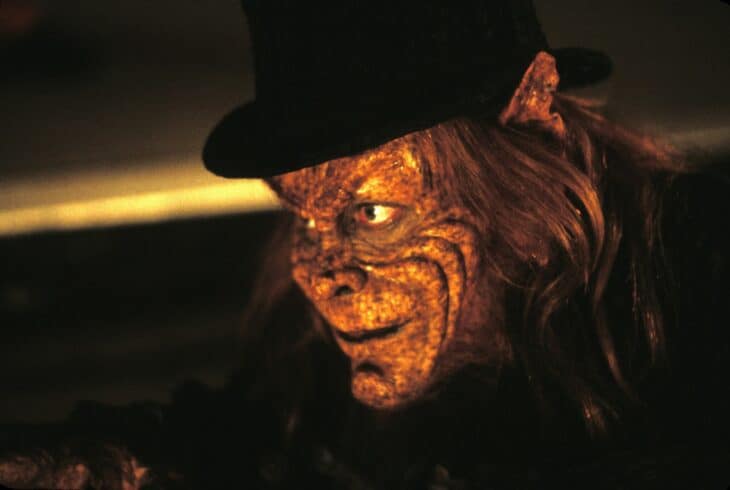 IMDb: 3.9/10 5.4K
Genres: Comedy, Fantasy, Horror
Diving into the realm of horror-comedy, "Back 2 tha Hood" spins a captivating tale. The story unfolds around Emily Woodrow, a local hairdresser who stumbles upon a chest brimming with gold coins. Eager to share her newfound fortune with her friends, Emily unknowingly invites a perilous curse into their lives.
Despite its straightforward narrative, the movie is anything but ordinary. We accompany Emily and her friends on a treacherous journey, fighting to keep their treasure safe and escape the wrath of the notorious Leprechaun.
Director Rob Spera masterfully weaves humor and terror together, crafting an experience that is as amusing as it is unsettling. Although it takes a slight detour from the narrative path of its predecessors, it manages to retain the franchise's core essence while introducing an invigorating twist to the tale.
[ Watch on Prime Video ]
'Leprechaun: Origins' (2014)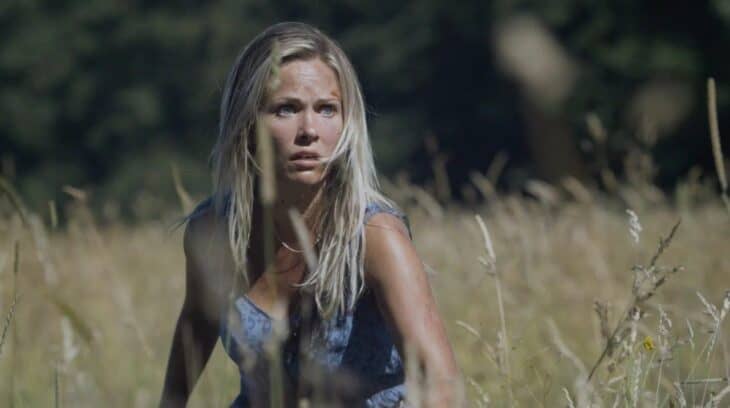 IMDb: 3.2/10 6.2K
Genres: Comedy, Fantasy, Horror
"Leprechaun: Origins," the seventh installment in this ever-evolving series, arrived in 2014, bringing an unsettling turn to the well-loved tale. The horror unfurls around two couples backpacking through the scenic landscapes of Ireland, only to stumble upon the terrifying truth behind the Leprechaun legend.
A seemingly harmless local miner draws unsuspecting college students to ancient ruins in this chilling narrative. Their curiosity proves disastrous as they fall prey to the malevolent Leprechaun's trap.
Dylan Postl, better known by his stage name, Hornswoggle, steps into the menacing shoes of the Leprechaun. His compelling portrayal amplifies the on-screen terror, lending a genuinely eerie atmosphere to the film.
Measured against its Irish horror contemporaries, "Leprechaun: Origins" holds its ground. Its intriguing plot, punctuated by bouts of suspense, and strong performances from the cast make it a worthwhile addition to the franchise.
[ Watch on YouTube ]
'Leprechaun Returns' (2018)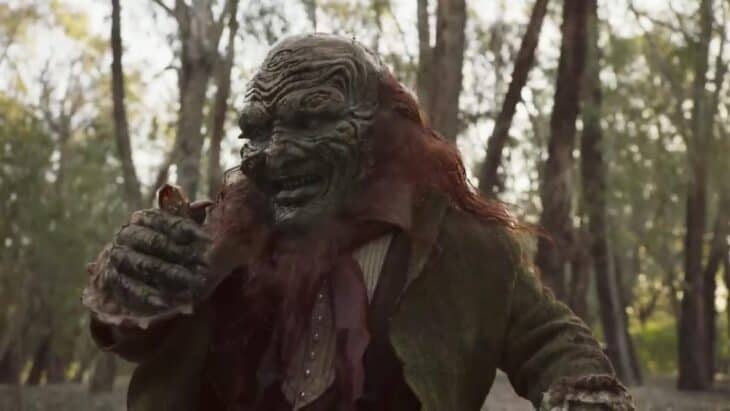 IMDb: 5.0/10 5.2K
Genres: Comedy, Fantasy, Horror
"Leprechaun Returns" breathes new life into the original 1993 narrative, presenting itself as a direct follow-up to the inaugural film. Under the direction of Steven Kostanski from "Astron-6," the story centers on a band of sorority sisters. Their unintentional demolition of a cabin, meant to clear space for a new sorority house, stirs an ancient leprechaun back to life.
The film's ensemble includes Taylor Spreitler as Lila, Pepi Sonuga as Katie, Sai Bennett as Rose, Linden Porco in the titular role, and a return of Mark Holton as Ozzie from the franchise's first installment.
The narrative expertly intertwines threads of friendship and loyalty while subtly conveying the importance of respecting nature and history. By capturing the essence of its predecessors and introducing new elements, the movie strikes a delicate balance between nostalgia and innovation. This unique mix of horror and comedy, layered over an engaging storyline, ensures an entertaining ride for viewers.
[ Watch on Prime Video ]
---
In wrapping up, our venture through the Leprechaun movie series, in chronological order, has been nothing short of intriguing. Each movie in this quirky horror-comedy franchise carries its unique allure, packed with unforgettable scenes and a wickedly sharp wit that has bewitched audiences for generations.
As you dive into this fascinating realm, the franchise's substantial contribution to the horror genre and its enduring influence on popular culture will strike a chord. So, summon your bravery, surrender to the uncanny enchantment woven by these films, and lose yourself in the unforgettable universe of the Leprechaun series.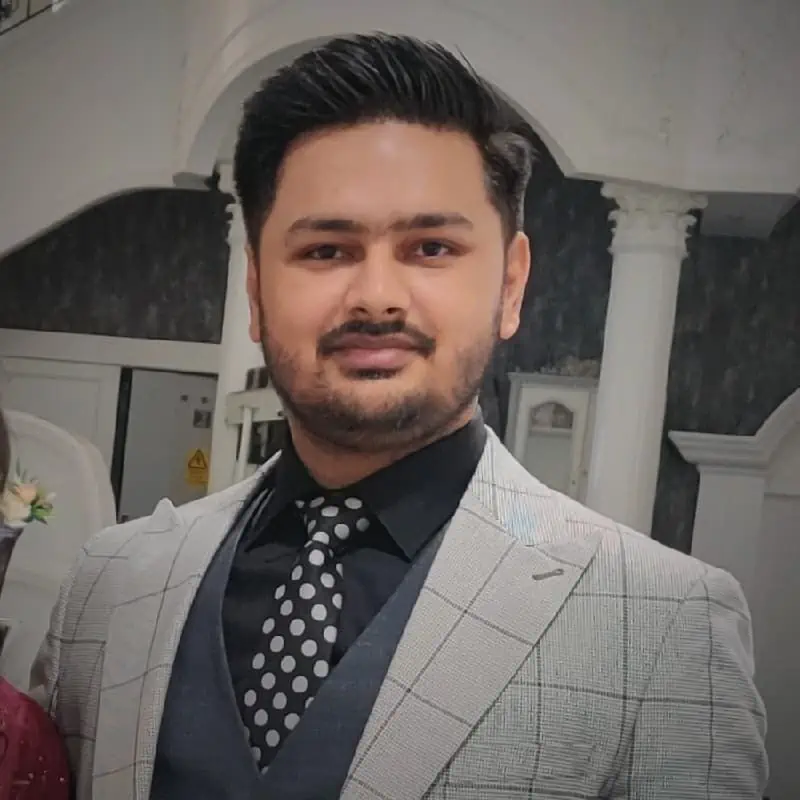 Senior Writer at BuddyTV | Experienced Writer and Graphics Designer