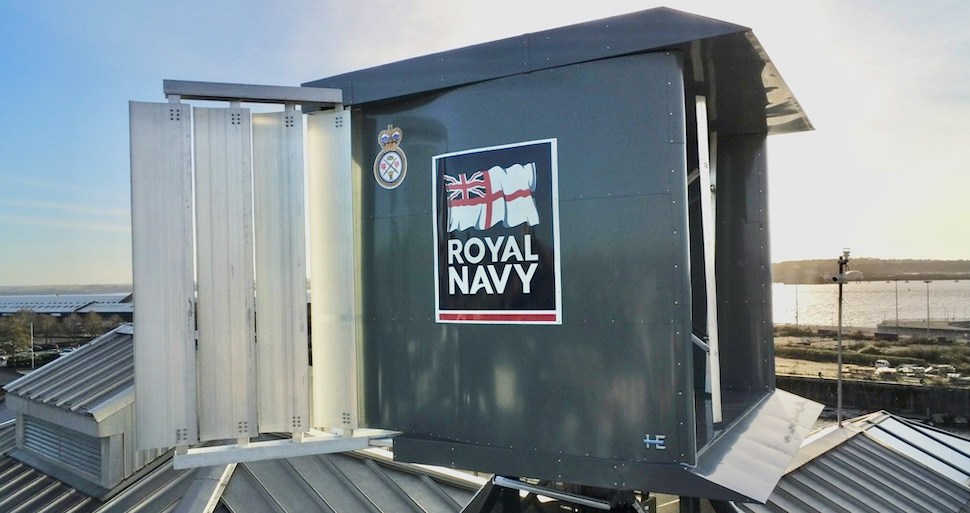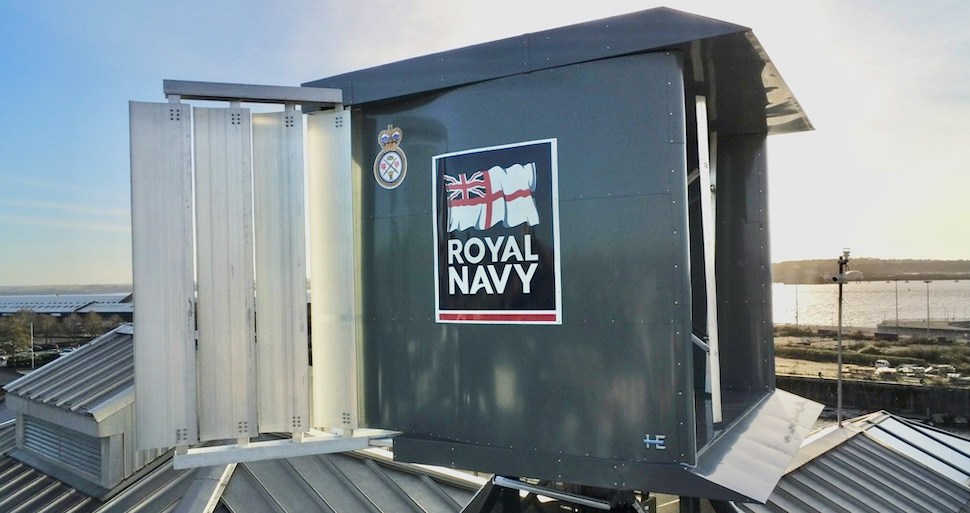 Last year we told you that Dallas-based Hover Energy was entering the UK market with its 'eye' microgrids that combine both wind and solar power generation – enabling companies to reduce their carbon footprint by generating green energy on the place. Now the company's wind-powered microgrid has been installed on top of its first building in the UK – and the owner is the Royal Navy.
The Liverpool building is known as HMS Eaglet, a so-called "stone frigate" or land base for units including the Royal Naval Reserve, Naval Regional Command Northern England, Sea Cadet Corps and more.
Hover's exclusive UK partner, Task Contract Solutions, completed the project for the Ministry of Defence, and is working with Hover "to deploy to many locations in the UK," Hover said.
"The Road to Global Net Zero"
"Microgrits represent the path to global net zero," Hover co-founder and CEO Chris Griffin said in a statement. "This is a monumental moment in the history of distributed generation and the MoD is leading the way. We are confident and extremely encouraged to step into our future together with excellent partners here in the UK."
Royal Navy Squadron Leader Mark Byrne said the system's installation on HMS Eaglet is part of a series of carbon-busting measures the Royal Navy has undertaken in the region, including the widespread introduction of solar energy at nine other sites, including a 1 megawatt solar farm at Altcar Training Camp .
Royal Navy squadron leader: Energy resilience is 'vital to site security'
"The Hover Energy wind turbine brings together several technologies in this important area Royal Navy headquarters, and we fully expect it to exceed our expectations, especially as future phases include solar and battery technology," Byrne said in the statement.
"Our forecasts show that the Hover Energy wind turbine will reduce our electricity consumption by 63% from a baseline, saving a significant amount of taxpayers' money," Byrne added. "While economic drivers in these challenging times are extremely important, we see energy security and resilience as equally noteworthy. HMS Eaglet is an important hub for collaboration with other agencies, including 'blue light' and community services. These are all factors that require a level of assurance of energy supply, which makes the new system essential for safety on site."
Ian MacVicarmanaging director of Hover's partner Task, called Hover's 36kW wind unit the final piece in Task's decarbonisation project at the Royal Navy Regional Headquarters in Liverpool.
"With Task as Hover Energy's only partner in the UK, it demonstrates that two companies with the same vision for carbon reduction can really take facilities of any size off-grid by combining Hover wind, battery and solar with low carbon energy solutions," MacVicar added.

Get on the list.
Dallas innovates, every day.
Sign up to keep an eye on what's new and next in Dallas-Fort Worth, every day.