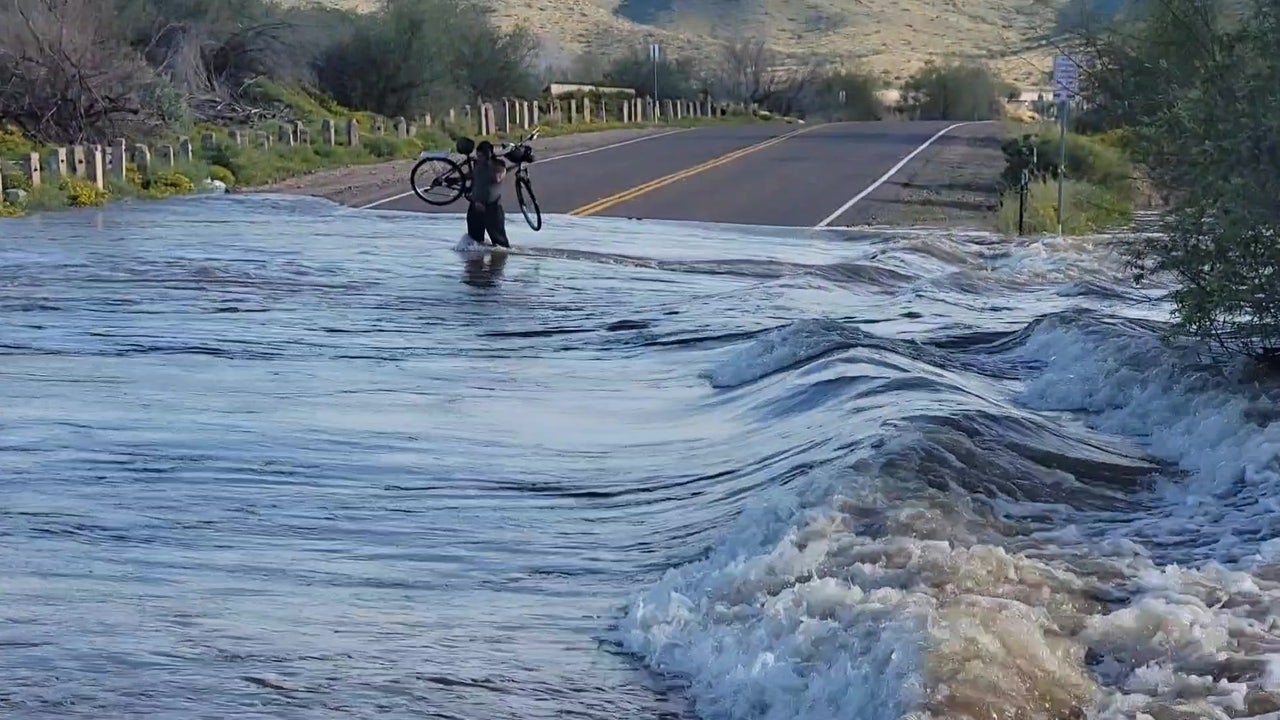 MARICOPA COUNTY, Ariz. – First responders in the valley have been busy rescuing people from rushing floodwaters. In some cases, the victims did not survive.
These flooded roads, rivers and other bodies of water are a result of the wet winter in Arizona, including the Phoenix area, which nearly overflowed water reservoirs, causing the intentional release of water. The waterlogged roads, pools and riverbeds have not seen this amount of water for some time as the state has been in a severe drought.
Maricopa County
A man tries to cross one flooded road was swept away by rushing water but was fortunately rescued Friday night in Maricopa County.
The rescue happened nearby 123rd and Southern Avenue near Avondale on March 17.
FOX 10 viewer Jerrod Willingham submitted footage of the man before he attempted to cross the roadway and was swept away. He says he called 911 and stopped recording to help the man as much as he could.
The Maricopa County Sheriff's Office says this man was rescued and is OK.
Phoenix water rescue
On 91st and Southern AvenuePhoenix Fire Capt. Todd Keller says crews responded to reports of two adults stuck on top of a car in a car wash around 6:45 p.m. on March 17.
Crews from Phoenix, Buckeye, Tolleson and Gila River responded.
"At that point they made the decision to use a hoist operation, called a cinch collar, fly these patents by lowering (the flight rescue technician) and bringing them to safety…" Keller said.
People are OK.
Keller says the people reported they were OK, but just couldn't get out because of the rushing water — which is what first responders recommend if you find yourself in this situation. He says don't try to brave strong waters.
The fire captain repeats ADOT's slogan of "turn, don't drown" when it comes to flooded roads.
"As little as 12 inches of water can carry your car away," Keller said.
Water rescue at 91st and Southern Avenue in Phoenix
Peoria Rescue
Over in Peoria, firefighters say a man was stranded on a sandbar in nearby Skunk Creek Thunderbird Road and 91st Avenue Friday evening.
"… technical rescue crews performed a shallow water crossing and evacuated him to safety. Crews are transporting the patient to the emergency room via ambulance for a foot injury. There were no other injuries reported," the Peoria Fire Department said.
The body was found floating
Less than a day after the last three rescues, MCSO says a body was found floating in the water near the back of a Phoenix International Raceway near Avondale Boulevard and Jimmie Johnson Drive on March 18.
The circumstances leading to this person's death have not been detailed. The victim's identity has not been released.
The Gila River flows through this area.
Kayakers die on Salt River
Just before noon on March 18, MCSO responded Pebble Beach area of ​​Salt River for reports of drowning.
"We received a 911 call about an adult male kayaker who had fallen from his kayak and had not resurfaced. The kayaker was pulled out of the water by other kayakers who began rendering first aid. Lake Patrol deputies arrived on scene and took over first aid , but the kayaker was later pronounced dead at the scene by medical personnel, said MCSO Sgt. Joaquin Enriquez.
The victim is an 81-year-old man. His name has not been released.